For the past two years, Concord United Methodist Church in Paducah, Kentucky, has spread Christmas joy one towboat at a time. It will do so again this year – crafting handmade cards for local towboat crews, who often spend Christmas working on nearby rivers.
Concord's "Praying in Color" and "Bible Journaling" classes coordinate the effort, but invite all church members to participate. The church's children get involved too, making cards during Sunday school and Wednesday night activity times.
"They all really have fun doing it," said Chris Spaeth, the church's administrative assistant.
Paducah is located near the confluence of the Tennessee and Ohio Rivers, so it is a busy location for towboats working on both rivers.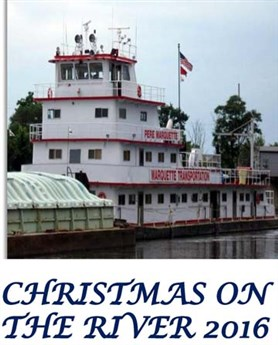 "We finished the cards, then delivered them to the Seamen's Church Institute office here," Spaeth said. "Chaplain (Kempton) Baldridge then distributes them to the men and women working on the boats." Baldridge is the SCI's Ohio River area chaplain.
Polly House is a freelance editor and writer based in Nashville, Tennessee. She recently served as editorial assistant for Interpreter.
Originally published in Interpreter Magazine, November–December, 2017. Send local church ministry ideas to [email protected]