At St. Paul's United Methodist Church in Houston, worshippers of all ages have an opportunity to attend a candlelight service led by entirely by children one week before Christmas — usually on the third Sunday of Advent.
"The service is a wonderful opportunity for children to practice being worship leaders," said Ellen Edwards, director of children's ministries at St. Paul's. The children serve as ushers, greet worshippers and hand them bulletins and candles. The young readers make the announcements, pray the offering prayer and tell the Nativity story. As the Nativity story is read, other children act out the characters of the story. Acolytes light the altar candles, pass the light while worshippers sing "Silent Night" and extinguish the candles at the end of the service.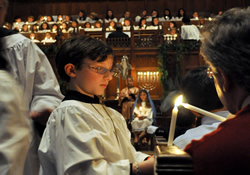 An acolyte lights a candle during a special service at St. Paul's United Methodist Church. Children flll all the roles for the service on the third Sunday of Advent.
ELAINE MATTE MUT
Instead of passing the offering plate during worship, the children have an opportunity to bring an offering of food, clothing, toys or money to share through the church's Emergency Aid Coalition. After the service, the children have their pictures taken at the manger and enjoy fellowship with others with punch and cookies.
"Every role is highly valued, and children learn that they have gifts to offer in the worshipping community," said Edwards. "And the congregation always includes many people without children of their own since the service is so reverent and beautiful."
Christine Kumar
AT A GLANCE: St. Paul's United Methodist Church | 5501 Main St., Houston, TX 77004 | 713-528-0527 | [email protected] | Rev. Thomas Williams, senior minister | Average attendance: 1,155 | Texas Conference