Think college isn't affordable? Think a degree is no longer a good investment? Think again.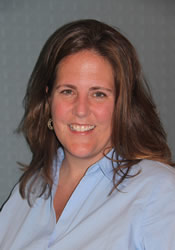 Allyson Collinsworth
GENERAL BOARD OF HIGER EDUCATION & MINISTRY
In 1873, a seminary student at Drew Theological Seminary received a loan from the Board of Education of the Methodist Episcopal Church. The amount: $100. It was the only loan made that year. It was all the board could afford.
The loan was the first offered from what is today the General Board of Higher Education and Ministry of The United Methodist Church. A churchwide "children's offering" in 1866 amassed the amazing sum of $56,674. Interest from that fund provided the money for the first loan.
Today, the board's Office of Loans and Scholarships sees more than $4.5 million awarded every year to members of The United Methodist Church. Allyson Collinsworth, director, said the money assists young seminarians and active lay leaders.
"We're operating under a model to fund as many eligible leaders for the church as possible," she said. The average scholarship award is between $500 and $1,000 for undergraduates, she said, and between $1,000 and $2,000 for graduate students.
"We believe in an educated clergy and lay leadership. We affirm education to assist our leaders with what they need," Collinsworth said. She leads a task force studying the roadblocks to higher education for seminary students and others. Cost is among them.
'Myths' about private higher education
The Rev. David Warren is also concerned about the cost of higher education, but says that private colleges and universities, including those related to The United Methodist Church, are more affordable than most people realize.
Warren, president of the National Association of Independent Colleges and Universities since 1993, has come up with "9 Myths" about non-profit, higher education.
"Private higher education is more affordable than most parents and students believe," he said. "The average published tuition and fees for these schools, according to the College Board, is $29,056 per year. However, the true cost is closer to $13,400 when you factor in financial aid and tax benefits."
These numbers surprise many people, he said. Another myth is that tuition rates are skyrocketing. In truth, the increases have declined for the past decade to 3.9 percent for the 2012-23 school year, the lowest since 1972.
Another myth is that private colleges enroll only white, wealthy, traditional students.
"About one-third of all undergraduates at four-year private colleges are minority students," Warren said, noting that private colleges enroll the same percentage of racial ethnic students as do public institutions. In addition, he said, 41 percent of students come from families earning $49,999 per year or less.
Graduates' debt load is another myth Warren wants to explode. He cites statistics from the Federal Reserve Bank of New York showing the average debt is $29,900.
Another myth about private schools is that they enjoy the benefits of large endowments. In truth, Warren said, the median endowment is $20 million, and only 3 percent have endowments of $1 billion or more.
Many parents of college-bound high school students are searching online, looking for information on costs and fees. Warren advised using information generated from tools such as the "net-price calculator" with a grain of salt.
"This tool is good for ballparking costs," he said. A lack of uniformity between the calculations offered on various schools' websites means people often get conflicting responses, which create confusion, he said
Warren recommended using www.ucan-network.org, the website of the University and College Accountability Network. The site hosts more than 800 private colleges, each of whom uses the same net-price calculator.
Investing in young clergy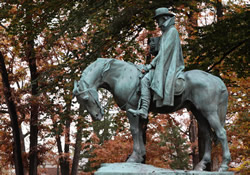 This larger-than-life statue of Bishop Francis Asbury is near the front of campus at Drew University in Madison, N.J. An 18th-century student at Drew Theological School received the first loan from the Methodist Episcopal Church.
KATHLEEN BARRY/UMNS
The Young Clergy Initiative, created by the 2012 General Conference, is also looking at that issue while also trying to lower the average age of a United Methodist clergyperson.
"We know that vital congregations require vital clergy leaders," said the Rev. Kim Cape, Higher Education and Ministry's general secretary, prior to a summit on the topic.
"Investing in young clergy, understanding their challenges and addressing those challenges can encourage talented young people to see a clear way forward in living into their God-given call to ministry," Cape said
"Seminarian indebtedness is a roadblock to many people seeking to become ordained clergy," Collinsworth said. The average debt of a United Methodist seminarian is about $50,000.
Among those who have benefited from the scholarships the board provides is Edgar Bazan. A student at Perkins School of Theology, he also serves as lead pastor at Oak Cliff United Methodist Church in Dallas.
His scholarship "has given me the peace of mind knowing that I don't have to pay back another loan," said Bazan, who received his bachelor of theology degree from John Wesley Methodist Seminary in Monterrey, Mexico. He expects to be ordained an elder in 2016. He has been a local pastor for six years.
Bazan said the dividends from his education are already apparent.
"My local church has benefited from it as I have become a better pastor with more theological resources," he said. "This has made an impact and great difference in my preaching, teaching and leadership."
Churches support students
Other agencies in the church, such as the General Board of Global Ministries, also offer scholarships, Collinsworth noted, adding that her office's funding for scholarships and loans relies on churchwide special Sunday offerings (such as United Methodist Student Day, Native American Ministries Sunday and World Communion Sunday). Her office receives no general church funding.
Local churches are joining general church agencies and schools to help students pay their bills.
The Rev. Ed Trimmer, executive director of the Cal Turner Jr. Center for Church Leadership at Martin Methodist College, works with 31 congregations that are now providing scholarships for members enrolling at the school in Pulaski, Tenn. Another 14 are working to join them as Church Partners.
Olivet United Methodist Church, a rural congregation in south central Tennessee with around 70 people in worship each Sunday, raised more than $10,000 for these scholarships, Trimmer said. The funds become part of the college's permanent endowment. Each year the church can designate a scholarship recipient.
"The college provides an additional $1,000 out of institutional scholarships," said Trimmer.
No matter the cost, "education is to be held high and is still worth it," Collinsworth said. Bazan would agree.
"My vision for the church has widened and my abilities to minister have deepened," he said. "I am extremely grateful for having such support from a church that I love and cherish."
9 Myths about Private, Non-Profit Higher Education
Myth 1: Private colleges are not affordable.
Fact: The average net tuition and fees at private non-profit four-year colleges are $13,380, less than half of the average published tuition and fees of $29,056. Net tuition and fees at private colleges dropped 3.5 percent in the past five years, according to the College Board.
Myth 2: Federal student aid drives up college costs.
Fact: Studies have found no causal relationship between increases in federal student aid and tuition. Over the past four years, annual tuition increases at private non-profit colleges have grown at 3.9 percent.
Myth 3: Private colleges enroll only white, wealthy, traditional students
Fact: Private colleges are as racially/ethnically and economically diverse as public four-year schools. Many students are part-time, working and older adults. About one-third of all undergraduates are African-American, Hispanic/Latino, Asian or multiracial.
Myth 4: Many college graduates leave school heavy in debt.
Fact: Only 3.1 percent of all graduate and undergraduate students accumulate debt of $100,000 or more. The average debt for students who earned a bachelor's degree from a private college in 2011 was $29,900, compared to $23,800 for borrowers at public universities.
Myth 5: A college degree is no longer a good investment.
Fact: In the next five years, six out of 10 American jobs will require a college degree. In 2010, workers with a bachelor's degree or higher averaged more than $78,000 per year; workers with an associate's degree earned about $49,000 per year; and those with a high school diploma averaged $29,000 (U.S. Census data).
Myth 6: Private colleges have billion-dollar endowments and could easily use them to give current students a break on tuition.
Fact: Most institutions—including private colleges—do not have large endowments. Only 48 of the nation's 1,600 private colleges and universities have endowments of $1 billion or more. The average is $20 million. Typically, half of all funds are earmarked by donors for special purposes.
Myth 7: Fewer students are going to private colleges
Fact: Enrollment at private non-profit colleges and universities grew nearly 2 percent in 2011. For the past 10 years, enrollment grew by 26.5 percent.
Myth 8: Private colleges are not innovative or flexible,
Fact: More private colleges are introducing flexible learning models, including online courses, hybrid programs, three-year degrees and satellite campuses. Many are offering degree and certificate programs developed for full- or part-time adult learners, with many classes offered at night or on the weekend.
Myth 9: Private colleges are not transparent and accountable.
Fact: Private colleges come under specific IRS rules on governance and fiscal transparency. Through other federal and state regulatory and reporting requirements, the accreditation process and the sharing of consumer information, private non-profit colleges are accountable to students, parents, policymakers and taxpayers.
Adapted from "9 Myths about Private Non-Profit Education," a publication of the National Association of Independent Colleges and Universities, www.naicu.org/special_initiatives/nine_myths.
United Methodist Scholarship and Loan Programs
General Board of Higher Education and Ministry, Office of Loans and Scholarships
Scholarships
More than 60 programs offer awards for United Methodists at all grade levels, seminarians and ethnic minorities; some post-graduate fellowships.
Amounts vary: Undergraduate average is $1,000 per year; graduate average, $2,000 per year.
Applications accepted: Jan. 4—March 5
To apply: www.gbhem.org/scholarshipapplication
Student Loans
Low-interest loans available for United Methodists with an approved cosigner. May borrow up to $5,000 in a calendar year.
Winter/Spring loans: Apply Dec. 1—May 1
Fall loans: Apply June 1—Nov. 1
To apply: www.gbhem.org/loanapplication
General Board of Global Ministries
World Communion Scholarship Leadership Development Program
Educates and trains mission partners from around the world.
Application Deadline: Nov. 30
To apply: www.umcmission.org/Explore-Our-Work/Scholarships
United Methodist Higher Education Foundation
United Methodist Dollars for Scholars
Provides $1,000 matching scholarships to United Methodists students who receive a $1,000 scholarship from their congregation to attend a United Methodist-related institution.
Application Deadline: March 1
To apply: www.umhef.org
United Methodist Communications
United Methodist Special Sundays with Offerings
Special offerings on Native American Ministries Sunday (April 14), World Communion Sunday (Oct. 6) and United Methodist Student Day (Nov. 24) support the scholarship programs of the boards of Higher Education and Ministry and Global Ministries.
Learn more: www.umcgiving.org.
Many United Methodists congregations and some annual conferences provide scholarships. Check with your pastor or annual conference office for availability, requirements and application information.