When the United Methodist Communications production team enters the Oregon Convention Center on May 4, it will be completely empty. They have just six days to transform the center into a General Conference-ready facility.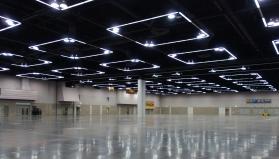 Here's how the Oregon Convention Center will look when the production team arrives. (Photo by Diane Degnan)
"When we go into the building, there is nothing there," said event producer Harry Leake, who leads the production team from United Methodist Communications. "We hire vendors to bring in equipment. We hang a grid from the plenary ceiling where the lights and robotic cameras will be installed. We also set up a sound system and bring in the furnishings. All of it has to be designed - the newsroom, the interpreters' booth, the electronic voting system and wiring for electricity at each delegates' table."
While they only have six days for installation and rehearsal to ensure the equipment is working properly, the team has been preparing for General Conference for the past three years. They are already discussing the 2020 meeting set for Minneapolis.
Ch-ch-changes
Harry Leake has been working General Conference since 1984. As you can imagine, he has seen major technological advances since then. With each quadrennium, technology has allowed production to enhance the experience for delegates and attendees, even if it might mean more work for the crew. This time, the aim is to make the meeting more interactive.
"We want to have more camera coverage to provide an up-close view of the action," said Leake. "This time we are going to operate six robotic cameras that will be hanging from the grid. Last time we only had two or three. This allows us to get more difficult shots and better angles. We will also have five additional cameras that are manually operated."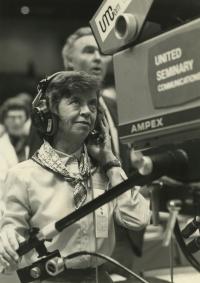 Today's robotic cameras look very different than the camera operated by Dixie Parman during the 1988 General Conference
Also new for 2016 are tablets at each table that will allow delegates to request to speak. This technology is designed to make proceedings run more evenly. In the past, when delegates wanted to address General Conference, they had to hold up cards - making it difficult for the presider to see those in the back of the room. Now, those leading the proceedings can see those requests on a tablet instead of trying to spot a waving hand.
"Those in the production truck should be able to see who is about to speak more quickly so we can get the microphone and camera on that person," said Leake.
Every cue counts
Andrew Jensen, 2016 General Conference video and event director, will be in the truck cuing videos, slideshows, camera shots and presenters entering the stage. He has spent the last 14 months planning and collaborating on worship services, presentations and addresses.
"Events have changed from speaker-centric to media-centric. Sometimes media drives the whole presentation," said Jensen.
How does he ensure everything will run smoothly? "We do a lot of rehearsals during the first two days of the conference to get everything finalized. I'm also memorizing all the scripts," he said. No small task when there are 46 scripts in the two-week lineup. "While I'm the one who needs to know the scripts, it takes a lot of people to keep everything organized."
It's all in the details
In addition to lights, camera and action, production is also involved in putting together and rehearsing for final presentations and installing monitors so that everyone can see.
"We need to ensure that the plenary is going out to all of the Convention center as well as being streamed through our web team," said Leake. "We also have separate set ups for interpreters and the news team."
It is virtually a nonstop job.
By the numbers
It takes a village to produce General Conference. "We have six camera operators covering 11 cameras, six audio operators, three lighting technicians, a graphics operator, a video director, assistant director, technical director, producers, several production assistants, tape machine operator, teleprompter operator, stage manager and several assistant stage managers," said Leake.
*Natalie Bannon is a freelance writer based in Nashville, Tennessee. Laura Buchanan is a public relations specialist at United Methodist Communications. For more information, email [email protected].