These days, a knock on the door usually means one of about two things: dinner has arrived via DoorDash or Uber Eats or an Amazon package has been delivered.
But in Statesboro, the knock may mean the Georgia Southern University Wesley Foundation has deposited a COVID Care Package on your doorstep.
According to a report from the New York Times, Statesboro has become a COVID-19 hotspot. Several hundred students have been diagnosed with the virus or are quarantined because of exposure.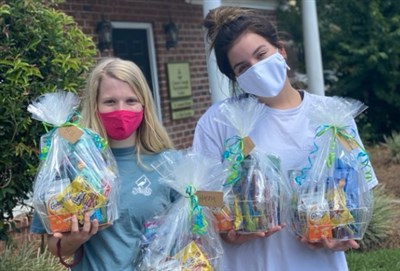 The Wesley Foundation of Georgia Southern University has been creating and delivering COVID care packages to ill students on campus. Image courtesy of the South Georgia Advocate.
The COVID Care Packages are a way to show those students they are cared for even when they are isolated and alone, said Dr. Jonathan Smith, director of GSU's Wesley Foundation.
"We thought it would be a way to bless them and say, 'We see you, we care about you.'"
Each cellophane-wrapped basket contains a journal, a water bottle, a package of Gatorade mix, snacks, candy, Seedbed's "Field Guide for Daily Prayer," and an Upper Room devotional. Inside the journal is a brief note that tells the student they're being prayed for.
"This isn't the season to promote ourselves," Dr. Smith said. "This is the season to tell students that we care, they matter, and that we're in this with them."
Gillian McGuillard, a senior secondary education major who also serves as a Wesley Foundation intern, helps create the care packages. Attending college during a pandemic has been crazy and challenging, she said, but she hopes the baskets are helping bring a bit of joy in the midst of chaos.
"We're getting to bless students and are also giving their parents a little bit of peace of mind knowing that there are people in Statesboro looking out for them when they can't be there in person," she said.
Dr. Smith said they've created and distributed about 20 care packages so far. Word has spread primarily via social media, and several parents have contacted him asking if care packages can be delivered to their ill or quarantined children.
The care packages are just one way the GSU Wesley Foundation has been creative and shifted its ministry since the coronavirus pandemic struck.
The ministry now meets virtually via livestream instead of in person and all of the small-group discipleship and community groups meet online via Zoom.
Despite the unknown, Dr. Smith says he keeps returning to Jeremiah 29 where God sends a message via Jeremiah to the people who were exiled in Babylon.
"All of us are trying to scramble for a new normal, but what if God is asking us to be comfortable in this land, in this place? How do we do ministry when face-to-face contact isn't a reality? How do we let people know we still care for them even though we can't reach out and give a hug and can't sit down with them?"
The COVID Care Packages are one way to do that, he said.
"Our students are fired up about this (the care packages)," he said. "They think it's the most fun thing we've done.
They're a great way for them to put into action the concern they have for their fellow students."
---
Originally published in The South Georgia Advocate September 14, 2020. Republished with permission on ResourceUMC.org. Kara Witherow is editor of the South Georgia Advocate.