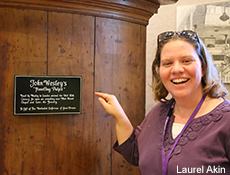 United Methodist History class member Logan Alley with John Wesley's traveling pulpit at the World Methodist Museum at Lake Junaluska. Photo courtesy of Laurel Akin.
For years I saw them at United Methodist Women events in my conference — brochures about deaconesses and, later, home missioners, asking, "Is this a calling for you?" For years I thought to myself, "Maybe someday."
Raising three children, serving with United Methodist Women, volunteering in my church and working full time kept me busy. Deaconesses and home missioners, laywomen and laymen, serve in full-time lay ministries of love, justice and service, and I didn't believe anything I knew how to do would qualify. I had an associate's degree in photography, and I enjoyed writing and short-term mission trips, but I couldn't imagine how I could use the gifts God had given me as a deaconess.
Life changed when my children were grown. I remarried, resigned from my career and moved to a new town. With my husband's support and encouragement, I returned to the classroom and earned a bachelor's degree in journalism and photojournalism.
A few months before I graduated I learned about an upcoming discernment event for people interested in exploring God's calling to serve as a deaconess or home missioner, and I applied to attend. The two deaconesses I knew, Clara Ester, retired executive director of Dumas Wesley Community Center in Mobile, Alabama, and Susan Hunt, director of mission and advocacy for the Alabama-West Florida Conference, would both be present at the weekend event in Pensacola, Florida, just a few hours from my home.
Discernment process
That weekend in October 2012 I learned more about deaconesses and home missioners and the many ways they live out their calling: in special education, community development work, health care, senior adult ministry, music therapy and more. Deaconesses and home missioners work in paid or volunteer positions and find their own places to serve, which is approved by United Methodist Women's Office of Deaconess and Home Missioner.
After months of prayer, I completed the application to become a deaconess. The hardest part for me in completing the application was identifying how and where I would serve. Finally, I wrote that I wanted to use my photography and writing to help people tell their stories, and I was open to God's will as to how that would be achieved.
A few weeks after submitting my application I received an invitation to travel to New York in March 2014 to attend the first required class, the Theology of Mission, as well as for psychological evaluation and interviews with members of the staff of the Office of Deaconess and Home Missioner. Only after these steps is an applicant notified if she or he is approved to move forward as a deaconess or home missioner candidate.
Prior to the time in New York, there were several assignments to complete, including reading some books included on the United Methodist Women's Reading Program list. I was also happy to learn that the Rev. George McClain, one of the authors of the United Methodist Women spiritual growth study The Call: Living Sacramentally, Walking Justly, would be the instructor of my Theology of Mission class.
While waiting in the Atlanta airport for my flight to New York I received a call from a number identified as "California call." To my surprise, the caller was one of my classmates, Robin Ridenour, whom I'd not yet met. She had arrived in New York a day early and offered travel back out to the airport to meet and help me navigate the train and subway system into the city. That's typical behavior of the deaconess and home missioner candidates I've met over the past two years—caring, supportive and welcoming!
The Theology of Mission class included several field trips, beginning with Sunday morning worship at United Methodist Church of the Village. We went on a walking tour of downtown Manhattan led by Scott Vickery, a home missioner and an executive with the Office of Deaconess and Home Missioner.
Covenant community
The Theology of Mission class was a life-changing experience. Long before our class ended I felt sure that I wanted to continue along the path to become a deaconess. Even though I could serve God and others without becoming a deaconess, I knew that being a part of the community of deaconesses and home missioners and having that relationship with The United Methodist Church would give me the spiritual and emotional support that would help me to be better at whatever my ministry became.
My prayers were answered when I received a letter notifying me that I had been accepted to move forward through the candidacy process. In addition to Theology of Mission, candidates are required to take History of The United Methodist Church, Old Testament, New Testament and Doctrine and Polity of The United Methodist Church. The classes can be taken at approved seminaries or online, but I chose to take them in the intensive classes organized by the office of Deaconess and Home Missioner. The three I've taken since the first one in New York have been held at Brooks-Howell Home in Asheville, North Carolina, a retirement community for deaconesses, home missioners and missionaries, owned and supported by United Methodist Women.
Staying at Brooks-Howell provides a rich opportunity to meet women and men who have dedicated their lives to God and serving others, and the residents' motto is "called, served, serving still!" Among their many other activities, the residents partner with United Methodist Women on special projects, such as the finger prayer labyrinths for General Conference 2016. For our history class, we were each assigned a resident to interview. We then wrote about how that person's work intersected with the history of The United Methodist Church. This assignment gave me the opportunity to get to know Helene Hill, a retired deaconess and diaconal minister who has led a remarkable life of service.
Now I am preparing for my final class, Doctrine and Polity of The United Methodist Church, which takes place at General Conference 2016 in Portland, Oregon. I look forward to witnessing the consecration of many friends there as deaconesses and home missioners and rejoicing with them as they take the next step in a lifetime commitment to make Jesus Christ known through ministries of love, justice and service.
---
— Laurel Akin is a deaconess candidate and communications coordinator for the Alabama-West Florida Conference United Methodist Women.
Originally published by United Methodist Women, 5/9/2016.