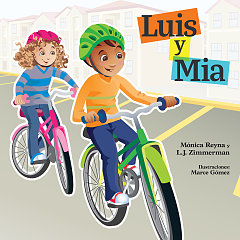 NASHVILLE, July 2018— Abingdon Press has published a new book dealing with immigration and cross-cultural friendships, Luis y Mia/Mia and Luis.
Luis y Mia/Mia and Luis is a flip-over book that tells the story of two children, Luis and Mia, from each child's perspective, in both English and Spanish. Their stories begin when Mia, who is white, makes a culturally insensitive remark to Luis, who is Mexican-American. Mia's story explores important issues such as what makes someone American, biblical perspectives on immigrants, and how to make amends. Luis's story explores issues such as cultural pride, challenges faced by immigrants, and forgiveness.
Brittany Sky, Senior Editor for Children's Resources, says, "With the current crisis of high numbers of displaced persons migrating around the world, it is imperative to help children discover how they too can heed God's call to show care for the immigrants among us, and we hope it will help our immigrant children feel safer and loved by creating allies in their classrooms. We wrote and published Luis y Mia / Mia and Luis to be a resource for helping children understand the importance of showing love to people who may seem different, apologizing when you're wrong, forgiving one another, and making everyone feel welcome."
When co-author Monica Reyna read a draft of Luis y Mia to her children, the story resonated with them. They told Monica about times when they had been on the receiving end of insensitive or insulting comments, just like Luis. Unfortunately, we know that many children who are immigrants or first-generation Americans have had this experience. We hope that Luis y Mia/Mia and Luis will help children reflect on these experiences with their families, and find healing and hope.
Please visit the Luis y Mia/Mia and Luis web page at https://abingdonpress.lpages.co/luis-y-mia/
Bulk purchase pricing is available. Please call (1-800-672-1789) or visit Cokesbury.com for more information.
---
The United Methodist Publishing House is a publisher and distributor to Christian clergy and laity, with primary responsibilities for the publishing and distribution for The United Methodist Church. The Publishing House is a fully self-supporting agency and receives no general church funds.
Cokesbury is the retail and customer services arm of The United Methodist Publishing House, which serves more than 11 million UMs worldwide as well as a broad ecumenical audience representing many denominations and independent churches, with books, Bibles, curriculum, worship resources, and church supplies. Cokesbury offers more than 200,000 products to congregations through at www.Cokesbury.com and the Cokesbury Contact Center 1-800-672-1789.
Abingdon Press is the primary publishing imprint for The United Methodist Publishing House and has a tradition of crossing denominational boundaries with thought-provoking and inspirational books. Abingdon Press titles include a wide array of quality Bibles, Bible studies, small group studies, Christian living, fiction, devotional, academic, professional, and reference titles published each year to enrich church communities across the globe. Visit AbingdonPress.com.