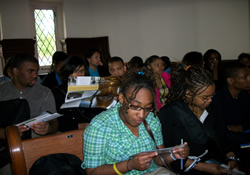 Students review brochures and other information during one of 11 campus visits they make during Hope United Methodist Church's 'Black College Tour.'
COURTESY HOPE UMC
Sheree Calhoun and her team want to prepare potential college students for greatness.
For the past 18 years, Calhoun has led the Hope Black College Tour for high school freshmen to seniors. It is part of the ministry of Hope United Methodist Church in Southfield, Mich., where Calhoun has been a member for 22 years.
The church also hosts college fairs where students meet with recruiters from different schools and offers scholarships.
Beginning March 31, more than 50 students will take the six-day bus tour to 11 schools. It will include stops at United Methodist-related Dillard and Clark Atlanta universities. While on the bus, students review college brochures. The trip gives them a taste of what it is like to be away from home as they begin to make academic choices.
"It's priceless to see the lightbulb go on as they are thinking about their future," Calhoun said.
On each campus, the students tour classrooms, dorm rooms and the dining hall and learn about scholarships and financial aid. Calhoun said many quickly recognize that campuses look different on websites than they do during onsite visits. The campus visits help students begin to figure out the best fit for their academic life. At a closing banquet, they share insights and feedback about the campuses.
Evelyn Summerville, Christian education director at Hope, calls the tour "a terrific and fun way for students to evaluate colleges and experience a wonderful tradition within the African-American heritage." The cost is $600 per student for transportation, hotel rooms, T-shirt, tote bag and a banquet.
To contact Calhoun about starting a college tour program, email [email protected] or call the church office, (248) 356-1020.
Christine Kumar is a freelance writer based in Silver Spring, Md.
AT A GLANCE Hope United Methodist Church | 26275 Northwestern Hwy., Southfield, MI 48076 | 248-356-1020 | [email protected] | www.hopeumc.org | Senior pastor: Rev. Carlyle Fielding Stewart III | Average worship attendance: 674 | Detroit Annual Conference