Heritage Sunday is an annual observance for United Methodists to remember and reflect on their legacy. It is an ideal time for local churches and Annual Conference Commissions on Archives and History and Historical Societies to develop programs and projects reflecting the importance of history in congregational formation and casting the future.
According to The Book of Discipline 2016, "Heritage Sunday shall be observed on Aldersgate Day (May 24), or the Sunday preceding that date. The day provides an opportunity for reflection on heritage, celebration of where the Church has been, how it understands itself as it shapes us today, and the meaning of Christian conferencing. Heritage Sunday calls the Church to remember the past by committing itself to the continuing call of God (Paragraph 264.1).
History and historians sometimes get a bad rap, as if the subject and its devotees are only interested in the past and tediously preserving it. The General Commission on Archives and History staff believe and experience every day the power of history not merely as remembrance but active engagement, the past pointing to purpose, the DNA that makes us who we are, forming how we live-into the future. Send feedback about this year's Heritage Sunday resources and how you used this material in your celebration to [email protected].
Resources
If your church is looking ahead, the theme for Heritage Sunday 2020 on May 24 will be "200 Years of the General Board of Global Ministries."
---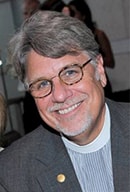 Fred Day is the General Secretary of the General Commission on Archives and History. Originally published by Archives and History April 2019.