Is God calling you?
Deaconesses and home missioners are United Methodist laypeople who have discerned a call, completed theological study and been approved by United Methodist Women and their bishop. Learn more at www.unitedmethodistwomen.org/programs/deaconesses or write [email protected].
United Methodist Deaconesses and Home Missioners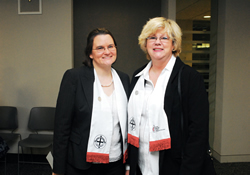 Deaconesses Becky Louter (left) and Nancy Garrison visit at a commissioning service for new deaconesses and home missioners. Louter leads the Office of Deaconess and Home Missioner for United Methodist Women. Garrison serves on a ministry with older adults on Swannanoa, N.C.
UNITED METHODIST WOMEN
"We are United Methodism's best-kept secret!" declares deaconess Becky Louter.
2013 marks the 125th anniversary (www.dhmumc.org) of the deaconess movement in the Methodist tradition. Founded to embody the principles of love, service and justice, the covenant community today includes almost 190 laywomen—and 10 laymen called home missioners. The 2004 General Conference opened the office to men.
Louter is executive secretary for the Office of Deaconess and Home Missioner, a part of United Methodist Women.
Unlike most ordained clergy and some commissioned missionaries (who may be clergy or lay), most of the theologically trained deaconesses and home missioners live their calling outside congregational settings. They are teachers, nurses, chaplains, firefighters, physicians, community center directors, volunteer coordinators, church workers and more.
Creating community
The work is often difficult. Today's home missioners and deaconesses support and encourage one another online and in person. Support also comes through attendance at an every-other-year convocation, nurture through on going "soul care," including retreats at deaconess homes in Asheville, N.C., or Chautauqua, N.Y., and membership in an annual conference.
Deaconess Fran Lynch has "seen and experienced much encouragement to try new things in ministry, to admit we are searching, to welcome all to the table. When we can do this for each other, we can do this in our respective ministries." Lynch is a church and community worker at Willow-Anvik-Grayling Church and Community Ministries. It provides a food pantry and other assistance for residents of the community 75 miles north of Anchorage, Alaska.
Home missioner Thomas Gates serves with the North Carolina Conference, where he is a construction coordinator for the conference's disaster response. "Being a home missioner offers opportunity, through a connected community, (for) expressing God's love by giving one's self for the benefit of others," he said.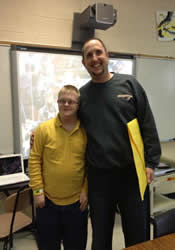 Home Missioner Scott Vickery poses with one of his students at Oak Grove High School in Hattiesburg, Miss., where he was a special education teacher until January 2013.
COURTESY SCOTT VICKERY
Looking back, forward
When the deaconess movement began in 1888, the Methodist Church led other Protestant denominations in recognizing that women could be church leaders, as well as evangelists and healers. The first deaconesses worked as teachers and nurses. As many do today, the women sought to improve the lives of those affected by extreme poverty. The deaconess's goal was to live as Christ did, in total service to the community.
The early 20th-century saw more than 2,000 women serving as deaconesses and 62 national training centers across the United States. Deaconesses started many of the nearly 100 United Methodist mission institutions in the United States that continue to serve people in love and solidarity.
Louter reports a growing number of young people considering service as deaconesses or home missioners.
"Just sitting in church and playing church is not doing it for people," said Scott Vickery, 37. "Serving people and loving on people" does, laughed the Mississippi native. The home missioner served as a special education teacher before becoming the executive secretary for community relations for the deaconess and home missioner community, a position he compares to being a chaplain.
Encouraging exploration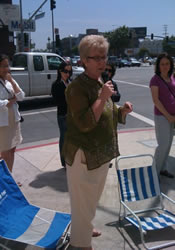 Jeanne Roe Smith
UCLA WESLEY FOUNDATION
Chaplaincy is the work of Deaconess Jeanne Roe Smith who serves through the University of California at Los Angeles Wesley Foundation. She loves her encounters with young adults—including deep conversations late at night.
"The questioning and pursuit of personal, spiritual and academic understanding is holy ground on which I am privileged to journey with students," she said. "In the priesthood of all believers, everyone is invited to find their call and place to be God's agent of peace, reconciliation and love. And, in that spirit, where all truly means all, I encourage students to explore the many ways to live their call," she said.
Deaconess Sandi Hortman directs the culinary arts program at Open Door Community House in Columbus, Ga., and does some chaplaincy. Open Door's ministries reach out to women and children and to people without homes.
"The deaconess/home missioner relationship is a gift from God to those who are called to serve the church in a formal relationship as laity," said Hortman. Seminary training, a network and prayer support prepare one "for the gift of the opportunity to serve our marginalized friends! To God be the glory!" she said.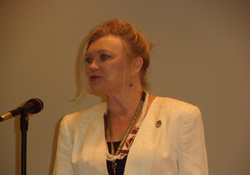 Sandi Hortman
OPEN DOOR COMMUNITY HOUSE
A prophetic voice
The only deaconess and home missioner ministry outside the United States is Haitian Artisans for Peace International (HAPI). Deaconess Valerie Mossman-Celestin is the U.S. executive director for the arts and community program in Haiti that empowers women through microcredit, fair trade, health and education programs.
She finds deaconesses and home missioners to be "one of the prophetic voices for the church, calling it to experience God's scriptural mission of radical love in the world and reminding (United Methodists) of our Wesleyan tradition to be a movement of social holiness."
HAPI allows Mossman-Celestin "to raise the mirror to North Americans to reflect upon how we have traditionally engaged in international mission that may have had unintended consequences of contributing to a cycle of dependency. I ask people to consider new approaches to equip and empower."
"Some of the best people that you will ever meet on this planet are deaconesses and home missioners," Vickery said.
Mary Beth Coudal blogs about faith at MBCoudal.com, leads writing workshops and is a corporate communications consultant. She is based in New York.