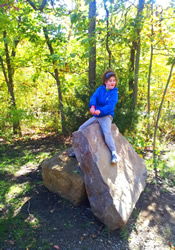 Katianne Tannenwald enjoys a campout in 2013.
COURTESY BOB TANNENWALD
Katianne Tannenwald thinks having her dad around cramps her style.
It wasn't always like that, her father says, but he's glad she feels that way. It's a sign of her growing independence. The cause? Her scout troop.
"She was a little apprehensive the first year (of summer camp), but now she's usually shoving me away on check-in day, telling me there's no need for me to stick around for all the settling-in stuff," Bob Tannenwald said. "She's got things under control."
Katianne is part of a Boys Scouts of America co-ed Venture Crew unit at United Methodist Church of the Resurrection in Leawood, Kan. The church also has a Boy Scout troop and a Cub Scout pack. All three form one unit, and it is like any other — with one difference. It is for youth with special needs.
Katianne, 19, is mentally disabled and has severe hearing loss largely corrected with hearing aids. Various physical challenges led to several heart surgeries when she was an infant.
Other youth in the troop have a variety of physical and mental challenges, Bob said, with some in wheelchairs, some who are nonverbal and others "at an intellectual age much younger than their actual age." The most common conditions are autism and Down syndrome.
"Everyone's not the same and doesn't have the same needs, but no one is 'the special-needs kid' because everyone is," Bob said. "They go from being a kid with special needs to just being a kid."
The youth meet monthly to work on advancement and merit badges. Annually they go on camping trips and to summer camp and have a holiday party in a special setting.
Katianne, then 15, joined the troop in 2009, shortly after it formed. It now 20 members, ages 10 to 26; special-needs troops have no age limit.
"Normally, you would think there's a rough correlation between age and maturity-ability," Bob said. "In a special-needs troop, that's not the case. As a result, the wide age range doesn't present a problem."
What Katianne likes best about scouting, he said, is making friends and interacting with other Scouts. "She doesn't really care what the month's activity is," he said. "She just wants to socialize with everyone."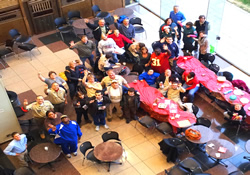 Boy Scout Troop 11 enjoys its 2012 holiday party.
COURTESY BOB TANNENWALD
Scouting has increased the independence of many of the troop's members. "A lot of them have really come out of their shell ... in a safe, nurturing environment," Bob said.
Church of the Resurrection started the troop as part of its outreach to people with special needs and their families. It also has two units for non-disabled youth.
"It's important for churches ... to be outwardly focused in the community in programs that promote civic involvement and personal improvement," said Randy Meyer, the church's chartered organization representative.
Effective scouting programs, he added, build character, promote physical fitness and provide "life-enriching educational activities and beneficial life skills."
Larry Coppock, national director of scouting ministries for United Methodist Men, agrees. He said evangelism and outreach are the most important reasons churches charter troops.
"Statistics show us that 50 percent of the youth who join scouting programs come from unchurched families," he said.
By the end of 2012, 363,000 Boy Scouts, Cub Scouts and Venturers were participating in more than 10,000 units at nearly 7,000 United Methodist churches, Coppock said. The United Methodist Church is the second-largest sponsor of Boy Scouts and the largest sponsor of Girl Scouts, with more than 127,000 girls meeting in 27,000 troops.
"With Big Brothers/Big Sisters of America, Camp Fire and 4-H, almost 500,000 youth meet in our churches — more than United Methodist youth," he said.
A recent vote by Boy Scouts of America's National Council to allow gay members beginning Jan. 1 has had limited impact on churches' willingness to charter troops, Coppock said.
"Only a few ... churches have dropped their charters," he added. "We have picked up many units that have been jettisoned by other denominations; in fact, we have picked up so many more than we have lost."
Skills for life
Christian DeJarnette says churches should sponsor troops.
The 20-year-old junior, majoring in biochemistry and minoring in biblical studies at Lee University in Cleveland, Tenn., became a Tiger Scout in the first grade.
"I wanted to join and actually had to talk my parents into driving me back and forth," he said.
DeJarnette said the best part of scouting was the relationships he formed. And it gave him an opportunity to invite friends to church.
"Most of the boys would not have gone to church, except that I was in the youth group and was able to incorporate some of them," he said. "Four of us stuck really close together — we went to the same church, one was my best friend at my school. The most important lesson from scouting for me was the friendship."
DeJarnette said the skills and values he learned while becoming an Eagle Scout were invaluable. Perseverance and a strong work ethic helped him land several jobs. His first-aid skills enabled him to help an ill teammate during a cross-country meet in high school.
"The troop probably has shaped me into who I am more than any other (influence)," he said.
Churches interested in scouting and other civic youth programs can find more information at www.umscouting.org.
Tita Parham is a freelance writer, editor and communications consultant based in Apopka, Fla.