Dr. David Rangel is executive pastor of Custer Road UMC in the Dallas-Fort Worth, Texas area. The Hispanic ministry was launched in February, 2023 with over 200 people in attendance. Here are his quick tips to develop Hispanic/Latino Ministries within an English-speaking congregation.
1. Know your demographics.
If your mission field says that there are immigrants, then pay attention to that. But if your community doesn't have immigrants, then don't. God has a purpose for everyone, and it is our responsibility to step up to the task when we are needed.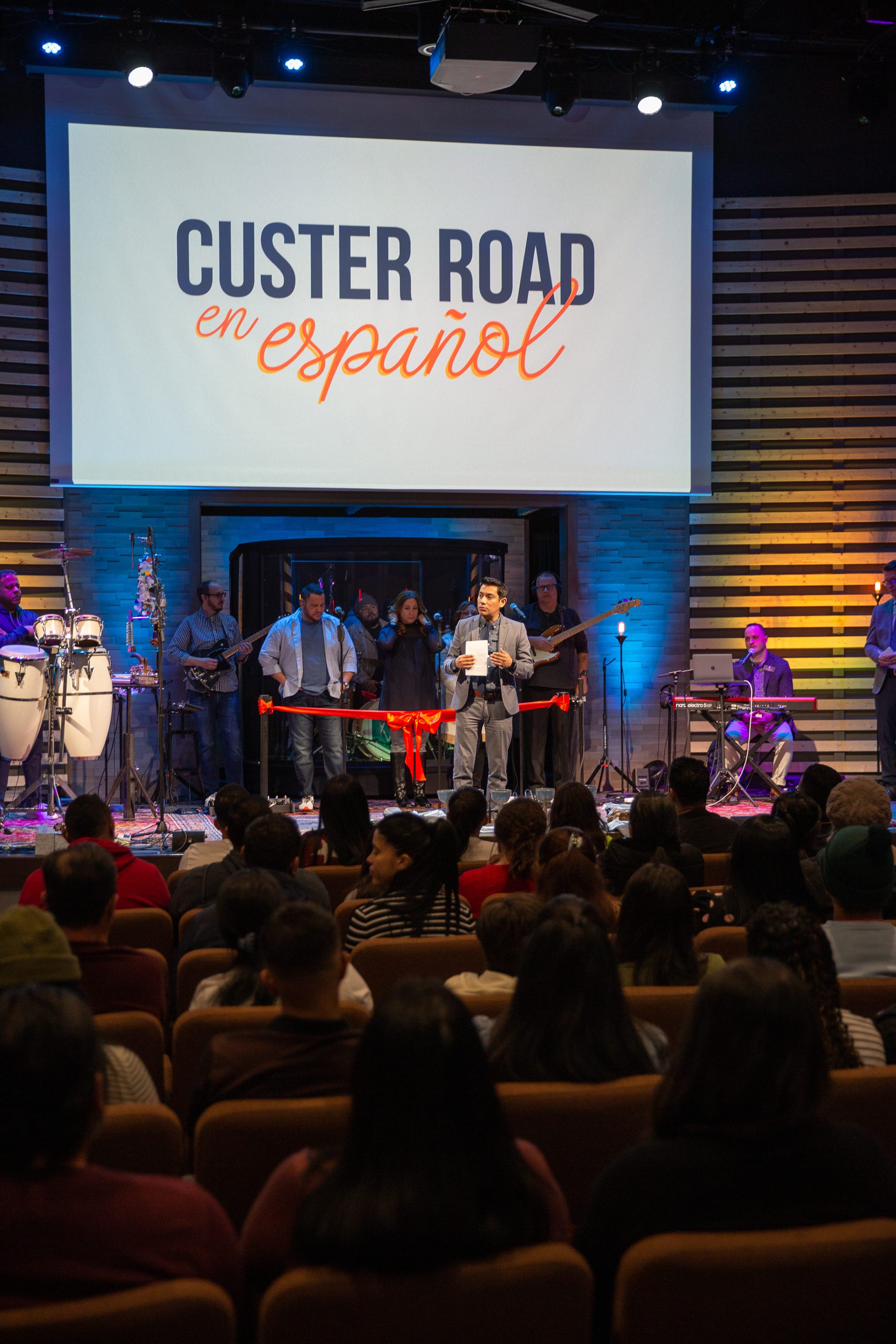 Rev. Rangel leads worship during the launch of Custer Road en español. Image courtesy of Custer Road UMC.
2. Discuss this opportunity with your local congregation.
God called us to make disciples of all nations. The nations are right across the street. You are living the Great Commission. Some starter questions are, "What does it mean for your church setting to have a Spanish speaking ministry? What does it mean for the children's ministry to know kids who speak Spanish?"
3. Plant the seeds for bilingual ministry.
If you are currently engaged in this work, you might already be planting the seed for a bilingual ministry. Custer Road UMC offered Spanish worship once a month before its launch. It started out with five people and a regular attendance of 160+, but be careful not to launch too soon.
4. Educate staff and church leadership.
Train your staff and local church leadership often. These can be cultural competency classes; Spanish speaking classes might be helpful as they prepare to engage with others that do not speak English.
Have conversations with staff and pastors to explore ideas on what it would look like to have a Spanish ministry within and English-speaking congregation.
5. Hire/recruit someone that can do bridging work between the two cultures
As you hire or work with someone to help you with this, regular check-ins and one on ones are helpful in terms of being able to respond to the needs sooner. You can work best if you are on the same page.
6. Continue to learn, always.
As you look back at what you have done, there might be things you missed along the way. For example, as a Mexican native, I wish I had known what the food, the culture or the immigration needs were for the Venezuelan people sooner. This would have prepared me to approach them differently.
7. Optimize resources.
Have conversations with the English-speaking staff and congregation about finding ways to partner and support this new ministry.
8. Cover the project in prayer.
Make sure to include the element of prayer throughout the development and execution of this new ministry.
---
These quick tips are part of Custer Road UMC: Reclaiming the gospel of hope in times of exile, written by Pastor Keren Rodriguez.