Teresa Faust's center of operations for her research work on behalf of United Methodist Communications (UMCom) is at her home in Centerville, OH.
In her role as Senior Manager of Research & Metrics she has the opportunity to learn a lot about people and things, and then share that information with the communications agency staff and others. Now, she's using her personal knowledge and experience to encourage her teammates to learn about and experience her hometown area first-hand.
Teresa shares that Centerville has the largest collection of early stone houses in the state of Ohio and that they are listed on the National Register of Historic Places. Those wishing to explore one can check out the three museums run by the Centerville-Washington History.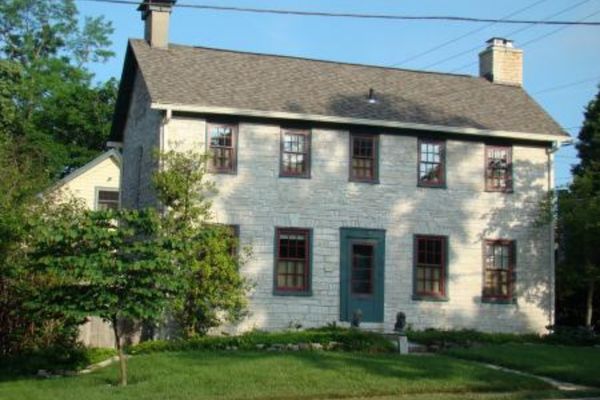 Elisha Jones House stone building photo provided by CentervilleWashingtonHistory.org.
If you've got a sweet tooth Teresa says that "Bill's Donuts is THE place to go for donuts. It is across the street from the church my family attended when I was growing up. My dad would take me or one of my three siblings into the shop after church and we'd get to select a dozen donuts (two per person)." Her memory-filled local bakery was previously featured by USA Today as one of the "10 Best Places to Get a Doughnut" and While you're there be sure leave a donation in the Special Wish Foundation box. Bill co-hounded the foundation that is celebrating 30+ years of helping grant wishes for youth in their community who has been diagnosed by a physician with a life-threatening disorder.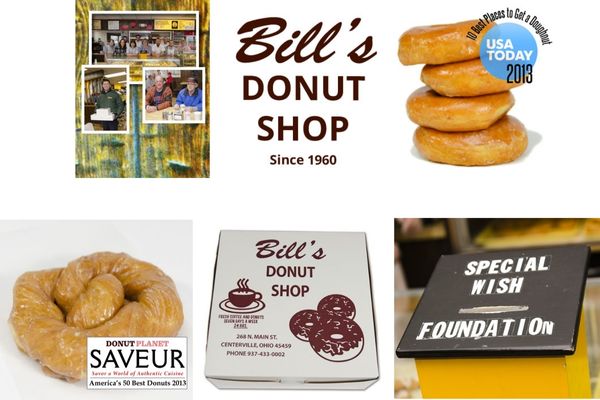 Images courtesy of Bill's Donut Shop.
Centerville is known as an Open Space Community as the resident-founded Centerville-Washington Park District has preserved more than 1,000 acres spanning 50 parks. Leonard E. Stubbs Memorial Park offers the community playgrounds, walking trails, disc golf and inline skating. The park's amphitheater also hosts a summer concert series. This city also hosts local artists and children's theater.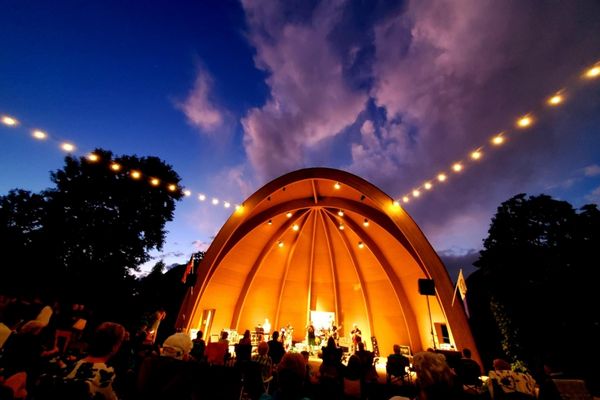 A concert night at Centerville Community Amphitheater. (Image courtesy of CentervilleOhio.gov)
Just a short drive away is Teresa's hometown of Dayton, OH. A place that she describes as: "Small, but mighty. Home to innovators and my family."
Marion Glass opened Marion's Piazza in 1965, serving "Dayton-style pizza". This was a result of a pizza war between Marion Glass and Cassano's Pizza King chain. Every 5 years, for one day only, Marion's Piazza sells their traditional menu items at the original 1965 price (i.e. a small cheese pizza for $0.80 and a large deluxe pizza for $2.50). One of the distinct characteristics of every Marion's Piazza location is the photos found on the walls. A longstanding relationship with Kenley Players Summer Theater from 1966 through 1995 brought many of Hollywood's best known stars to Dayton and to Marion's Piazza; stars like Frankie Avalon, Mickey Rooney, Joel Gray and Sally Field to name a few. Henry Winkler ("the Fonz" from Happy Days sitcom) drew the largest crowd in 1975 when over 2,000 people made reservations to see him. Daytonians Rob Lowe and Martin Sheen still frequent Marion's Piazza when in Dayton.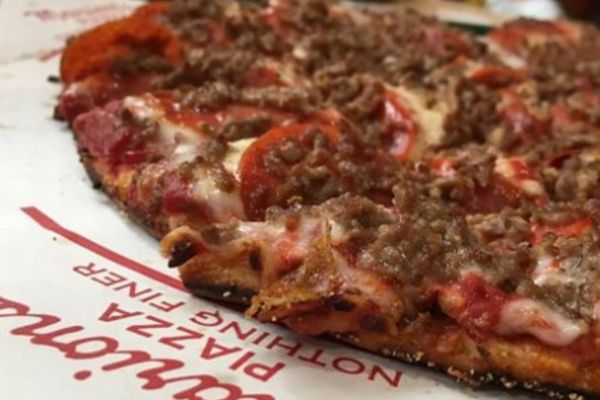 Photo courtesy of Marion's Piazza.

Carillon Historical Park is a 65-acre park and museum that contains historic buildings and exhibits concerning the history of technology and the history of Dayton and its residents from 1796 to the present. The major sections include settlement, transportation, invention, and industry. The park also contains a Carillon Park Railroad miniature railway and the Wright Brothers National Museum.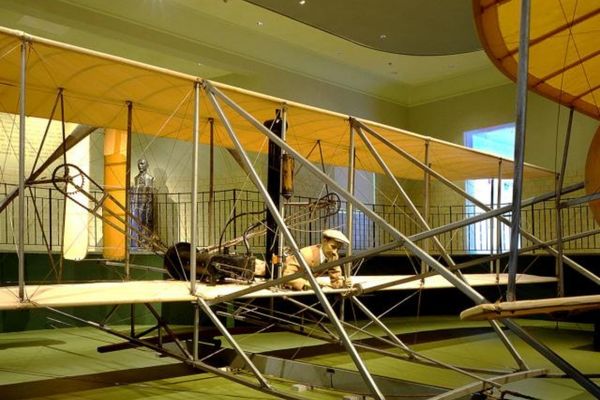 The Wright Brothers National Museum has the largest collection of Wright artifacts on display. This includes the first practical flying machine the 1905 Wright Flyer III. (Photo courtesy of Dayton History and the Dayton Convention & Visitors Bureau.)

A highlight of the area is the National Museum of the United States Air Force –the official museum of the United States Air Force located at Wright-Patterson Air Force Base. The NMUSAF is the oldest and largest military aviation museum in the world, with more than 360 aircraft and missiles on display from 9am-5pm seven days a week. Admission and parking are free.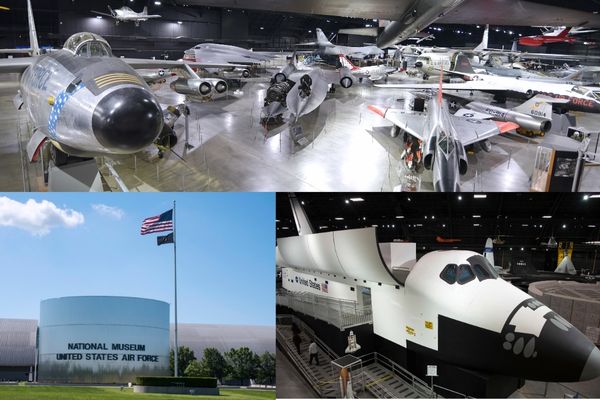 Top: Cold War Gallery at the National Museum of the United States Air Force. Bottom left: Exterior view of the National Museum of the U.S. Air Force. Bottom right: View of the Space Shuttle Exhibit at the National Museum of the United States Air Force. The fourth building includes more than 70 aircraft in four galleries -- Presidential, Research & Development, Space and Global Reach. (All images, U.S. Air Force photos by Ken LaRock.)

Coined as the community's front door, RiverScape is an urban park located along the Great Miami River in downtown Dayton. It offers a host of activates from summer concerts to ice skating, recreation and large community festivals. Its fountain of lights is one of the largest fountains in the word and an important part of the city's skyline.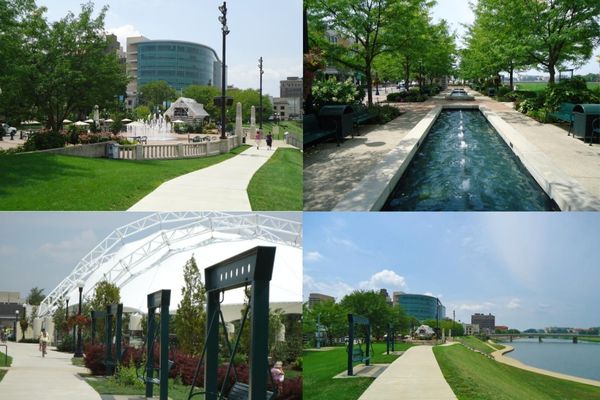 Views of Dayton's Riverscape park. (Photos courtesy of the Dayton Convention & Visitors Bureau.)

Woodland Cemetery and Arboretum is one of the oldest garden cemeteries in the United States. Woodland was incorporated in 1842 by John Whitten Van Cleve, the first male child born in Dayton. Notable burials include airplane inventors Orville and Wilbur Wright, poet Paul Lawrence Dunbar, inventor Charles F Kettering, industrialist John H Patterson and humorist writer Erma Bombeck.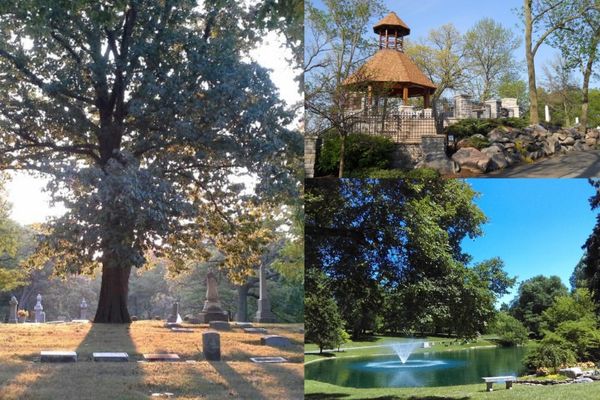 Views of Dayton's Riverscape park. (Photos courtesy of the Dayton Convention & Visitors Bureau.)

The University of Dayton was founded in 1850 by the Society of Mary. It is one of three Marianist universities in the nation and the second-largest private university in Ohio. The school is a top-tier research university, so it was a perfect match for United Methodist Communication's internal research aficionado. Teresa is happy to share that "I am a two-time graduate and flyer fanatic!"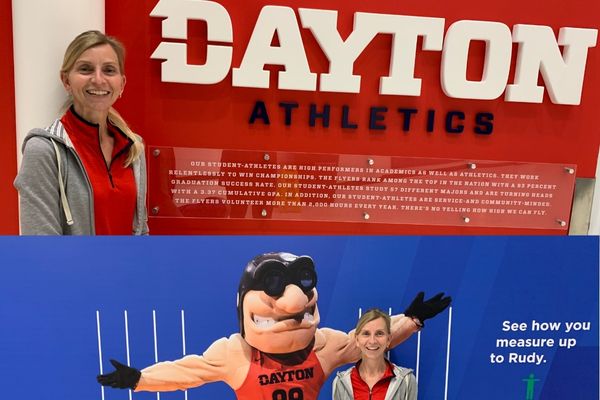 Teresa enjoys attending the Dayton athletics events. She captured her school pride while celebrating one of the men's NCAA basketball wins. (Photos courtesy of Teresa Faust, taken by her dad)

Whether you're looking to experience history and innovation, have fun outside or enjoy good food you'll find something to enjoy in Ohio's cities of Centerville and Dayton.