First Eustis tackles childhood homelessness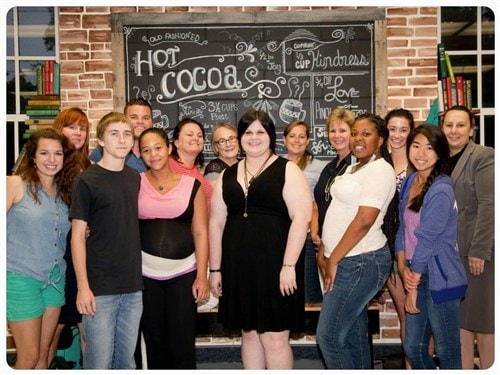 Forward Paths' mission is to positively influence at-risk youth and forever revolutionize their path to independence.
March 29, 2019
By Yvette C. Hammett | FLUMC
When Pastor Chris Haden arrived at First United Methodist Church of Eustis five years ago, he found a church that was not only in decline but also was wandering the proverbial desert without a purpose.
Before the decline began, there were great plans for a new community center on a large piece of property the church had purchased piecemeal through the years.
But with membership dropping from a high of 1,200 to 200, this church, tucked in a Mayberry type suburb of Orlando, would not be building anything new for its aging congregation.
Left to right: Meredith Kirste P.A., Rev. Chris Haden, Denise Burry (Director of Forward Paths), Patrick Thomas and Sharon Wooten.
"My early diagnosis of the church was that it was suffering from a lack of purpose," Haden said. "They were desperate for something to matter. I just announced one day we were going to do something about childhood homeless in Lake County. And they said okay."
That led to a partnership with Forward Paths and a goal to end childhood homelessness in its area of influence.
Eustis, bordered on one side by the Ocala National Forest, once was a citrus town.
Today, it remains a tight-knit community where everyone knows everyone else, and locals own the hardware store and the funeral parlor. It has not experienced the growth many surrounding communities have because it borders the preserved forest.
What it does have, though, are a lot of kids aging out of foster care with no place to go. Housing, like everywhere else in Florida, is either lacking or expensive. And landlords aren't exactly lining up to rent to 19-year-olds.
The church's partnership with the nonprofit Forward Paths includes plans to build up to 14 tiny homes on the property once slated for a new community center. The land will be deeded to Forward Paths with the stipulation that it must always be used to combat homelessness.
"Our main center point is to donate that land, so they can build housing for youth and young adults who are homeless and trying to get back on their feet," Haden said.
The tiny homes concept is not written in stone because it will depend on what the city of Eustis allows. But it is the ideal scenario for building something both effective and attractive.
Skilled TRACK team members volunteer their woodworking expertise. Photo by First UMC of Eustis.
The entire city block is ideal for this project because it is close to a high school and Lake Tech, a technical college where the kids could continue their education. Public transit is available within biking distance of the property.
"Our church council has officially voted to do this, and we are in talks with our real estate attorney and the director of Forward Paths and their real estate attorney," Haden said.
It was Pat Thomas, the church's treasurer that first brought the idea for this project to Haden, he said. He was already involved with Forward Paths.
"When I arrived in Eustis, I immediately started asking that question, 'God, what is your plan?' While I was asking that question, Pat and his wife were particularly involved in mission work. They are real go-getters and started educating me about the problems in the area," Haden said.
"It's a huge problem (childhood homelessness)," Haden said. "We started praying about how we can do this, and God sent us partners."

—Yvette C. Hammett is a freelance writer in Valrico