A United Methodist loves God and neighbor
"Our mission as a denomination is to make disciples of Jesus Christ for the transformation of the world."
Most people can recite that from memory, but the question is, 'How do we do that?'"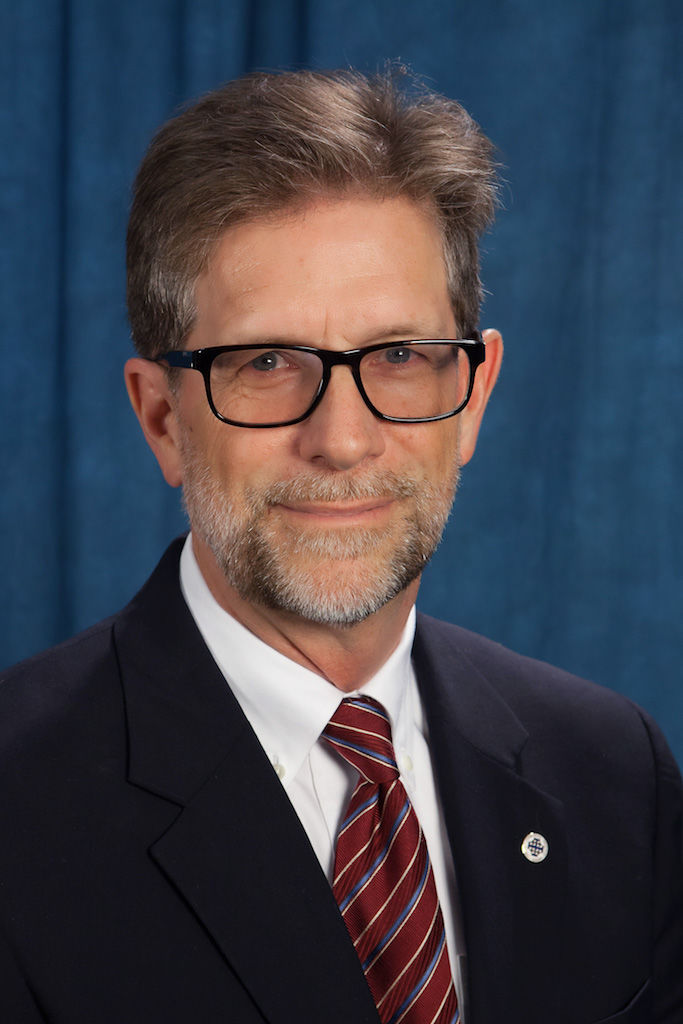 The Rev. Steve Manskar. Photo by Vincent Isner, Discipleship Ministries.
The Rev. Steven Manskar, director of Wesleyan Leadership at Discipleship Ministries, believes the answer to that question lies in the General Rule of Discipleship.
"The way you make disciples is by introducing them to Jesus and connecting them to other Christians in a small group that's focused on helping each other live the Christian life," Manskar said. "And that Christian life is shaped by this rule of discipleship."
The Rule
The General Rule of Discipleship, recorded in The Book of Discipline, is "to witness to Jesus Christ in the world and to follow his teachings through acts of compassion, justice, worship and devotion under the guidance of the Holy Spirit."
Manskar said this rule is a restatement of the general rules Wesley developed to help early Methodists further their Christian discipline.
"There's this balance between the social and the personal," Manskar said about Wesley's teachings on holiness. "From 1743 on, these general rules served as the rule of life for every Methodist."
A life of balanced discipleship incorporates works of piety and works of mercy, embracing Jesus' commandments to love God and love people.
"Acts of compassion and justice are the habits that God wants to form in us. It's how we love our neighbor as ourselves," Manskar said. "The acts of devotion and worship are those practices that God and Scripture have given us to live out our relationship with God."
Covenant discipleship
Mark Deshon, a member of Newark (Delaware) United Methodist Church, is a certified lay servant who has been leading his congregation in Wesleyan discipleship for over a decade.
Deshon said a training with the Rev. David Lowes Watson nearly 20 years ago influenced his personal journey with covenant discipleship.
"I had been recognizing for several years that I wasn't getting the right motivation to be doing enough in my own personal life in my response to Christ," Deshon said. "This method of Wesleyan practice began to intrigue me, and I became interested in bringing it to my church family."
Covenant discipleship groups, which are a modern version of some early Methodist structure, emphasize weekly accountability with a small group of participants who create a covenant to guide their lives and their meetings.
When Methodists of Wesley's time met, they would ask one another about the state of their souls, and their answer would be shaped by the rule of discipleship.
"The importance of this rule of life is the formation of habit in the people," Manskar said. "It's in the formation of these habits that people come to faith in Christ, and it's in these habits that their faith grows."
The Rev. Laura Parker, associate pastor at Fairhope (Alabama) United Methodist Church, said her congregation's covenant groups, which started in connection with Lent, integrate the church's theme of connect, grow and serve.
"You hold each other accountable for growth, holiness in your personal life, and that leads to acts of compassion and justice," Parker said.
Groups at Fairhope were provided with a guide containing questions to help structure their time together. The guide asks how members maintained the covenant, how they experienced Christ, how they responded to God's call to be a disciple, how they were challenged, what they'll do differently in the coming week and how the group can pray for each member.
Manskar encourages people to "be in a small group that watches over them in love and helps them to incorporate these practices into their daily lives, to form habits of heart and soul, habits of loving God and loving your neighbor as yourself."
In early 2017, the Rev. Marilyn Ware, a retired deacon who attends Desert Mission United Methodist Church in Scottsdale, Arizona, helped coordinate a covenant discipleship group of seven women, ages 50 to 85, at her church.
"God started it," Ware said about the group's sudden existence. "It just emerged. It was like a whirlwind. I could not deny that it was God working."
Commitment leading to growth
When a couple of women expressed interest in creating a group that would go deeper, Ware recognized that a covenant discipleship model might be the right fit.
In addition to meeting for accountability, Ware's group engages in "compassionate outreach" by visiting care centers, delivering Communion to those who can't attend church services and embracing the congregation's mission to be welcoming and reconciling.
Ware said she believes the success of covenant groups comes from dedication. "I think it's the commitment to one another to be challenged that may make a lot of difference."
Parker said several groups at Fairhope were sharing experiences of new growth as they journeyed together.
"I'm hearing some really cool things from groups where they're going deep – deeper than they're used to going in their spiritual life," she said.
Deshon has seen progress in his congregation in more fully pursuing justice as part of their discipleship.
"I've seen real positive growth in that element in our church over the last 10 years," he said. "It's very gratifying to see people step forward and become passionate about changing things."
While discipleship groups are an excellent way to develop leaders, Manskar said they might not be the best starting point for everyone.
"The purpose of covenant discipleship groups is to form the leaders in discipleship that can disciple others," Manskar said. "In particular it is to form class leaders who will be discipleship coaches."
For that reason, Deshon said his church created an additional opportunity called Disciples TREE "because we recognize some people may not be ready to be in a serious weekly commitment with others."
According to the church's website, "Disciples TREE is for those who are interested in entering into a relationship with a discipleship coach, a class leader who will train, remind, encourage and engage them in the basics of discipleship – a balance between works of piety and mercy that regularly involve acts of compassion, justice, worship and devotion – under the guidance of the Holy Spirit."
Deshon and other church leaders continue to brainstorm how they can implement more Wesleyan practices.
"I'm the first to admit that what we're doing isn't perfect," he said. "It's still new. We're introducing the idea that discipleship is not a program; it's what we're called to do as followers of Christ."
Parker said she is waiting to see what may be in store regarding discipleship opportunities for the future.
"My hope is that this fall we may have some people who want to hold onto this covenant group model," she said. "We're putting it out there and seeing what God wants to do next. I'm hopeful it will help provoke them to think about how being a disciple is a place where you're called to balance – to be in God's presence, to be with other Christians and to take faith out into the world."
Whatever form it takes, Manskar said he advocates for congregations to "adopt the General Rule of Discipleship as their rule of life."
He suggested this may include pastors encouraging members to "memorize and internalize" the general rule, parents teaching it to their children, church committees implementing it or individuals making it their personal goal.
"What this is ultimately all about," he said, "is helping people live the baptismal covenant, helping every member live faithfully."
---
Emily Snell is a freelance writer living in Nashville, Tennessee. She writes frequently for Interpreter and other publications.