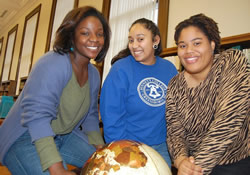 Usha Satish (center), Delrisha White and Raven Williams will become corps members with Teach for America after they graduate from Bennett College this spring.
BENNETT COLLEGE
For more than 200 years, United Methodist-related historically black colleges and universities have created opportunities for minority students to succeed. Today, they continue to develop diverse national and global leaders.
"Black colleges are still relevant, they're still intuitive, and they're still leading the way," said Cynthia Bond Hopson, assistant general secretary at the General Board of Higher Education and Ministry. "We're going to keep doing that because that's our mission and our ministry."
The term "historically black colleges and universities" relates to the "historical origin and mission of the schools and their predominant enrollment and cultural emphasis," according to the board. Students come from a wide range of racial, ethnic and cultural backgrounds.
The United Methodist Church supports 11 historically black colleges and universities, including one medical school, in the United States, more than any other denomination.
Bond Hopson said the institutions began as a way for the Methodist Church to give opportunities to recently freed slaves.
Creating opportunities, access

Henry N. Tisdale
CLAFLIN UNIVERSITY
"From the very beginning, The Methodist Church has been there ... to make sure that there were opportunities for African Americans to learn to read and write and to take care of themselves, so they started these schools," she said.
"People can forget about the things that made (slavery) such a horrible institution," she continued, explaining the original need for historically black institutions.
Keeping people illiterate creates a permanent underclass, she explained
"You have these generations of people who had never been given an opportunity to learn to read and write. Then, all of a sudden, slavery ends, and you have hundreds of thousands of African Americans who have no skills," she continued. "The Methodist Church looked at how they could best help African Americans make their own way."
Larry Earvin, president of Huston-Tillotson University in Austin, Texas, said part of the mission of the institutions was "to provide access to those who didn't have access."
"We are being true to our mission of reaching out to those on the margins of society," he said.
Providing role models
Many who work and study at historically black institutions say these colleges and universities are a crucial part of today's culture. Some even argue that they are more relevant now than ever before.
Simeon Udunka said the schools are important because they provide African-American students with role models of successful black professionals who can inspire new ambition in young people.
"You get that type of motivation when you're put in that environment," said the 2011 graduate of Meharry Medical College in Nashville, Tenn.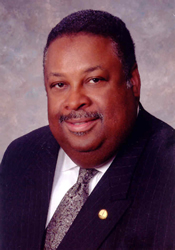 Larry Earvin
HUSTON-TILLOTSON COLLEGE
Among those for whom Claflin University in Orangeburg, S.C., provided role models is its eighth and current president, Henry N. Tisdale. Before returning to his alma mater in 1994, he spent 24 years as an administrator and faculty member at the University of Delaware.
Under his leadership, Claflin has placed highly in institutional ranking by U.S. News and World Report, Forbes.com and Washington Monthly. Other academic accomplishments under his tenure include enrollment increasing by 85 percent, adding new and diverse academic majors and master's degrees in biotechnology and business administration and earning several national accreditations. Claflin's 50-acre campus has been transformed with many new buildings and facilities.
Fewer distractions
According to Earvin, the colleges allow minority students to learn without being distracted by racial issues.
"It's also critically important to be in an environment where you are not the minority," he said. "That conveys a confidence to students that you can't get in a majority institution."
The colleges allow minorities to understand their history, said Usha Satish, a senior at Bennett College, but they also prepare students to shape the future. Satish is one of three Bennett students who will join Teach for America after they graduate this spring.
"I've seen colored people disenfranchised and wronged," she said, "At these historically black institutions, we can say, 'Yeah, this is who we are, but this is how we're going to shape the future, and we're going to be global leaders and thinkers.'"
Bennett attracted Satish as it conveyed "a strong sense of legacy in knowing who you are and what you're walking in.
"You get to see the shoulders that you're standing on and the legacy you're protecting. You get to witness firsthand what your ancestors went through. ... You see the legacy that you're charged to protect."
Bennett also attracts "a lot of diverse students because the story and the philosophy we're selling, we believe in it heavily," she said. "That attracts people. That's authentic. So, that makes students of any background want to come."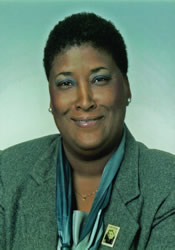 Cynthia Bond Hopson
GENERAL BOARD OF HIGHER EDUCATION & MINISTRY
The diversity among the racial-ethnic minority students continues to increase, Bond Hopson said. It is one of the things she loves about the institutions, noting they "have always been open to anybody who had a thirst for knowledge."
"The fact is that these schools were founded for black students, but they've always been open to anybody who wanted to come," she said. "The colleges are more diverse than ever before...They're some of the most diverse schools we have (with) all kinds of people who look different, talk different. The students bring this cultural richness that you might not get in state schools."
Perhaps, Bond Hopson suggests, one of the most important aspects of historically black colleges and universities is how they empower students.
"It's a place where students get the permission to soar."