"Our mouths were filled with laughter, our tongues with songs of joy. Then it was said among the nations, 'The Lord has done great things for them.' The Lord has done great things for us and we are filled with joy." (Psalm 126:2-3, NIV)
Everyone needs a good laugh once in a while. The second Sunday of the Easter Season is the perfect time for worshipers to laugh together as a growing number of congregations, including United Methodists, celebrate Holy Humor Sunday.
A way both to continue the Easter celebration and to combat Low Sunday (named because of the comparatively low turnout from the week before), the celebration comes from the early church tradition of Bright Sunday. The week after Resurrection Day was a time of joy and laughter. Churches actively encouraged the faithful to be merry and celebrate the miracle of Christ's Resurrection. Communities would often throw parties with dances, jokes and even pranks.
Today Holy Humor Sunday is a way to continue the Easter celebration in creative and hilarious ways. Pastors dress up in funny clothes and tell jokes from the pulpit. Choirs and church bands play upbeat and lighthearted music. Some churches dress their sanctuary with balloons and party decorations.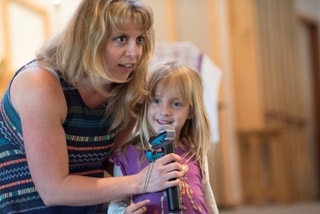 Photo courtesy of Atascadero United Methodist Church.
When the Rev. Diane Rehfield began serving Atascadero United Methodist Church in California, she learned the congregation had been hosting Holy Humor Sunday for several years. "I hadn't heard of it when I came here and at first was worried some people might think we're being irreverent by telling jokes and dressing funny for church, but it turned out great. One year we even had one couple who attended our church for the first time on Holy Humor Sunday and decided to become members afterwards because they wanted to be part of a congregation that didn't take themselves too seriously."
The Rev. Sheryl E. Seitz began Holy Humor Sunday services at First United Methodist Church in Clyde, Ohio, in 2016. "The first year we held the service I came dressed in bunny ears and a tie-dyed t-shirt. At first people were nervous over whether the service would be appropriate, but most have since come around and get excited about it every year. One year a member of congregation came dressed as Elvis. We sing songs from vacation Bible school and summer camp everyone knows. More churches are embracing this tradition and I hope it continues to grow."
Mafair United Methodist Church in Kingsport, Tennessee, has recorded videos of their Holy Humor Sunday services. Music Director Janet Lyon helped plan the 2018 service. "We've tried to make clear to everyone we're not being disrespectful by having fun. The pastor found some of the more lighthearted stories and passages from the Bible to share in his sermon. We also invite congregants tell knock-knock jokes. People wear a lot of hats and funny clothes. I think for a lot people the season of Lent and Holy Week can feel very somber and serious, so by Holy Humor Sunday people are ready to laugh."
For over 30 years, the Fellowship of Merry Christians, an ecumenical organization, has produced materials to inspire churches in their Holy Humor celebrations. These include The Joyful Noiseletter, which features stories of specific church celebrations over the years. The free newsletter also has jokes and cartoons, as well as litanies and hymns.
Here are some ideas for lightening the mood on Holy Humor Sunday:
Encourage congregants to trade in their Easter finery for fun and casual attire.
Decorate the sanctuary as for a party. Offer favors like noisemakers or hats to guests at the door. Encourage shouts or cheers of praise throughout the service.
Print a cartoon or joke in the bulletin or project images of cartoons or memes on a screen throughout the service.
Go wild with children's time. The leader might be in a costume to make them laugh. Consider handing out candy or gift bags.
Sing only upbeat and fun music (it can still have an Easter theme). Encourage the congregation to clap along with as they sing.
Keep the sermon lighter and fun. Consider opening with a joke or a silly skit.
Continue the celebration after the service with a potluck lunch or picnic with games and performers.
Above all, make the connection between laughter and the joy in the Resurrection. You aren't celebrating Holy Humor Sunday just for the sake of being funny. You are expressing your joy in the miracle of the Resurrection and in effect laughing in the face of death after Christ triumphed over it.
Laughter is a mean of grace and the quickest and easiest way to spread joy, especially in stressful times. Holy Humor Sunday may help church members find their joy and see the best of each other.
"One year the service came right after the period in which we had a lot of older members of the church pass away and the community was really hurting," said Rehfield. "On Holy Humor Sunday I saw people smiling and laughing for the first time in a while. We had been grieving together so long, we really needed to laugh together."
Contagious laughter can bring churches closer together and remind everyone of the joy that comes from God's love.
Philip J. Brooks is a writer/content developer on the Leader Communications team at United Methodist Communications in Nashville, Tennessee. This article was originally published at www.ResourceUMC.org on April 19, 2019.