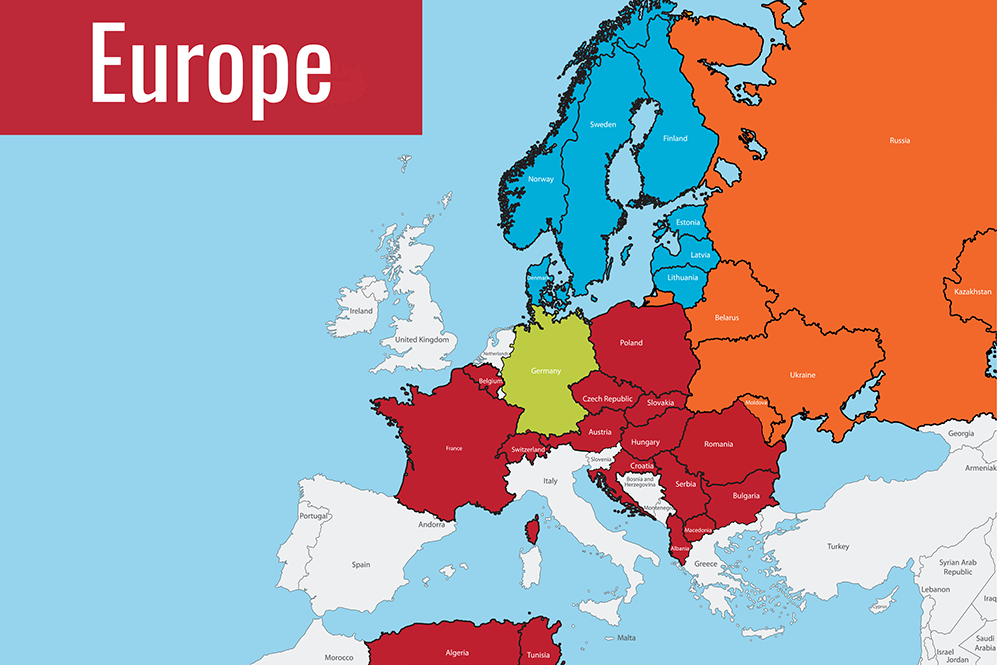 Background and Contextual Information
The population of Europe from Ireland to the Ural Mountains and from Norway to Sicily is 741 million people, United Methodists number about 100,000 people in 30 countries and annual conferences. The diversity of these annual conferences comes from the many different contexts in which mission is done. The numerous historical, political and cultural differences of the many different nations in Europe, and their different languages, has shaped their interpretations of both scripture and church life.
Some countries created a legal foundation for a civil (non-religious) same sex marriage thirty years ago, and in 2011 the dominant Lutheran Church in Denmark, decided to create a ritual for a same sex religious marriage. Similar developments have taken place in the other Nordic countries and most European countries have if not religious, then some form of legal partnership law. In most of Western Europe, the population sees this as a human rights issue, and the vast majority of people under forty understands opposition to full inclusion of LGBT+ people as bigotry. On the other hand, in countries like Poland, Hungary and The Russian Federation governments and the dominant culture do not see LGBT+ people as equals and do not grant them equal rights. The Methodist Church in Britain has just made the decision to change its definition of marriage and made it open to same-sex couples.
The positions on the issue of homosexual practice of the United Methodist churches in Europe follows more or less the same geographical lines. It is fair to say, that majorities in Norway, Denmark, Germany, Switzerland and Austria would have welcomed the One Church Plan that would have given them freedom to minister fully with LGBT+ people. Moreover, it would have made it possible for individual pastors to act according to their conscience. Reactions to the 2019 session of the General Conference have been very negative in these countries. Roundtable conversation are being held. Commissions have been set up to look into our possibilities of becoming a fully inclusive church inside or outside The United Methodist Church.
The situation of the Switzerland-France-North Africa Annual Conference is more complicated as this conference gathers people from big European cities, Muslim countries, and a number of conservative churches in France.
In Eastern Europe the churches have a much more positive perception of General Conference 2019 and the Traditional plan. Eastern European churches are generally more conservative and in places like Russia, it is perceived that any other outcome would have made mission work impossible. The Eastern European Annual Conferences are poor and depend on support from the general church and from the more affluent and theologically conservative but ethically liberal Methodist churches in Western Europe.
There are three European Central Conferences and four episcopal areas. Germany is a separate Central Conference and the largest in membership. The Central and Southern Europe Central Conference spans from France in the west to Poland in the North, Bulgaria in the East and Algeria and Tunisia in North Africa. The Northern Europe and Eurasia Central Conference is by far the largest Central Conference in geography spanning over 11 time-zones from Norway in the west to Russia in the east and Uzbekistan and Tajikistan in the south. It has two episcopal areas. Most of the countries are separate annual conferences, some countries are districts within the annual conference of a neighboring country. Germany and Russia have several annual conferences. Methodists in Europe are used to travel to meet. The contribution to worldwide mission in immense, both financially and when it comes to involvement and commitment.
The contact with other parts of Methodism is quite close. All member churches of the European Methodist Council (EMC) have signed an agreement of full communion, furthermore Methodist, Wesleyan and Uniting churches collaborate through pan-Methodist organizations like Methodist-related Theological Schools in Europe (MTSE), the European Commission on Mission (ECOM) and European Methodist Youth and Children (EMYC). Within these organizations and in other ways different parts of Methodism cooperate and are in mutual relations. Ecumenically, Methodists in Europe are minorities in their contexts. In Russia and several other of the eastern countries, the majority of Christians belong to the orthodox church. Southern Europe, Poland, France, Southern Germany and Ireland, the majority is Catholic. In Northern Europe and the northern part of Germany, Lutherans are the majority and were the state church until the past decade as the Anglican church still is in Great Britain. In a few contexts, such as North Africa, the majority is Moslem. Methodists in Europe are used to adjusting and relating to others, but with such different contexts, Methodists themselves have developed their own culture and theology in relation to the ecumenical partners that dominate in the area where they belong. However, Methodists are often leading voices in ecumenical work. Several annual conferences have signed formal agreements with other denominations. Furthermore, all central conferences have signed the Leuenberg Declaration and are members of the Community of Protestant Churches in Europe which include Lutheran, Reformed and Methodist denominations. They are also members of the Conference of European Churches.
With a few exceptions the European countries are widely secularized. Even in countries with state churches or former state churches with a high percentage of the population as members, worship attendance is below 5%. Generally independent protestant churches like Baptist, Methodist or Pentecostals are referred to as free churches.
While The United Methodist Church in Europe has experienced a slow decline over the past fifty years, there is much vitality in the relatively small annual conferences, and a deep commitment to making disciples of Jesus Christ for the transformation of the world. Churches are often innovative in discovering ways to reach out to the community, and Fresh Xpressions of Church has a growing impact in several countries leading to the formation of new ministries and new vital faith communities.
Historically, Europeans have been in many conflicts. The borders have changed many times, due to numerous wars, and different countries have taken turns in having the leading roles. The period after The World War II is maybe the calmest time in European history, and yet, it was also marked by the Soviet rule over eastern Europe and the iron curtain separating east and west. During this time Methodist churches in high numbers were closed down, property was taken by the government, pastors were being deported, and only a small remnant was able to continue to a large extent underground. Nevertheless, several of the churches survived and were a base to revive the church when the iron curtain began to fall in 1989. The central conferences were already established before World War II, and organized as seemed fit for the geography and possibilities of communication at the time. When the iron curtain fell decades later, it was important for the western part of Methodism in Europe to assist this revival of the eastern churches, which is one reason the Central Conference map look as confusing as it does. All three central conferences included their eastern siblings in their organization and expanded eastwards. Cooperation, friendships, and relations are fully established. However, there is a remarkable difference in theology and culture between the eastern and western part of Methodism which is visible for instance in the concern for human sexuality.
A quite different result of the turmoil of World War II and the history of conflict before it is the work for more political cooperation in Europe. Today most European countries are part of the European Union. Norway, Switzerland, Russia, Ukraine, Moldova, and several of the Balkan-countries have chosen not to enter the union, and recently, Britain reluctantly withdrew. Of course, such a way of organizing cooperation and fellowship makes a difference in Europe, and most pan-European ecumenical work relates to the EU. Still, Europe has a proud history of democracy with the ancient Greeks as part of our common history and forefathers in philosophy, politics and education.
Europeans have been on the move for centuries across borders, and relationships with neighbors have been important. In times of conflict, people move. That is still a fact, and since the 1960's immigration not just within Europe but into Europe has been important. Immigration has contributed to European countries being multicultural and global communities. However, immigration is also related to poverty, cultural conflicts, and political debates. During the past few years, immigration into Europe has been immense, and the number of humans having drowned in the Mediterranean Sea on their dramatic way to a better future is an embarrassing part of European politics and the failed effort to find ways to solve the crisis together.
Related to immigration is also the growing polarization in European societies. It is seen in political life where right-wing-parties are elected into power and in the attitude of people where hospitality and friendliness cannot be taken for granted anymore. Significant tensions and conflicts have emerged as countries struggle to integrate new citizens coming either as migrants or as refugees and many with a Muslim background
United Methodists on a global level have airy and brave goals, such as eliminating poverty and changing the world. European Methodists tend to speak with a lower voice, maybe because they are always minorities in their contexts, and they know they cannot change anything by themselves. The church seeks to contribute, and for the most part put their efforts in hospitality, care, and providing fellowships and faith-communities. As for more political, prophetic work, the church in Europe stays out of it or seeks cooperation with others.
Coordinating Committee
The committee has planned and coordinated regional conversations.
Committee members are:
Rev. Ole Birch (Convener)
Rev. Markus Jung (Convener)
Rev. Hilde Marie Movafagh
Rev. Ullas Tankler
Bishop Christian Alsted
Rev. Stefan Zürcher
Christine Schneider
Rev. Anne Marie Detjen