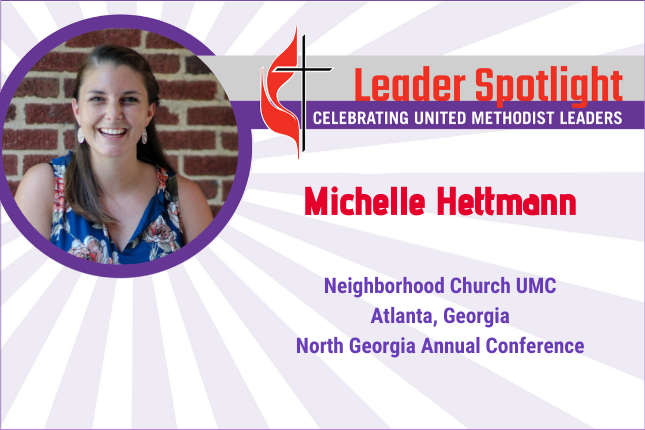 By "flipping" the normal model of ministry, Michelle Hettmann helps her church create restoration through relationship with God and with the community. Hettmann is the community curator at Neighborhood Church in Atlanta, Georgia, where she coordinates the building's use and cultivates a culture of community.
Neighborhood Church grew from a merger after two United Methodist congregations came together to hear God's calling for their ministry. They decided to sell one church building and use the funds to restore the second. They heard clearly that having a secure location in which to gather was important for community groups. The building's restoration allows Neighborhood Church to be an integral part of the community by sharing physical space that is accessible and clearly signed. A priority is sharing the space with people of the community, especially justice groups, people of color and LGBTQIA people.
The ministry model of Neighborhood Church is flipped with some traditional ministries conducted outside the building and community activities happening inside. For example, small groups are often in coffee shops, bars or in people's homes, while advocates for social justice meet inside the church building.
Hettmann coordinates the building usage through Google Calendar and uses Breeze, a web-based church management software, as an internal database to send out emails and memos.
Cultivation is the favorite part of her job, Hettmann says, as she leads the church and community groups "to know each other and be able to collaborate as a community. I feel called to continue helping, to figure out how to put systems in place, to really help create a sustainable model of ministry. "
Hettmann suggests that churches who want to follow Neighborhood's model should listen to their communities, identify assets the church has to offer and reevaluate their planning periodically to ensure their ministry is still the best fit. She also stresses the importance of taking ministry outside of the church walls and into the community. "The ways that we've seen God show up… have been absolutely outstanding to me. In ways that I couldn't even have guessed."
Sharing the building space has been the major element that has brought restoration and transformation, Hettmann says. Many of the people who use the space have been hurt by the church. They are welcomed in the church that overlaps with and is in the community
"That's why we do the ministry that we do," she said. "It's a huge part of who we are and a testament to our community."
You can follow their church on Facebook and Instagram: @neighborhoodchurchatl
---
— Aileen Jimenez is manager of Hispanic/Latino leader communications at United Methodist Communications, Nashville, Tennessee, U.S.A. Do you know someone we should feature? Contact Aileen at (615)742-5479 or at [email protected].