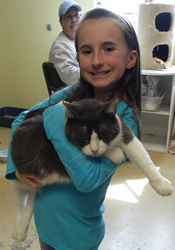 Maddie Helle and friend
COURTESY PHOTO
One of the hottest toys on the market for children in 2012, according to Good Housekeeping magazine, was the Meep tablet, an iPad-like tablet that runs on the Android operating system.
Eight-year-old Maddie Helle decided she wanted something even better for her birthday: dog food.
She also asked for cat food, collars, leashes and food bowls.
Maddie decided she had enough toys and clothes and instead wanted the pet supplies for the local Humane Society. She received enough to fill a large SUV.
Her tour of the Humane Society's shelter about a month before her birthday prompted her request.
"I really like animals and wanted to help them," said Maddie, who attends the United Methodist Church of Farmington (Ill.)
She took that help a step further and now regularly volunteers at the shelter. She also fosters kittens at home.
And for her birthday this year, she wants the same thing.
Choosing help instead of clutter
When Sam and Lisa Abate married last April, they asked for specific wedding gifts – donations to two of their favorite charities.
The request from Sam, a firefighter/emergency medical technician (EMT), and Lisa, an EMT who works in a hospital trauma department, should have brought little surprise. For Christmas 2012, the couple, members of Union Grove United Methodist Church in Pittsfield, N.J., gave and received alternative gifts.
"We already have everything we need," Sam said, "so instead of getting more junk or clutter, we figured we would ask for and give something to be given to those who have nothing or very little. We wanted to help but wanted our gifts to be relevant and have a connection to who we were giving them to."
More of everything for many
Julie Taylor says her birthday present was "the gift of sharing."
When Taylor, executive for children, youth and family advocacy for United Methodist Women and a member of St. Paul and St. Andrew United Methodist Church in New York turned 50 three years ago she also decided she had everything she needed.
"I need love, friendship, opportunity to work and access to it ... a healthy environment," she said. "I don't need 'stuff.'"
She asked people for things that would help someone else, but in amounts of 50 – 50 socks for homeless people; 50 cents, dimes, dollars for any charity; 50 minutes to talk to shut-ins; 50 nails for Habitat for Humanity.
"It was the best birthday ever," she said. "When friends and family started to contact me about what things they gave and how they celebrated my birthday, I was overwhelmed. There was more food, more friendship, more assistance, more love shared with others. What could be better than that?"
No better gift
Each time the Rev. Gregory Gross has suggested alternative giving, he has been "greatly surprised and honored by the gifts."
Gross is a deacon in Chicago, appointed to the AIDS Legal Council of Chicago and Berry United Methodist Church as family ministries coordinator.
For his birthday, Christmas and ordination, he asked for contributions to Project Tariro, an initiative of United Methodist diaconal ministers and deacons that supports people in Zimbabwe living with HIV/AIDS.
Alternative giving, Gross says, is vital for a church that's called to be "counter-cultural."
"Too often our society gets caught up in wanting more — the latest and greatest device — and in 'what's in it for me,'" he said. "Yet, we are called to think of others as ourselves."
Gross sees gifts to Project Tariro as "giving the gift of life."
"What better gift could I receive or give at Christmas, when we remember that the divine became incarnate," he said.
Tita Parham is a freelance writer, editor and communications consultant based in Apopka, Fla.
Looking for ideas for alternative gifts to receive or give?
Check out the more than 850 projects and 300 missionaries supported through gifts to The Advance. Visit www.umcmission.org/advance or see the list beginning on page 49.