The General Commission on Religion and Race (GCORR) used initiatives, programs and coverage to mark the 50 years since its inception in 1968 and its cotninuing work of bridge building within The United Methodist Church.
General Secretary Erin Hawkins stated, "Looking back over the years, it seems the more things change, the more they stay the same. Although we certainly note that there has been progress with respect to equity, cultural competency and the ability to conduct important dialogues in The United Methodist Church since 1968, the work of GCORR is clearly before us. There are many steps yet to take as the march toward equity and justice for all members of the UMC continues."
Major programs and initiatives included in GCORR's 50th commemoration entail:
A History Unpacked
50-year timeline and series of short videos that unpack events and concepts that trace the history of GCORR in the work of integrating the UMC.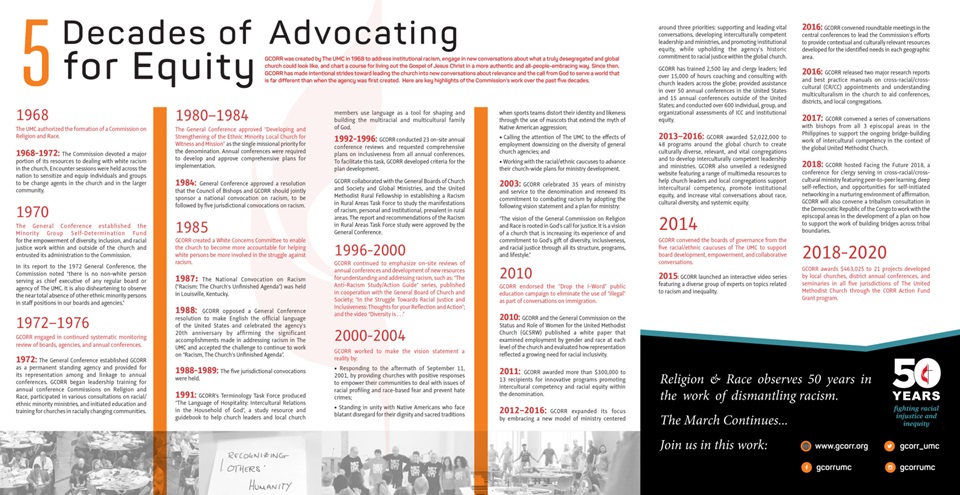 Dismantling the Central Jurisdiction
Series of articles and videos that weigh the consequences of integration within the UMC.
GCORR Fellows
Network influencers that have and continue to shape the work of GCORR as we look back at 1968 and look forward to the next 50 years of bridge building work within the UMC.
GCORR continues to be the UMC resource provider that helps the church reach outside its walls and into the community to reach more people, younger people and more diverse people.
Be sure to add [email protected] to your email address book to insure that you never miss updates , GCORR monthly webinars and new resources.