It is good from time to time to revisit milestone experiences and pivotal people that have contributed to helping us become the best of who we are. That journey for me includes numerous camps and retreat centers. Talk about good fortune, I feel so blessed to have grown up in a region with excellent camps. The fields and forests of the Appalachian Mountains of Western Pennsylvania are home to four centers that continue to profoundly impact thousands each year. Jumonville, Wesley Woods, Camp Allegheny and Olmsted Manor all rank high among the contributors to my passion for God, the call to a meaningful life, and a desire to follow and be shaped by the life and teachings of Jesus.I would not be the leader I am today or the person I am without these opportunities and experiences. I could point to many dimensions of Christian camps and retreats that deserve mentioning for their benefit and power, but if I am pushed to choose the most essential it can be summed up in a single word.
Grace
Grace is God's constant loving presence in our lives actively engaged for the good of all. What are the implications for the role of our staff and volunteers? We encourage them to enter wholeheartedly into God's grace, to encourage those they lead to do the same, and to embody this grace. In this way, we become an available fountain that God uses to nourish and transform people and the world. The Wesleyan spiritual tradition offers three helpful windows into the nature of grace all of which were integral aspects of what inspired and motivated me as a camper and a growing leader.
Preceding Grace (Prevenient Grace) focuses on the way God showers us with love in many forms and actively works on behalf of our greatest good before we fully recognize that God is involved, before we fully embrace God in various aspects of our lives, and before we have an abiding trust in God's love as the foundation for our decisions, priorities and actions. God is present and drawing near to us. The wideness of this love recognizes that no one is outside the care of God. We are called to honor the divine spark within ourselves and each person, which draws us all to our Creator.
We never withhold our love and respect until we feel others have earned it, recognized it, or until someone fully conforms to our expectations or theological understandings, because God does not withhold grace. God loves us first (prevenient means "comes before") and so we love as a natural response to being loved. Without a doubt, such a level of acceptance and genuine concern for the good of individuals and the good of all is healing and helps persons experience and identify God's companionship in their lives.

Western riding at Camp Allegheny
Accepting Grace (Justifying Grace) is the love of God assuring us that all this is a gift. Our oneness with God and God's love for us is not something that depends upon our ability to do the good and right without fail. Once we recognize the nature of God's love for us and the world, we begin to understand who we are meant to be and what will give our life its greatest joy and purpose. We can feel a deep separation from God, however, if we base our relationship with God on our own ability to live flawlessly.
If we make an honest assessment of our lives, we see that we have sometimes done and do things that cause harm to ourselves and to others either by our action or inaction. We have not always been attentive to loving God either. The life, death and resurrection of Jesus Christ speaks definitively about God's answer in the face of this reality. Accepting Grace involves our acceptance of God's acceptance of us, which is a generous, forgiving love. As teachers and leaders, part of our role is to build people's faith, trust and confidence in this enormous love and to invite them to embrace God who embraces them as they navigate the ups and downs of life. As leaders it is our privilege to also extend Accepting Grace to those in our groups on behalf of God and to encourage them to do the same for each other.

Wesley Woods Canoe
Transforming Grace (Sanctifying Grace) is God's loving empowerment and involvement in our lives that enables us to grow more like Christ. Christian discipleship involves many transformations of thought and action. Sanctifying grace invites us to open ourselves to be shaped by God so the sacredness of a life of love can infiltrate our way of being. This is a life-long process. In contrast to the attempt to be a good person to prove our worth or our ability, we are moved by the Spirit to love out of joy, thankfulness and recognition that we are already cherished in the heart of God, as are all human beings and the entire creation.
Loving God, loving ourselves, and loving the world emanates from grateful hearts. Teachers and leaders can enhance this process by encouraging people to engage in what John Wesley called "Acts of Piety" and "Acts of Mercy". Acts of Piety are the habits and practices we incorporate regularly into our lives to help us draw closer and to stay in love with God. Acts of Mercy include following Christ in a life of doing good and avoiding harm while inviting others to join in. A servant's heart, sacrifice and a reordering of priorities are inevitable when following Christ. Such is a life of grace.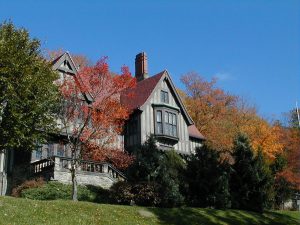 Olmstead Manor
We have a unique and special mission as Christian camp and retreat ministries, which is amazing and beautiful. It is our privilege and priority to nurture people as disciples of Jesus Christ for the transformation of the world. This is our gift within the overall spectrum of camps and retreats available out there. If we forget our primary purpose and reason for being, in many ways we become redundant, unnecessary since other types of camps and retreat experiences are already offered. I think our greatest strength and contribution to the society, not just the Church, hinges on living deeply in our Christian identity. We may learn from others and expand the type of activities and services we provide, but it is crucially important not to simply mimic other types of camps and retreat centers and thus become generic.
Watering down our purpose to the point where our camp and retreat focus and programs become virtually indistinguishable from other types of camps creates serious difficulties long-term. Kenda Creasy Dean – Professor of Youth, Church and Culture at Princeton Theological Seminary – lifts up the essential importance of being inextricably immersed in the grace of God. Without this, what we do may have the appearance of Christianity but not the power to transform lives or to inspire life-long Christian discipleship. A hesitancy to actually do what Jesus did often produces a drift into a spectator spirituality focused on meeting our own satisfaction and interests alone, rather than being profoundly shaped by the love of God, the love of others, and a more mature form of self-love. It is the grace of God that transforms us and supplies us inspiration to pursue a meaningful life distinctly different from what a consumer mindset would produce.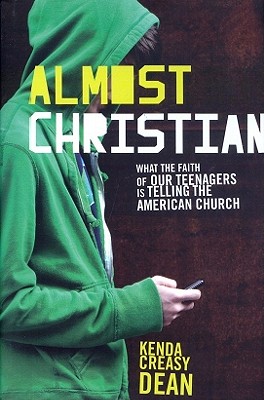 Unfortunately, a shallower experience of Christianity is proving to have a widespread impact based on the extensive National Study of Youth and Religion which Kenda Creasy Dean references in her book – "Almost Christian." This book provides an eye opening look for leaders and parents. Many young people fail to observe adults around them being truly guided by and transformed by a relationship with God that actually moves them to take risks to live out their Christian faith. For a growing number of youth and young adults religion is becoming inconsequential as a result. It is distressingly true even among a significant number who are actively involved in local churches and extension ministries of the church. This can change, but only if we are very intentional to hone the experiences we offer to align with our core mission.
Making disciples for the transformation of the world is a grace full undertaking. I think our camp staff and volunteers will be much more inspired if they can catch a vision of this great movement of God that they are a part of.
"For by grace you have been saved through faith, and this is not your own doing; it is the gift of God— 9 not the result of works, so that no one may boast. 10 For we are what he has made us, created in Christ Jesus for good works, which God prepared beforehand to be our way of life." Ephesians 2:8
Questions to think about:
How might you begin to build a culture of gratitude and grace among your leaders in a more conscious and consistent way?
Which of the three dimensions of grace (preceding, accepting and transforming) is your strength and which do you need to expand so that your guests and participants can more fully experience the fullness of God's grace?
STAY CONNECTED WITH KEVIN
Kevin Witt
The Rev. Kevin Witt is the former Director of Camp/Retreat Ministries for Discipleship Ministries of The United Methodist Church. Kevin is passionate about the role of faith-based camps and retreats in drawing people closer to God and in developing Christian leaders who transform society through love and justice. Kevin has a B.S. in biology from West Virginia Wesleyan and an MDiv. from United Theological Seminary He is the co-author of two books, "The Retreat Leader's Manual" and "Twists of Faith".