Animal shelters have seen a rise in animal adoptions and foster placements. Several staff members have contributed to the numbers having welcomed an animal into their homes, during this time of working from home.
Not only are these furry friends cute to look at, studies show that they can reduce our stress levels during difficult times like the COVID-19 pandemic. Here are a few of your co-workers who are reaping these benefits:
In April, Sheila Harrison started searching for a dog to adopt. She initially intended to get an older dog, but God had another plan. She revealed "I looked at several rescue sites and found several that I inquired about. But they either required a fenced yard (I live in a condo) or someone else was ahead of me in line to adopt." Finally in late June, she saw Baby Yoda-- a Chihuahua mix born on May 4th—who popped up on the Proverbs 12:10 Animal Rescue's website. Sheila renamed her Zoe and this adorable girl with big ears still falls under 2 pounds. "Zoe has been a joy, loves to cuddle and is such a sweet girl. My granddaughters adore her," she adds.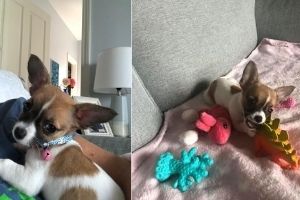 Tyrus Sturgis took the plunge and adopted what he believes to be a lab/blue heeler mix. Lola, the puppy-eyed youngster has captured the hearts of her new family, including that of big canine sister Blake who watches over her.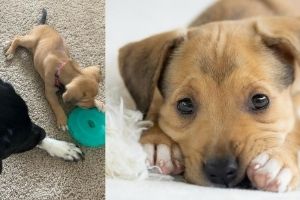 Jennifer Rhodia's decision to get a puppy was really driven by circumstances created by the pandemic. "We have always wanted a dog, but with my work and travel schedule made it really challenging," she noted. "With school openings up in the air and some many other worries and disappointments, I really wanted to be able to get a dog to give Lukas something positive to focus on." She added that they "rescued 'Loki – god of mischief' from a local shelter and Lukas named him. Now we're hoping he doesn't fully live into the name." Jennifer recently shared a video montage of the 11 weeks old pup that you can view on her Facebook page.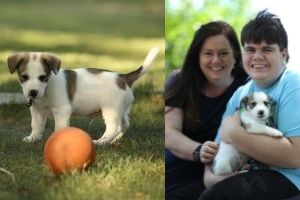 Adding to the family wasn't on the mind of Joey Butler when a couple snowball white kittens tugged at his heart. "Our neighbor recently discovered a mama cat had gotten into their attic and given birth. We were originally just fostering (yeah, right) and did find a home for one of their siblings, but Rosie and Gus decided they had it pretty good and said they were staying." We've no doubt they're enjoying their time being loved on and listening to Joey's musical talents.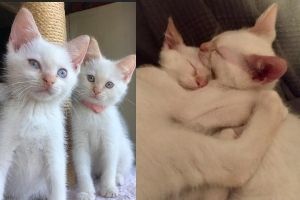 Although John Haney hasn't personally adopted a dog, his sister did. Given that she lives down the street, this pup has become an extension of their family as she is at their home often and they've taken on dogsitting her. John shares that "Honey is a sweet dog... A lover, not a fighter. She especially likes 'hugging.'" Here she is hugging my daughter, Maren.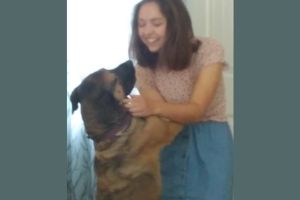 A rescue adopter herself, Kathleen Barry is thrilled to be grandmother to her son Joseph's newly adopted shelter pup Dior. When asked how things are going she said "So far, so good. Lots of training (and puddles) but he really needed the companionship." Here's hoping that she gets to safely visit both of them in Houston soon.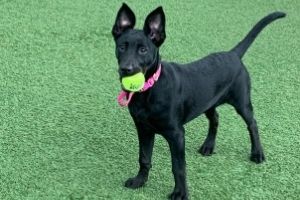 After having to say goodbye to a sick dog this year, Brenda Smotherman and her family adopted a two-year young rescue dog just as lockdowns were beginning across the nation. Little did they know how much they would need this bundle of energy and joy to lift their spirits during these unpreceded times. Name wise, the geek family landed on Mandalorian 'Mando' (after the Star Wars show) Walker (a nod to Skywalker, The Walking Dead and walking horses) Smotherman. She stated that "he prances around like a horse and bounds like an antelope. He loves to cuddle on a pillow but family members are an acceptable alternative. Though he's not interested in toys, he does enjoy walks and imitating the siren of passing fire engines. His greatest joy is to high jump into our pool and swim so that he can 'eat' the splashes. Mando is the goofiest dog we've ever had but love him immensely."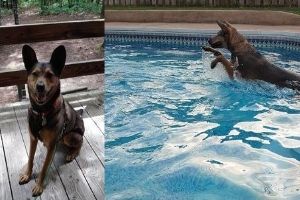 Looking for new companion? Search your local shelters with ease online at Petfinder.com.