I would love for us as a congregation to grow in our faith so that the meaningful work we do in our community is connected by our theology—a theology that supports mission, partnering with Global Ministries. The hard spiritual and formative work should fuel us with passion and energy to serve one another, both within and outside our walls.
—Calissa Dauterman, minister of Spiritual Formation and Growth, Grace UMC, Atlanta
How do a global mission agency and a local church work together in partnership? Bringing the global and the local together, "glocal" ministry, is a concept that has gained interest over the last few decades. The partnership between Global Ministries and Grace United Methodist Church is a new creation, still in formation. I talked with Calissa Dauterman, minister of Spiritual Formation and Growth at Grace Church in Atlanta, and the Rev. Dr. Denise Honeycutt, executive director of the Center for Mission Innovation at Global Ministries, to find out what some of the ideas, hopes, and dreams are for the two partners.
LOCAL TO GLOBAL
Calissa Dauterman confirmed that Grace UMC has a lot of meaningful ministries, but some have existed for a long time in a "holding pattern." Yet, she felt these could be invigorated by ministry partnership and more thoughtful support.
"I'd love for us to be an indispensable asset to our community, fed by the work that we do in worship and Christian formation," she mused. "But I know you can't impose ministry on a congregation. Your members have to want it and grow it themselves. I hope we can establish some firm ways to support each other in our work. We both have assets that we bring to the table."
Grace UMC has a number of ministries that reach out into its immediate community. Ponce de Leon Avenue has, for generations, formed a dividing line between the black and white communities of Atlanta. Though Grace UMC has traditionally drawn mostly white members, the seeds to form a multicultural congregation have started to sprout in the church.
Grace Church's HELP ministry team collects items for hygiene kits that the team distributes several times a year to people who lack housing. In the winter months, the team includes blankets, warm socks, hats, scarves, and other helpful items in addition to the hygiene kits. They also collect prayer requests from the people they meet and bring those back to the congregation. In addition, a "Needles and Prayer" group meets twice monthly to knit and crochet stoma covers, prayer shawls, and preemie baby blankets and hats, which the congregation blesses and donates to Atlanta's large public health facility, Grady Memorial Hospital.
Action Ministries, a nonprofit organization that resides on the Grace campus, offers two particular ministry tracks. Women's Community Kitchen is a safe space for women and children. Lunch is served Monday through Friday every week. A second ministry track offers an afterschool program for 15 children ranging in age from kindergarten to fourth grade. The children, who come from the Bedford Pine community across Ponce de Leon Avenue, receive an afterschool snack, tutoring, games and fellowship time, and dinner. Some Grace members volunteer as tutors, and the congregation collects snacks and school supplies and other items for the program.
"Where I see our growing edge in the future is in our willingness and ability to form stronger partnerships with Action Ministries and with Global Ministries, and potentially with other partners and community organizations that we haven't identified yet," Dauterman said. "I think Global Ministries and Grace UMC are well positioned to stand in and bridge that gap across Ponce de Leon Avenue in ways that others can't."
GLOBAL TO LOCAL
Denise Honeycutt has met with various members of Grace Church and she is familiar with their stories. "Global Ministries, particularly through the Center for Mission Innovation (CMI), is identifying ways to connect with organizations that are already invested and connected with communities in Atlanta," Dr. Honeycutt explained. "Grace UMC is one of those organizations. Our method is to glean best practices, not only from these communities, but also globally, to then share our discoveries with the whole United Methodist connection."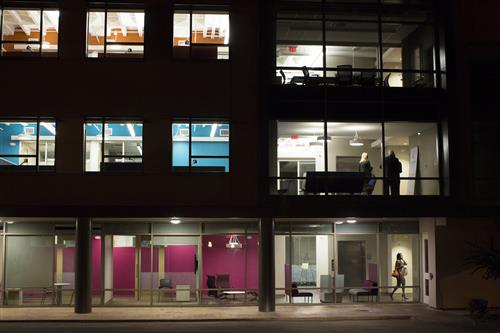 A night photo of the new wing of offices at Global Ministries in Atlanta shows off the symbolic
color-coded floors. Photo by Kathleen Barry/United Methodist Communications
One subunit of CMI is called Community Engagement. It seeks to engage the local community and discern what it means to be a good neighbor. Currently, as a first step,
Community Engagement is connecting with Grace UMC and with Action Ministries and its Women's Kitchen. CMI is also connecting with New American Pathways, an organization that works with immigration issues and resettling refugees in Atlanta.
"We discern how to be a good neighbor in a way that looks not only at people's needs, but also their assets," Dr. Honeycutt continued. "Our mission theology helps us determine how we can do this most appropriately. We put ourselves in the posture of listening, of coming alongside and learning from those who are already living in the community and who have been long-time advocates ."
CMI is beginning to engage with Atlanta congregations and organizations by offering trainings and workshops that encourage them to talk with one another and share their best practices—while tapping into Global Ministries' worldwide experience. "As folks from other places experience ministry in Atlanta," said Dr. Honeycutt, "we help them contextualize those ministries for their home communities."
Dr. Honeycutt described the cascading effect of wisdom sharing: "Those things we glean are the things that have transformed others, and in the sharing process, transform us as well. We share those findings across the global church."
*Christie R. House is the editor of New World Outlook magazine.

Copyright New World Outlook magazine, Winter 2017 issue. Used by permission. Email the New World Outlook editor for more information.
GRACE UMC WELCOMES A NEW PASTOR
January 2017 starts a new phase in Grace UMC's ministry. The North Georgia Conference has appointed the Rev. Stacey Rushing, who served University Heights UMC in 2016, as Grace's new senior pastor. Stacey's husband, the Rev. Dalton Rushing, serves as pastor of North Decatur UMC. They have two daughters, Emmaline and Annie.
The Rev. Stacey Rushing
Photo by The North Georgia Conference