At the Ocean Center at Daytona Beach, Florida, young people clustered around a colorful, attention-grabbing 30' graffiti-covered wall, reflecting upon questions posed there: Share a new way you think we could do church. Share something that gives you hope for The United Methodist Church. Share how you've shared Jesus with others.
Their neon-painted responses covered every available space. "Trust God always." "Be a peacemaker." "Love extravagantly." "Be thankful." "God will always be with you."
This rising generation of churchgoers was attending the Youth 2023 national gathering for United Methodist youth groups and their leaders. The wall was part of an exhibit created by United Methodist Communications (UMCom) to bring awareness to the #BeUMC campaign and encourage visitors to share their stories of how the denomination has helped them grow in their faith.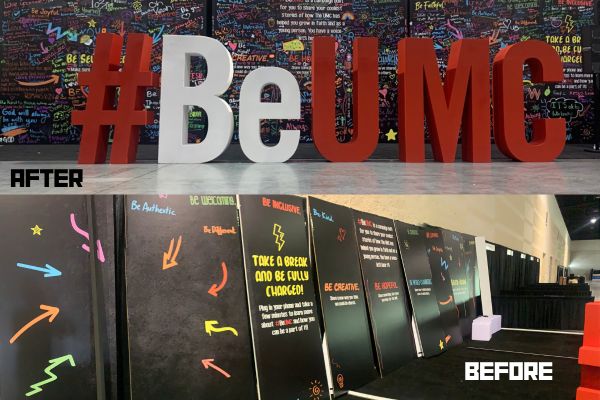 For United Methodist Communications staff present at the event, it was an opportunity not only to share resources and conduct workshops, but to connect, listen and gain insights. Effective outreach to youth requires understanding the audience's attitudes, wants and needs.
Patty DelliBovi, Marketing and Advertising Manager, was inspired by her interactions with the youth and seeing how engaged they were in sharing their faith.
"UMC youth want to be heard, and recognizing them as a part of the connection at this event makes them feel included and valued and seen by the denomination," said DelliBovi. "Messages of hope, inclusivity, forgiveness and love thy neighbor were prevalent on the wall, as well as Scripture.
"We have much to learn from our members in terms of what is working and what is not working," said Beverly Wilkinson, Associate Marketing Project Specialist. "Communication practices are ever-changing, and the best way to learn and grow is by talking to people at events. The youth appreciated the chance to be creative and express themselves within the church setting. They covered our board with affirmations and suggestions and then leapt at the chance to decorate sunglasses."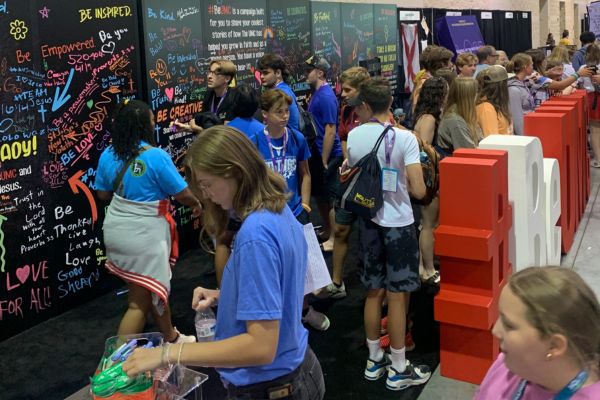 Wilkinson was one of the presenters for a workshop titled "Using Your Gifts to Generate Good," which aimed to equip attendees with information to help discern their calling. "The youth were asking questions, engaged and responsive in both the workshop and booth settings," she said. "They were hopeful for their futures and honest with the changes they believe we need. They were inclusive, kind and honest."
Senior Content Manager Crystal Caviness was moved by the obvious enthusiasm displayed by the young people for God and for being together.
"Watching the teens worship together was a sacred moment," said Caviness. "I was encouraged by the sincerity of the young people in regard to their faith. This next generation of both leaders and members of The United Methodist Church are energetic, faithful and creative."
Sharing resources and information was also an important role for UMCom staff.
"As a United Methodist general agency, UMCom is uniquely positioned to support and resource local churches in powerful ways that generate tremendous impact," said Connor Prusha, Development Officer. "Attending an event where church leaders and members are present shows that we are genuinely invested in the missional work of outreach and connection in every community across the denomination."
Prusha said the agency's presence at various events displays a commitment to every part of the church. "The work of our agency is not one-size-fits-all. Instead, it is fully contextual and adaptable to meet the needs of United Methodist leaders as they seek to reach new people and change lives. Being with them and hearing their stories directly from their mouths allows us to build relationships and better inform our programmatic, product and service offerings to serve the denomination more effectively," he added.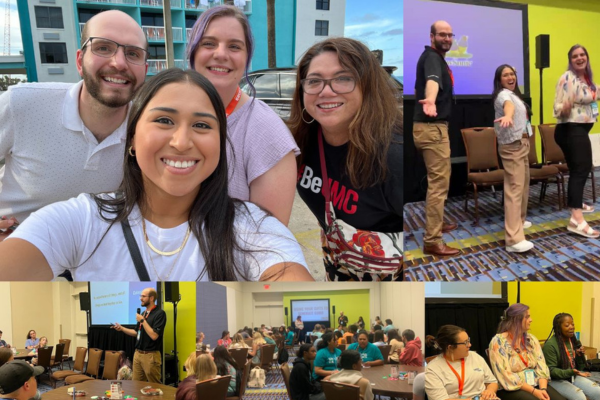 Youth 2023 was an opportunity for Research Manager Teresa Faust to lead a workshop for adult leaders and volunteers to share research-based insights about what matters to young people and what they're looking for in relation to faith, religion and spirituality.
Faust shared takeaways from a 2022 research study conducted by United Methodist Communications to help leaders in their efforts to attract and engage youth and young adults. "Folks willingly shared about their experiences," said Faust. "They were not hesitant to speak up in a small group setting. Roundtable conversations are a great way to build rapport."
Aileen Delgado, Senior Manager, Hispanic/Latino Communications, noted the spirit of constant collaboration that was evident at the event. "Whenever I speak to people in person, I can see my brain making connection points between other people, agencies and local churches. There are so many gifted individuals across the church that it would be a loss not to use their gifts and talents."
*Diane Degnan is a freelance public relations professional in Nashville, Tennessee.
---
For 80+ years, United Methodist Communications has been leading the church in telling inspirational stories of God's work in the world through The United Methodist Church, reaching new people, supporting local churches in vibrant communications ministry, equipping leaders and delivering messages of hope and healing.
This essential work requires financial support. If you believe in our mission, consider a tax-deductible donation to the work of United Methodist Communications through its Foundation at ResourceUMC.org/GiveUMCom.