Have you heard of Lent Madness? It's 32 saints placed into a tournament-like single elimination bracket. An online community votes to determine the victor of each matchup… of course with lots of discussion in the process. Lent Madness is over a decade old and continues to grow and inform. It succeeds in an area many of us in digital ministry feel a bit short: it succeeds in online spiritual formation.
In this session we get the story of Lent Madness with the Supreme Executive Committee: Reverends Scott Gunn and Tim Schenck.
Tim Shenck:
And I thought, you know, Lent is also a season of joy. I mean, what could be more joyful than a season that is specifically set aside to get closer to Jesus.
Ryan Dunn:
That was the Reverend Tim Shenck who along with Reverend Scott Gunn is one of our adjunct professors for this session of pastoring in the digital parish. It's the first session of our third season. And in this session, we're gonna dive into digital discipleship. As we share a story of a unique community that coalesces around the Lenten season. My name is Ryan Dunn for the last several years. This March rolls around, I've filled out a tournament bracket, though. It might not be a bracket for what you think it is. I mean, sure. I joined the millions of people in filling out a bracket for the NCAA basketball tournaments. And part of the process of doing that is finding out more about each team and then comparing my picks with my friends picks, right? And then having them tell me why I'm silly for picking as I do.
Ryan Dunn:
And all of that normally happens online. But the other bracket I fill out is for a different tournament altogether. And while the subject matter of this tournament is completely different. A lot of the practices remain the same. There's still research on the competitors. I still share my picks and discuss them in an online community. There's still the opportunity to form community as people side with one another in good natured defense of their picks. And there are still occasions to celebrate and mourn together. Now I'm not talking about March Madness. Of course, here, I'm talking about Lent madness. It's 32 saints placed into a tournament like single elimination bracket, the community votes to decide the Victor of each matchup. Of course, with lots of discussion in the process, Lent Madness is over a decade old and continues to grow and inform it succeeds in an area. Many of us in digital ministry feel a bit short. It succeeds in online spiritual formation. So let's get the story of L madness with the Supreme executive committee reverence, Scott Gunn and Tim Shenck.
Ryan Dunn:
Well, the reverends Tim Shenck and Scott Gunn are with us. They are both clergy in the Episcopal church and Reverend Tim is the director of the Episcopal parish of St. John, the evangelist in Hingham, Massachusetts, also author of several books. And Scott Gunn is the executive director of forward movement, which is a discipling and faith formation, I guess, resourcing company.
Scott Gunn:
Yeah, that's about right.
Ryan Dunn:
Cool. And also have authored a, a few books yourself. Gentlemen, thank you so much for being here and sharing what it is that you're gonna share about with us. I really appreciate it.
Tim Shenck:
Pleasure to be here.
Scott Gunn:
Yeah, we're glad.
Ryan Dunn:
So let's start with the big kind of pie in the sky. Look down at what Lent madness is.
Tim Shenck:
Lent Madness is the saintly smack down. We put 32 saints in a NCAA style bracket, every Lent, and we let them duke it out throughout the season. So it is really it, in its essence, it is faith formation and inspiration, but it's also just a lot of fun.
Scott Gunn:
And the way it works is people go to the Lent Madness website Lentmadness.org. And every day of Lent--starting the day after Ash Wednesday, cuz we don't wanna mess with you know, a day of repentance. The day after Ash, Wednesday, we start and starting then people go there and they vote for the Saint that they believe deserves the golden halo. Okay. And in, in the course of having some fun with Lent madness and hopefully some inspiration people, as Tim said, learn about how Jesus works in the lives of these diverse people across all cultures and times and nations
Tim Shenck:
That's right. And so there are different rounds. And so the first round people are learning just basic biographical information about the saints. And then we have the Saintly 16 where they, they learn about quirks and quotes either by or, or about the, the saints. The Elate Eight is the saintly kitch round. So, so we, we get into some, some fun with some, with some kitch and then we go faithful for, and then the championship round. So every round is slightly different.
Ryan Dunn:
Right on. And what is your, your definition of a Saint In this case? Like what's the criteria for formulating your, I guess first round?
Tim Shenck:
We look for people that are on some sanc calendar in some tradition. And so so it's, it's a, it's a fairly broad definition. But, but there's some there's some limits to it as well.
Ryan Dunn:
Okay.
Scott Gunn:
But, but they could be in the Episcopal churches calendar of saints, they could be in the Church of England, they could be in the Lutheran churches, the Roman Catholic church, they could be Eastern Orthodox saints. And occasionally we make room for somebody who's been commemorated by Christians in one way or another, but who, for some reason isn't in a calendar. But, but, but we're looking for people who, who are in some way a legit Christian Saint
Tim Shenck:
Yeah. Followers of Jesus.
Ryan Dunn:
Gotcha. Okay. And so Reverend Tim, a number of years ago, were you just sitting around thinking, like why does all the fun get to happen in advent, we need something fun to happen in Lent and that's where this came from or what, what's the story behind it?
Tim Shenck:
Pretty much. I was I was drinking coffee with Scott probably and thinking about, well, what, what could we do for, for Lent this year? Something that would be a little bit different. And frankly, I get tired of basketball fans, having all the fun during Lent you know, they're, they're eating chocolate and watching basketball, great basketball games and, and we're sitting around and being miserable and rubbing dirt on our faces. And I thought, you know, the Lent is also a season of joy. I mean, what be more joyful than a season that is specifically set aside to get closer to Jesus. This is, this is in a sense what, what Lent is. And so why can't we have some fun with it? And so it's comes outta the, the mode of taking our faith seriously, but not ourselves too seriously. And so I came up with this crazy idea and I, I hosted it the, those first two years let's see 2010 and 2011 were the first two years. And I hosted it just on my own blog. And I did all the write ups myself and I, I, I don't, I don't really remember those two lengths. Very. Okay. I remember kinda about halfway through. I was like, well, I'm glad I didn't put 64 saints in the plant.
Tim Shenck:
And Scott was was an early an early adopter of Lent madness and, and the very first Lent madness George Herbert was in, in the bracket. And I don't know if I'll say that Scott steered George to victory, but he had a great hand in in getting, getting George across the finish line, by the way. Scott's dog. Do you wanna talk about your dog, Scott?
Scott Gunn:
Yeah, my dog George is named after George Herbert. I'm a big fan and, and that's why by the way, that first year I'm not necessarily proud of this, but I ran a smear campaign against therea of Ava in order to get George Herber to win.
Tim Shenck:
Yeah. It's, it's, it's a rough and tumble business out there.
Ryan Dunn:
What kinda, what kind of dirt do you dig up on Theresa of Avila?
Scott Gunn:
Well, you know, stuff like you see her name spelled different ways, sometimes Theresa with an H sometimes without, can you trust somebody whose name you don't even know their name? She didn't always wear shoes, so, you know, can you trust somebody, no shoes, no shirt, no service, you know, that kind of thing.
Tim Shenck:
Yeah. Needless to say George George won the gold that first ever golden halo.
Ryan Dunn:
So in order to be able to have something like a smear campaign or any kind of conversation around something like this, you need to be able to like put people together to have them come in contact with each other. So how in the early days, how was Lent madness able to put people in conversation with one another?
Tim Shenck:
Well, it's always been an online devotion. We like to say now that, of course it's a, COVID safe devotion, but it is, it is exclusively online. And so initially it was just people making comments on, on my blog. And and we started to see this, this happen more and more and people having conversations and we thought, you know, there's, there's something to this. And so in 2012 I partnered with Scott and forward and that has been an amazing partnership for L madness. And so we have we're, we're the self-appointed Supreme executive committee of Lent madness. And we're very, we're very humble about this. And and getting and I'd love to hear Scott talk more about this, his perspective, but getting forward movement involved really brought, Lent madness to the masses. And we were able to develop our own website and we print little booklet called the saintly scorecard that has all the writeups the bios, the saints involved along with a pullout color, full color bracket that people can fill out. And it's just it it's really been amazing to, to witness. Scott, did you wanna say anything else about forward movements participation?
Scott Gunn:
Well, no, I, I, yeah, I would say it was, it was helpful. I came to forward movement in 2011 and I thought we, as an organization needed to just have a little bit of more fun and we needed to be seen in inside forward movement. We needed to have a little more fun into the church. We needed to be a, a little less you know, dusty pamphlet and a little more fresh approach to discipleship. So it was a perfect partnership, good timing for our us. And it's, it's been a lot of fun. And it's the other question, the other thing I would say is that you ask about putting people together. The usually on the internet, a good rule is don't read the comments, but I would say UN let madness. It's, it's one of the rare places where it really is worth reading the comments. 99% of the time. It's a really supportive community of people who have fun learning together and, and disagreeing in a fun way. I mean, we talk about a sear campaign, but it's all in fun and people are laughing together and enjoying it and that, you know, it's on our website and our Facebook page and, and yeah, it's been a lot of fun.
Tim Shenck:
It, it really is like a seasonal kind of Lent in popup community that, that develops every year. And so when we have a matchup on the website, there are literally hundreds of comments after each matchup and people are sharing why they voted a particular way. They're talking about perhaps how they've been inspired by a particular Saint, and they are sharing additional information about the saints. And they're also just interacting with one another in some really beautiful touching ways. There's been some amazing reaching out, out if something is going on in someone's life and they share it. There's just a tremendous amount of support that an outpouring of, of it.
Ryan Dunn:
I think there is an interesting paradigm at work there. How much of this conversation is directed by you all the, the Supreme executive committee? That's
Tim Shenck:
A good question. Ver very little. We we set up the matchup and we kind of set it up and, and write a little introduction to the matchup. We have what we call celebrity bloggers, who write the, the posts about the saints. And then it really is the community and, and people. We have people that, that share limericks about the saints and him is about the same. So, and, and there's a lot of, lot of humor and interaction in the comments, but it, it is I, I think for both of us, we just love to sit back and watch the, the holy spirit do its thing with this community. And so we're, we're pretty hands off every once in a while we have to jump in, but very rarely,
Scott Gunn:
But yeah, it's pretty rare. I think that's the beauty of trusting the community to care for itself. And sometimes somebody gets a little bit cranky and people step in and say, Hey, that's not how we do it around here. And I, I could count on one hand in the last 12 years or whatever it is, the number of times that Tim and I have had to step in and sort of be a, you know, be the heavy and kick someone out or something like that. It's, it's really not been a problem.
Ryan Dunn:
How is it different today than when you started? So it sounds like you started on, on Reverend Tim's blog. What has it morphed into now?
Tim Shenck:
A lot of it is simply the, the volume is, is much larger. It's also something that people really look for to every single year. I've had people tell me that they used to dread Lent, and now they, they really look forward and, and anticipate the, the season of Lent. And as, as we've always said, we hope this isn't the only thing that people do for Lent, but, but it's, as long as it's part of your spiritual life and spiritual journey during the season, we think it can be very enriching.
Scott Gunn:
Yeah, no, I, I agree. I agree with that. I think another change in what madness is in the last few years, it's become more ecumenical which is thrilling to us. We're glad to see Christians joining together for this learning and fun exercise. So a few years ago, the single largest parish anywhere participating was a, a church here in Ohio, but it was a Catholic church St. Bridgets some nuns over there got really excited about letting madness, oh my God. And got everybody playing. We've had a lot Methodist, Presbyterians Catholics, Lutherans even some Baptists. So,
Tim Shenck:
And more
Scott Gunn:
And more. And in fact, one thing Ryan, I don't know, you might, your listeners might be interested, oh, 2014 would be a very important year to talk about for your Methodist audience.
Ryan Dunn:
Why would that be?
Tim Shenck:
Hmm, that was the year that Charles Wesley won the golden halo.
Ryan Dunn:
Ah, and, and that is the equivaLent of kind of the the world championship. So to speak is the golden halo
Tim Shenck:
That that's, it, he, he, he won Lent madness 2014 and he,
Scott Gunn:
He went all the way. And, but, but I think, but especially interesting for your audience will be in the first round. You know, you've gotta get past several people to get into championship round. And I think the first round battles pretty interesting.
Tim Shenck:
Yes, we had Charles West Lee versus his brother, John. Mm,
Ryan Dunn:
Wow.
Tim Shenck:
A little unfair, a little I, but but, but Charles overwhelmingly obviously the, the HNS help,
Ryan Dunn:
He gets a little farther reach, I guess, out of the direct Methodist tradition that I suppose with some of his ecumenical ity there, why do you think people have responded so positively to this movement?
Tim Shenck:
I think people seek connection and we don't whitewash the saints. And so I think that people see them in their profound humanity, and they're able to connect with that and to be truly inspired by the lives of these people who simply tried to follow Jesus during their own day and in their own way.
Scott Gunn:
I think that's totally true. And I also think Lent itself, I can be reclaimed through L madness as Tim alluded. A lot of people look forward to let now, and I think Lent as a season began as a time of preparation for Easter and as a time of repentance, a time for people to be brought back into the church's fellowship, which is pretty happy. And then I think it got twisted in a lot of people's minds and in a lot of practices into this season of self-inflicted misery. And nobody was quite clear why, but I'm just gonna punish myself for 40 days and that's no fun. And it doesn't sound much like the gospel by the way. But I think, I think Lent madness is part of a Renaissance of the Lenton season that I would say of P people are recovering a sense of L as a time of repentance and as a time of preparation for Easter. And when we are practicing self denial, it's not just to make ourselves miserable as if misery is a good thing, but it's, it's for a, a purpose of repentance. And I think L madness is, is a way of introducing people to a, a newer perspective on the, well it's a newer and an older perspective on the season of planet.
Ryan Dunn:
True. Yeah.
Tim Shenck:
That was surprisingly eloquent. Scott, I, I do think one of the things that Scott and I talk about as well as there's a proper preface for one of the Eucharistic prayers in, in our tradition that talks about preparing with joy for the Paschal feast, you know, in, in terms of what, what Lent is. And I think we really do put that emphasis on the emphasis on that sense of joy of preparation.
Ryan Dunn:
I thank you for bringing that, that sense of adventure and whimsy to it. And I think that there's something important going on with Lent madness and that it, it is a sharing of story a as a means of, of faith formation. Was that something that really you were directional about from the very beginning that you wanted to share stories and use that as a, almost as a means of discipleship?
Scott Gunn:
I don't know that Tim may, may have had a different view. I don't know that I was thinking of nurturing a sense of storytelling, particularly, however, I, in the, in, in the, in the sense of your question, but I will say we did, it was the, a sense of, I think when Tim created let madness and when for began to sponsor it, there's definitely the sense of telling the stories of the saints and how in all their variety. They're not perfect people as Tim likes to say, you know, we have these stain glass images of saints, but they're not, they're just people like us. And so telling those stories is powerful, but I do think Ryan, to, to your point, what we see a lot is people do tell their stories, you see this in the comments I'm voting for you know, St. Richard, because I had an uncle Richard who, and then they go on to, to, you know, share a memory or a story. And there's a sense in which at some level, this invites people to connect their own personal story, to the story of the saints and the story of God at work in the world. So it's, it's beautiful when that happens.
Tim Shenck:
Yeah. And, and people do love to hear about stories of saints and Saint Lee souls. And it's one of the reasons I think that so many legends crop up around saints as well. And so it's, it's sharing these legends recognizing that in some case these are legends and that's okay because they all speak to a greater truth as well. And so I think that's part of the, the essence of Lent madness.
Ryan Dunn:
Well, I'm looking forward to learning because I've looked through your field of 32 for 2022, there's a few names on there that are unfamiliar to me. How do you go about choosing, like for this year 20, 22, how did you go about choosing who was gonna be in?
Tim Shenck:
Well, we always talk about using a Wei board when we do this, but that's not actually how, how it works.
Scott Gunn:
No, no,
Tim Shenck:
No. We, we actually solicit nominations from the L madness public after every season. And so, and we get hundreds and hundreds of nominat and Scott and I get together at we, we call it the Supreme executive committee spring retreat which is basically the two of us in a coffee shop for a number of hours. And we sort through the nominations and we try to put together a bracket of 32 saints that is balance that is diverse, that has people from different eras and people who, who engaged in, in following Jesus in different ways. And so there's, there's a little, little bit of the spirit and a whole lot of coffee is what goes the
Scott Gunn:
Bracket
Scott Gunn:
Together. Yeah. And we, we try to get some saints. We try to have some every year, some familiar names. So that immediately anybody who looks at the bracket, even a person who's not particularly religious will say, oh, Saint Francis, I've heard of him. You know, that sort of thing. So big name recognition. And then we also try to put in a few pretty obscure saints with powerful stories that, that no one's ever heard of. And, you know, it's, it's our little service. But the other thing that might, that you might be interested in is we, we also try to have a few interesting matchups every year in the first round, we have a little fun, I don't know if any, how much other people enjoy it, but Tim and I enjoy putting these together. So, you know, John versus Charles Wesley was one this,
Tim Shenck:
This year, this year we have Felix versus Oscar. So, you know, an odd couple kind of, kind of theme there. Ah
Ryan Dunn:
Oh, gotcha.
Tim Shenck:
Yeah. Yeah. I know. I know some of them, some of them you you're like, wait, what? So, so you gotta look at the match ups closely. Good. You never know what's embedded in there. We do have Thomas Aquinas versus Jerome because we wanted Tom and Jerry, you know, that
Ryan Dunn:
Kinda thing.
Scott Gunn:
Yep. And we have, you know, we've had the patron Saint of cats versus the patron Saint of dogs. We've had Saint Elmo, who's a real Saint versus Barnabas. So Elmo versus Barney, you know, we've, that's good. We've every year there's two or three battles and we don't, we often don't announce these, we leave it for people to discover them. So there are a few more that Tim didn't mention in this year's bracket.
Tim Shenck:
Yes, yes. That the bracketologist out there will uncover,
Ryan Dunn:
They will FEAS to find it. And In and their in depth analysis. No. To out. Yes. Hey, you mentioned the, the group of nuns that had kind of grabbed onto the practice. Have you heard of other faith communities or churches who have started to make it a part of their, I guess, community life through the season of lint?
Scott Gunn:
Yeah. There's a church in Texas that every year on the Sunday, before the championship, which happens to be Palm Sunday they have a lint madness, pep rally and and they're down in they're down in Texas. So what do you do at a pep rally? You know, you have a big bonfire, so they don't, they don't make a real Bon fire, their church. They make kind of a fake fire and then they have people advocate for the various saints. We've had churches that will do on Shrove Tuesday, which is in the Episcopal church. I don't know about the Methodist, but it's pretty common for churches to have a pancake supper. Yeah. Tonight before Ash Wednesday. And I've heard of more than one church having a Saint themed costume party. Yeah.
Tim Shenck:
Wow. And, and the and the, the cathedral in the Episcopal cathedral in in south end, south end, they, they take 32 the 32 saints and they paint peg dolls. They literally paint them and they and they turn it in into this amazing video that, that highlights all the saints that are in the bracket. And so there's just, there's no end of creativity that, that comes out there. And the other thing that happens a lot of in a lot of parishes, people will fill out brackets and turn them into the parish office, maybe with, you know, $5 or something like that. And then at the end, whoever wins, Lent and who wouldn't wanna win, Lent in their congregation gets to decide gets to decide which charity the money goes to. So Lent Madison has also raised a tremendous amount of money for various charities over the years as well.
Ryan Dunn:
Oh, that's great. That's a lot of fun too. Are there directional ways that you've employed now to utilize Lent or Lent Manness as a as a tool of faith formation or discipleship, are you specifically producing some resources now on your own to, to kind of guide the, the faith process around L Manness
Scott Gunn:
The back of the, the St. Lee scorecard that Tim mentioned has some suggestions for how to, how to use, let madness in your parish. And a lot of people follow that there are some suggestions for how to use it in a class, in a, you know, a class format, whether it's online or on zoom, we haven't produced a formal curriculum or anything. We mostly, because I think the churches that have wanted to do something with Lent have been able to pull something together on their own, and people haven't really asked for it, but, but a lot of churches do engage in one way or sometimes with kids and sometimes with adults. So it's, it's been pretty popular that way.
Tim Shenck:
Yeah. Yeah. I've heard about being used in adult education classes with youth groups and with Sunday school children as well. And there, there are a number of religious schools a lot of religion teachers and, and they will use it and they'll, they'll get together and, and throughout the season, we'll, we'll get really into it and get all the kids voting and it's, it's fun to watch.
Scott Gunn:
Hmm. Yeah. Forward movement has a, it's a free downloadable curriculum cuz we got a grant on how to teach about the lives of saints to churches. It's not explicitly Alen madness resource though. When we put it together, we did make sure that most of the L madness golden halo winners are in there are, are taught, but it's an all ages curriculum for, for, in English and Spanish for churches that wanna learn about saints and sort of explore what it means. And a lot of folks use that and they kind of combine it with let madness. So it's, it's been a lot of, it's been good for people. Yeah.
Ryan Dunn:
Well, and what is really exciting about this is that this is something that was born in an online space and then has reached back into kind of the IL experience where it's so often in digital ministry, we're using virtual spaces, assimile for something that happens in person, right? So this is kind of a cool way of it reaching into another realm which is awesome to see.
Scott Gunn:
Yeah. The other thing that I think is exciting about mad Madis or not the other thing, and another thing is it also Tim thought of this idea one day in a shop and it's brilliant idea, but it's an idea he thought of we did it and then for movement picked it up, we have not invested tens of thousands or hundreds of thousands of dollars in this. I think sometimes people think that digital ministry has to be complicated and costly and, and the website is, as you can see not something we've spent a bazillion dollars on, although we're hoping to roll out a new one in the next couple of weeks, but digital effective digital ministry doesn't have to come with a big price tag, I think is what I'm saying. I think the, the, the reason let madness works is because the I D is pretty compelling and then the community building aspect is real. And it's a way of at first it seems like silly fun, but underneath it is serious faith formation. And I think there are lots of other ideas out there waiting for people to implement. And I hope that they won't be discouraged. You know, some little church somewhere could have a good, great idea and they might think, oh, we could never do that. Maybe, maybe your idea needs a million dollar budget, but maybe it just needs some people to kind of get together and do it
Tim Shenck:
Well that that's right. It went from a coffee shop to my blog to working with Ford movement. So that's a great way to put it. We also do Scott and I do a weekly, I don't even know what you would call it. Little video video cast called Monday madness and talk about low production values. And that's, that's us. It's just, just us with a, you know, talking a little bit about the upcoming battles and and we have, we have fun with that as well, but, but again, it's, it's not exactly how shall I say slick?
Ryan Dunn:
Yeah. Well, and that's important to note because so much of what quote unquote performs well or connects with people, maybe a better way of putting it. So of what connects well with people in this particular day and age is the authentic something that does not need to have the over overdone production quality, but it just needs to be a, a personal expression of whatever it is that you're trying to express. So I, I think it's really cool that, that everything that Lent madness has come to be has started from such a simplistic place. And, and in a sense, really an innocent and whimsical place too. So thank you so much for bringing this to us for offering that witness of whimsy and inspiration. And I think you're exactly right. I hope that other people are able to hear this story and begin to think of the ways that they might be able to kind of creatively create something in their own midst that breeds some faith formation, both in a digital sense, but in, in a personal sense as well.
Scott Gunn:
Absolutely. And we'd love to see zillions more of our United Methodist friends on online visiting us at, at the L Mattis website. So give it a try. Yeah.
Tim Shenck:
We will see you this Lent
Ryan Dunn:
So give us the low down. What's the, what's the website.
Tim Shenck:
Hmm. Only we can remember the URL. Yes, it is www.lentmadness.org.
Ryan Dunn:
Oh. And they downplayed it a little bit, but it it's a fully functional website. Pretty easy to navigate has all the information there. So, well, Reverend Tim, Reverend Scott, thank you so much for spending this time with us, for sharing your story and for putting this together. I think we gonna have a little bit more fun this Len
Tim Shenck:
Thank you so
Scott Gunn:
Much. Yeah. Thanks for the invitation. It was a delight to chat with you.
Ryan Dunn:
Thanks so much for participating in this season of pastoring in the digital parish. You're gonna wanna click over to Lent manness.org to take a look at the bracket for this year and to start doing your research. Thanks again to Tim Shenck and Scott Gunn for sharing the story with us pastoring in the digital parish is a resource from ResourceUMC.org. The online destination for leaders throughout the United Methodist church. We're gonna have a new session next week, but in the meantime, if you wanted to explore on digital spiritual formation, then check out the session with James Kang about digital-first ministry, or check out understanding online behavior with Dr. Kelly Price. This has been fun. My name is Dunn. Hey, if you have a suggestion or a question for the podcast, send me an email at [email protected] Thank you. And I'll talk with you soon.
Peace
On this episode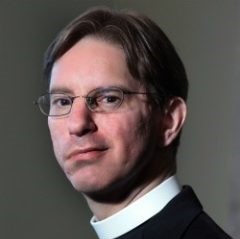 Rev. Tim Schenck is rector of the Episcopal Parish of St. John the Evangelist in Hingham, Massachusetts, on the South Shore of Boston. He is the author of five books full of humor and faith including, most recently, Holy Grounds: The Surprising Connection between Coffee and Faith – From Dancing Goats to Satan's Drink.
Rev. Scott Gunn is a geek of both the church and of technology. He serves as the executive director of Forward Movement in Cincinnati, Ohio, whose mission is to inspire disciples and empower evangelists. Scott is also a Deputy to the Episcopal Church's General Convention, the ultimate achievement for serious church geeks. His latest book is The Way of Love: A Practical Guide to Following Jesus.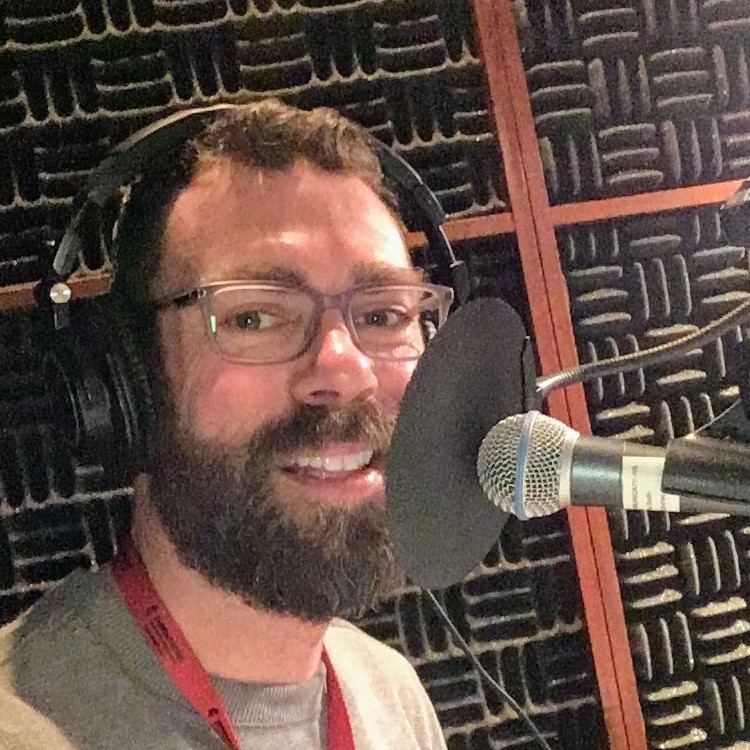 Our proctor/host is the Rev. Ryan Dunn, a Minister of Online Engagement for United Methodist Communications. Ryan manages the digital brand presence of Rethink Church, co-hosts and produces the Compass Podcast, manages his personal brand, and obsesses with finding ways to offer new expression of grace.