No matter how you'll be celebrating the holidays this year, use these tips to help you get the most out of your family photos.
Spontaneous, documentary-style photos excel at capturing feeling and mood and it's worth your time to give it a try this year.
You'll need to think like a photojournalist by anticipating key moments and positioning yourself, with your camera at the ready, to capture them as they unfold. There are no do-overs here. Once the moment is gone, it's not coming back, so think through where you'll want to be before the action starts.
For indoor photos try a few test shots ahead of time to check the lighting. Sometimes using the flash on your camera or phone causes a time lag between mashing the button and the shutter releasing. In that case, skip the flash and try turning on a lamp or adjusting the window shades.
If you're photographing small children, you may need to kneel to better see their faces.
Plan for family group photos by picking out a couple of good locations ahead of time. Consider one outdoors and one inside in case it's cold or raining. An overcast day is surprisingly great for photographing people outdoors. The light is soft and smooth with no harsh shadows. Try a background that is simple and uncluttered, or one that adds context to the photo without being distracting.
A family group photograph would be incomplete without the photographer in it. Get a few good images of everyone else then jump in to capture several full family shots. Avoid a selfie stick and use your camera's self-timer paired with a camera support. A tripod is great if you have one but there are all kinds of other gadgets for this, like the GorillaPod.
Though the circle of family around our tables may be drawn a little tighter this season, we can still preserve precious memories through photography.
---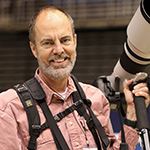 Mike DuBose has been the staff photojournalist for UM News since 1995. Assignments have taken him to some 40 countries and most of our 50 states. He spent 10 years as a daily newspaper photographer prior to working for the church and served as a staff photographer for the 1982 World's Fair in Knoxville.
________________________________________________________________________________________________________________________________________________________
Storytelling through photography is a ministry. United Methodist Communications uses photos and photography instruction to inform, encourage, motivate, inspire and engage followers of Christ--and we are resourcing churches to do the same. These efforts require financial support. If you believe in our mission, consider a tax-deductible donation to the work of United Methodist Communications through its Foundation at ResourceUMC.org/GiveUMCom.