Advent is the perfect season to reach out to new people in new ways. As you plan your holiday outreach, engage your congregation in fun, meaningful efforts that will extend a personal word of welcome to people in your community who are searching for connection.
Empower the congregation
"When helping your congregation think of people to invite to church activities and worship services, use the acronym FRANKO: Friends, including coworkers and long lost friends; relatives on both sides of the family and everyone who is on your Christmas card list; acquaintances such as your hairstylist, accountant, and people you run into at the grocery store; neighbors on all sides; kids' connections, such as families you see at soccer practice, PTA meetings or birthday parties; and online friends, people you connect with via social media," suggested Teresa Angle-Young, director of seeker advertising and communication at United Methodist Communications.
Once your congregation has people in mind, they need the right tools of invitation. Consider ordering UMC-branded, customizable resources designed to support outreach efforts during this busy season. The resources are an extension of the denomination's national advertising campaign, which seeks to build a bridge between people searching for community and deeper meaning in life with United Methodist churches in their area.
"The resources were helpful in encouraging the members of the congregation to be more of a witness to their faith," said the Rev. James Parker of St. Paul's United Methodist Church in Manchester, Pennsylvania, which utilized outreach materials during Lent this spring.
Creative ways to put these resources to work!
Invitation cards
Handing out cards is a great way for your congregation to extend an invitation to your church's worship services and events, but this can be intimidating for some people. Make outreach efforts a bit more approachable with these ideas:
Ask congregants to attach invitation cards, along with a handwritten note of welcome, to containers of homemade holiday cookies and treats. Deliver these to neighbors, coworkers and others who might be looking for a faith community.
See if families or small groups would join together to host block parties in their neighborhoods with music, treats, a snowman-building contest, a photo booth and plenty of invitation cards to distribute to all who stop by.
Seek permission from local businesses to leave a stack of invitation cards near the cash register so that people can pick them up while they complete their holiday shopping.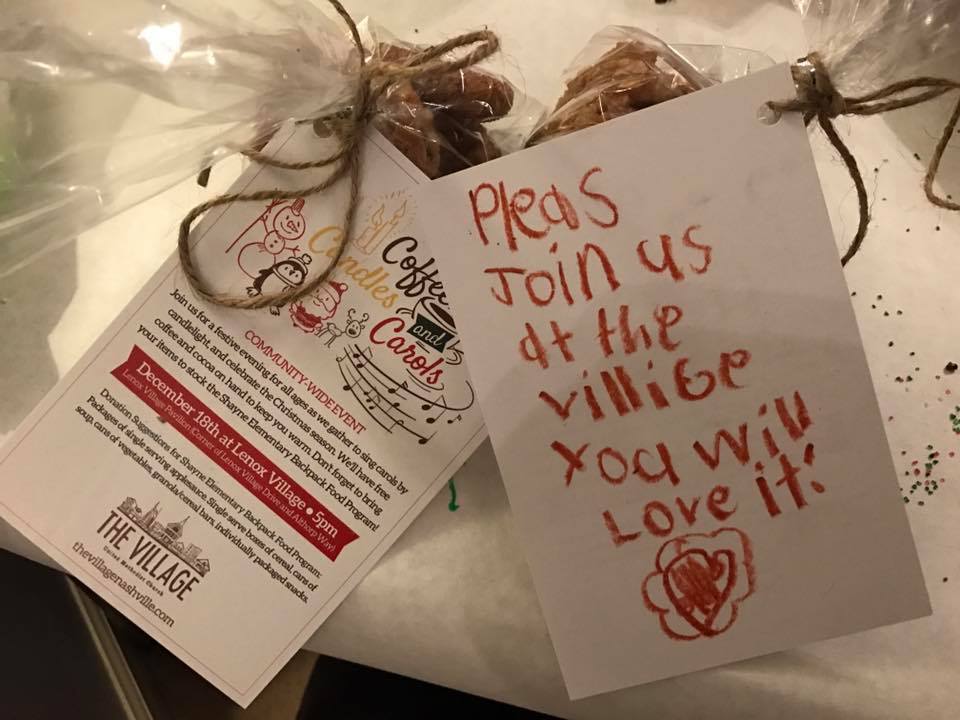 Hot cocoa fellowship
Consider hosting a hot cocoa fellowship event in a location where people gather in a festive holiday spirit during the Christmas season, such as a:
Christmas market, shopping event or craft fair
Holiday parade route, perhaps in front of your church or a local business
Outdoor ice skating rink
City park with a holiday light display or food trucks
Shopping mall, preferably one where people will be outdoors between stores
Transportation hub, such as a train station or busy bus stop
Please note that you may need a permit or permission to be at specific locations, so inquire in advance. Coming soon, we will have a how-to guide available to get your event started; in late September, tour-branded stickers will also be available as part of the denomination's Advent resources so that you can add an image to your cocoa cups.
Doorknobs and mailboxes
Door hangers and postcards can be easy tools for invitation, but volunteers are key in getting these out into the community.
Embrace a chance to pray for the neighborhood. "[We] had a prayer walk around church and put door hangers on people's homes, and [our pastor] had a couple conversations with our neighbors," said Yevgeniya Przhebelskaya of Leonia United Methodist Church in Leonia, New Jersey, which used postcards, invite cards and door hangers to promote Easter services at their church this year.
Ask Sunday school classes, the youth group, or Bible study groups to canvas their neighborhoods with the door hangers while taking some time to chat with people they encounter along the way.
If you'd like to add a personal aspect to mailed postcards, ask volunteers to write notes and handwritten addresses on cards mailed to focused contact lists — such as people who've visited your church throughout the year. You can even ask the congregation to donate stamps for the project.
Digital outreach
Personal invitations don't have to be in-person. Social media is the perfect platform for sharing information about your church's Advent events and worship services. Post consistently on your church's Facebook page, using graphics, photos and details about upcoming activities. Ask your congregation to share these posts, not only to their personal Facebook pages, but also in "closed" groups they belong to, such as:
HOA and neighborhood groups
Special interest groups, such as parenting or hobbyist groups
Alumni groups
Clubs and associations to which they belong
To help you get started, a free, downloadable social media calendar, complete with posts and imagery, is available as part of the denominational Advent resources this year. To learn more about promoting events on Facebook, watch a recent webinar.
When visitors arrive
Your congregation's invitations simply open the door for visitors. Be sure your church is ready with friendly greetings and helpful volunteers when new people join you for worship or events.
"We have a hospitality time before worship where we can meet new people, show them around the facility and help them feel welcome and comfortable with the space, like the nursery, before worship. We also follow up personally with every visitor after every worship service," said Melissa Cole of Prairie Chapel United Methodist Church in Urbana, Missouri, which sent direct-mail postcards to invite people to their Easter worship services this year.
Invitations should go beyond Christmas, too. Promote a January sermon series, such as one developed by Discipleship Ministries, during Christmas worship services, via invitation cards and on social media so that people will join you for worship again as their search for meaning extends into the new year.
*Laura Buchanan is a PR Specialist at United Methodist Communications.