According to a 2018 Capterra report, 85% of churches use Facebook.
But did you know that, because of Facebook's algorithms, only a small percentage of the people who follow your Facebook page will see your content.
That's why Facebook Groups can be an important tool for churches.
Facebook Groups promote engagement because members are allowed to post content. Instead of posting content solely for informational purposes, Facebook Groups uses content as a way to encourage interaction.
As Facebook continues to roll out more services, it is easy to get confused. Here's a review.
A Facebook profile is an individual's personal Facebook account. Every Facebook user has a profile. You control your privacy settings, invite or accept friends, choose who is allowed to post on your profile and who can see what is posted.
A Facebook page is a free advertisement. It is a place to communicate information about yourself or your organization. Celebrities, business owners and nonprofits often have Facebook pages.
Like what you're reading and the tools we provide?
Your support helps to ensure the future of communications ministry. Make a tax-deductible donation to support United Methodist Communications today.
Churches use Facebook pages to promote service times, meeting locations and upcoming events. When you create a Facebook page, you choose administrators. Only administrators can post on a Facebook page. By default, Facebook pages are public in order to increase publicity.
A Facebook group is an online meeting place for individuals who have a similar interest or connection. Like a digital club, members must be invited or request to join a group and agree to community rules. While administrators moderate content, any group member can post content, and online conversation is encouraged.
The latest addition to Facebook is Messenger Rooms. A Messenger room offers users the ability to video conference with up to 50 people at once with no time limit. These calls or conferences can be scheduled or be impromptu gatherings.
A user sets up the call and chooses who to invite. Invitees are notified and can immediately jump in. One thing that makes Messenger Rooms unique is that you can invite Instagram followers or contacts on WhatsApp even if they do not have a Facebook profile.
While Messenger Rooms is a great tool to for occasional face-to-face conversations, Facebook Groups is a longer-term solution to human interaction online.
With Facebook Groups, churches can create one large group or a handful of smaller groups. For example, a church may create groups to coincide with its in-person small groups or groups for individual ministries. Facebook Groups can also be great digital meeting spots for choir members, the children's team or Sunday school classes.
Getting started with Facebook Groups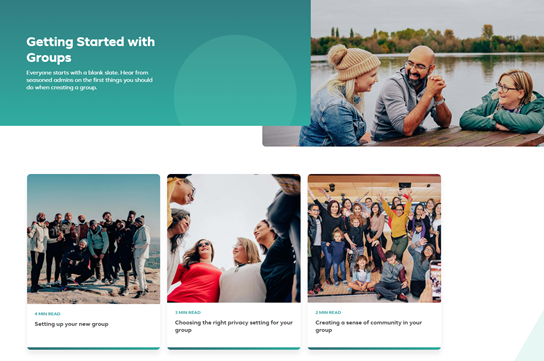 Getting started with Facebook Groups is easy. To set up a group, start on your profile page or church page and follow these steps:
Click on the "Groups" tab at the left of the screen.
Click on "Create a Group."
Customize your group's information and settings. Create a name that clearly describes your group.
Keep the group private.
Set the community rules. Examples are provided with set-up.
Assign moderators who will post, monitor comments and facilitate conversation.
Invite members.
One of the great things about Facebook Groups is that you don't have to create much content. Group members will do the work for you. Spur discussions as needed with questions or a weekly posting plan. For example, Monday can be for memories. Ask group members to comment on how they met or post a picture regarding the group's history.
In 2017, Facebook founder Mark Zuckerberg said that Facebook is the "new church." In 2021, he encouraged churchgoers to move their worship online.
Facebook should never be a replacement for the church. It can, however, be an important tool for faith communities. In particular, Facebook Groups can help strengthen relationships by encouraging digital conversations. Think of it as another way for the members of your church family to connect and "do life together" outside of the church building.
---