United Methodist Communications hosts Hollywood and music elite
Headquartered in the heart of Nashville, Tenn. — otherwise known as Music City USA — United Methodist Communications' state-of-the-art production studios have hosted dozens of musicians, television actors and movie stars for both United Methodist-related projects and secular ones.
A multi-media services company known as Kingswood Productions generates revenue from these projects, which must be in keeping with the denomination's social teachings. The projects enable United Methodist Communications to have additional funds for church ministry.
Production team leader Harry Leake gave us the inside scoop about some of the most famous guests who have used the denomination's production facilities and services throughout the years.
The King of Rock 'n Roll
In 1956, the Methodist Church's communications agency shared their office and studio space with the major record label RCA. On January 10, a 21-year-old named Elvis Presley arrived at the shared studio to record five songs under the guidance of his new label. Later that spring, one of those songs would go on to sell more than a million copies, hit No. 1 on the Billboard pop and country charts and No. 5 on the R&B chart. That song was "Heartbreak Hotel." Grammy award-winning musician Chet Atkins and Country Music Hall of Famers, The Browns, recorded there as well.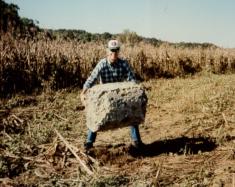 Mike Farrell (*Photo by Harry Leake)
Funny man
Comedian George Gobel is best known for his weekly NBC program, "The George Gobel Show," which ran from 1954 until 1960, and his frequent guest appearances on "Tonight Show with Johnny Carson." However, in the early 1980s he came to United Methodist Communications to shoot a commercial for Midas. The production staff set up half of a car in the studio on a lift. Gobel popped out of the trunk and said his lines.
Music videos
In the 1980s, several up and coming recording artists graced the studios to shoot music videos. Christian artist Amy Grant performed "My Father's Eyes" for a video tape. Country group Alabama recorded "Feels So Right." The queen of country music, Reba McEntire, was just starting out when the Kingswood crew filmed her backstage, on her tour bus and edited footage of her early years as a rodeo star. The final video played behind her onscreen during her concert tour.
Singing superstars sell biscuits
Recording artists Loretta Lynn and Tennessee Ernie Ford came to the studios in the early 1980s to shoot a commercial for Martha White biscuits. "Loretta Lynn was very nice and shook hands with all of the crew before she moved to her spot on set for her lines," said Leake, who was in the studio that day.
Ernest goes to Kingswood
Between 1982 and 1984, Kingswood provided gear for several Purity Dairies' commercials featuring comedian Jim Varney as a character named Ernest P. Worrell whose catchphrase was, "know-what-I-mean-Vern?" A few years later, this character became famous throughout the U.S. with his own children's TV series called "Hey Vern, It's Ernest," and a string of popular comedic movies including "Ernest Goes to Camp," "Ernest Scared Stupid," and "Ernest Goes to School."
The show must go on
In 1983, author Alex Haley, who is known for his 1976 book Roots: The Saga of an American Family, hosted scenes for the United Methodist Bicentennial film celebrating 200 years of American Methodism. Throughout the shoot, Haley had pneumonia. When filming was complete, he laid in the back seat of a car while a producer drove him two hours from the location in east Tennessee to a hospital in Knoxville where he stayed for three days until he recovered.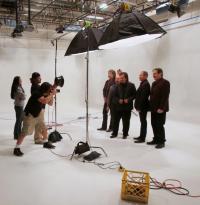 Restless Heart (Photo by Ronny Perry)
Between a rock and a hard place
In 1989, Mike Farrell from the television show M*A*S*H traveled to El Salvador to host a documentary about the church and the Salvadoran Civil War. After the project was nearly finished, ABC network censors rewrote some of Farrell's lines. He flew back to Nashville to deliver the new lines. There was just one issue. "In El Salvador, he sat on a large rock in a field. So set designers had to create a 'new' rock out of painted styrofoam that matched the one from El Salvador," said Leake. "When the shoot was complete in Nashville, he posed for pictures lifting the large boulder."
Hollywood's endorsement of Africa University
In 1992, crews were in Zimbabwe for an Africa University production called "A Bridge to Dreams." In the hotel, they met Hollywood heavyweight Morgan Freeman who was in the area shooting the film "Bopha!" Freeman invited the United Methodist crew to the set, where they also met Danny Glover. Glover later agreed to shoot some promotional messages for Africa University."
Recent music videos
United Methodist Communications and Kingswood continue to be a premier destination for production. Within the past few years, several recording artists have shot music videos here. These include Restless Heart, Florida Georgia Line and Darius Rucker.
---
*Natalie Bannon is a freelance writer based in Nashville, Tenn.
This story was updated September 1, 2020.