"Our radio has brought together a family that was torn apart," said Edward Lahai Massaquoi, who was attending the United Methodist Radio Network's fourth annual meeting April 24-26 in Luanda, Angola.
Massaquoi is the radio manager of Equitorial Latitude United Methodist Radio (ELUM 98.7) that beams across 10 out of the 15 counties in Liberia.
"During a call-in program a lady called with a testimony that ELUM 98.7 has brought her long-lost family back together," he said. "During a taxi ride, the caller, who is a Catholic, listened to what she called 'an amazing radio station.' The taxi driver, a Muslim, told her, 'Though I am not a Christian, this radio speaks to my heart.'"
The caller continued to listen to the station after the taxi ride. "She confessed that during our 5 p.m. ELUM Drive Time she prayed holding her hands on the radio for her to be reunited with her family. That day, her son in Britain called after five years," Massaquoi said.
The 5 p.m. ELUM Drive Time program is broadcast every Tuesday and Thursday. "As people return to work from their stressful and busy schedules, we don't want them to carry the burden back home and therefore, the program soothes them," he said.
Following her radio testimony, the caller donated a large generator and 10 chairs for the radio station.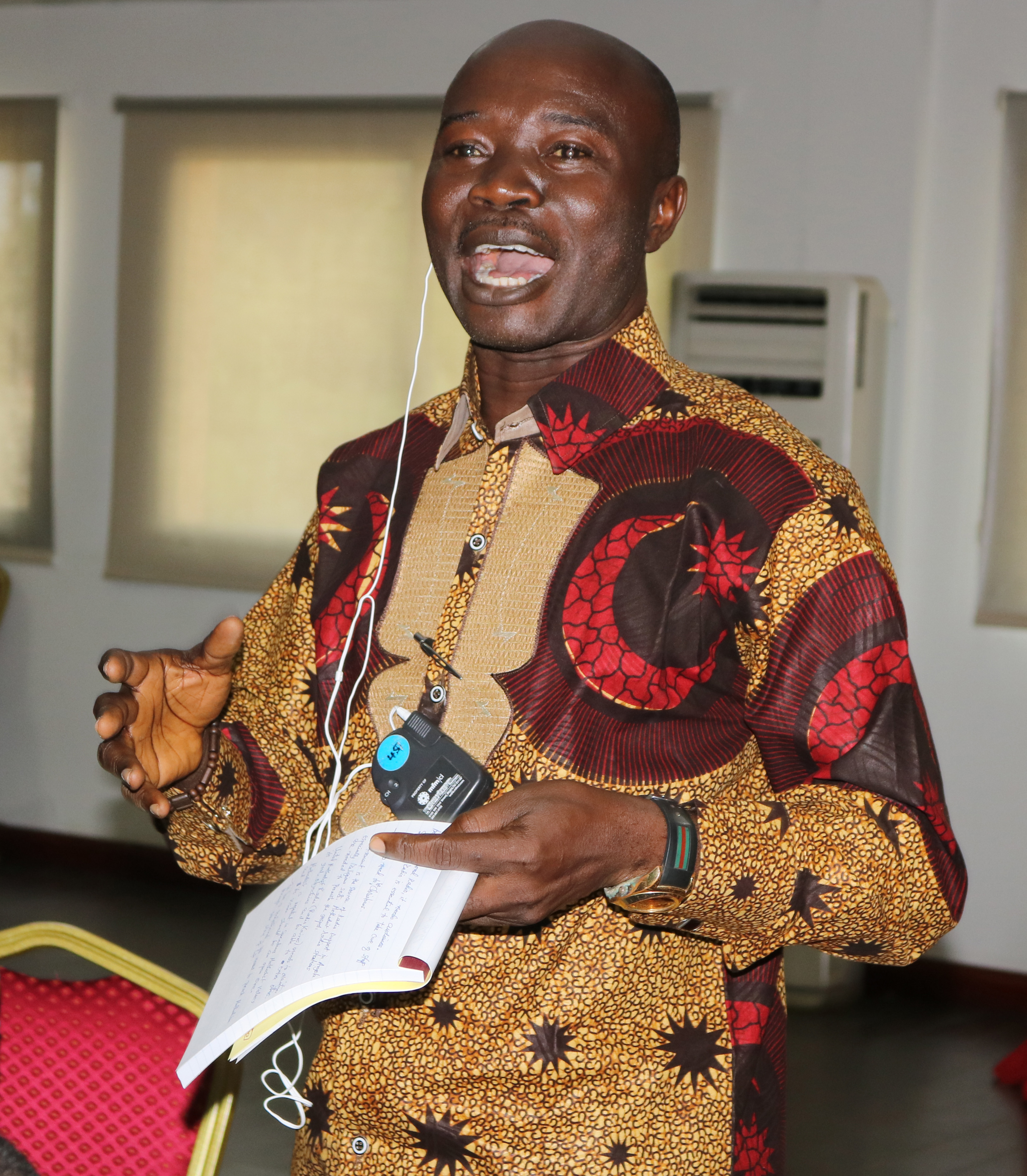 Edward Lahai Massaquoi speaks during the United Methodist Radio Network meeting in Luanda, Angola, April 24-26, 2018. Photo by Taurai Emmanuel Maforo, UMNS.
In 2016, the station went off air for nine months due to a lightning strike on its transmitter. "This was the most disheartening period during my radio broadcasting career at ELUM 98.7," said Massaquoi. "The radio of the people, the mouthpiece of hope, had been silenced."
"This radio proved a life-saver during the Ebola health crisis and having it shut down transmission was painful for us," said McArthur Hill, communications director of the Liberia Conference.
The United Methodist radio stations in Liberia, Sierra Leone and Côte d'Ivoire have contributed to the Ebola fight and warning the citizens of impending disasters such as mudslides. ELUM 98.7 FM also leads in campaigns toward the preservation of the environment.
"Ebola was one big story in the life of the radio, but ELUM 98.7 did more in consoling the minds of people who had previously been devastated by the post-war effects," Massaquoi added.
Following calls for the radio to go back on air the Liberian church raised $15,000 through one of its members, which was matched dollar for dollar by United Methodist Communications.
"On Jan. 8, 2017, we received a 2,000-kilowatt transmitter and we are excited to be back on air," said Massaquoi.
Maforo is communicator for the Zimbabwe Episcopal Area.
News media contact: Vicki Brown at (615) 742-5470 or ne[email protected]. To read more United Methodist news, subscribe to the free Daily or Weekly Digests.