People want to be invited, so invite them!
People in your community are yearning for positivity, hope, community and connection. We refer to these individuals as spiritual seekers or seekers; get to know them better by reviewing our recent research study. Your church may be the perfect place for these individuals and families to find what they are searching for, as well as spiritual awakening and deeper meaning in daily life.
Invite seekers to visit your church, attend an upcoming event or engage in an online worship service by ordering and distributing customizable outreach resources crafted specifically for this purpose. The resources aren't intended for just church leader use, the entire congregation should be part of the invitational effort! After all, our research tells us that 70% of seekers are more likely to attend a local United Methodist church when they are personally invited.
Tips for effective customization
As you prepare to order customized, printed outreach resources, ask yourself a few questions:
How can I best utilize the customization area to reflect who we are as a church?
Can the resources be used in upcoming years? How can I ensure their longevity?
Where will we place/how will we distribute the resources so they are community-focused rather than internal?
Keep these considerations in mind as we review each resource and the ways you might customize it.
Banners, street signs and yard signs
Several styles of signs and banners (both indoor and outdoor) are available to display in community-facing areas of the church property, a booth at a local festival or event, or other locations around the community. Hang the outdoor banner close to a busy roadway, post indoor banners near a daycare entrance or community support group meeting space, place street signs on sidewalks or near main parking entrances, and ask church members to display yard signs at home to extend invitations into neighborhoods.
Customization tip: Rather than promoting a specific date/time for an event or worship service, consider directing people to your church website's homepage, or a website landing page that can be updated with information on an ongoing basis. You can offer many different details this way! For example, you can promote information about your Easter worship service times, Easter Egg Hunt details and youth service project specifics on one centralized webpage. While they are there, people will likely explore other pages of your website as well.
The customization area of your banners and yard signs might simply state something like: Learn more at FriendlyUMC.org/Easter.
Longevity tip: By printing only your website on banners and yard signs, they can be used annually. Don't forget to ask people to return yard signs to the church for later use! In forthcoming years, order additional resources with the same design to build your collection of matching pieces.
Posters
If you have community partners, such as coffee shops or gyms, or know of community bulletin boards at libraries or restaurants, hanging posters at these locations can be an easy way to invite people to learn more about your church.
Customization tip: Since posters are a disposable resource, add a few more specifics to the customization area, but continue to include your website as well.
The customization area of your posters might state something like: Join us for a holiday dinner and choir concert on December 20 at 6 p.m. Learn more at FriendlyUMC.org/Christmas.
Postcards
Direct mail postcards offer the opportunity to be specific about upcoming events. Two sizes are available from which to choose — large or standard. Outreach will mail postcards to a specific geographic area for you, but be sure you are fully aware of the costs and the type of mailing account needed before committing to this distribution plan. (Learn more on Outreach.com — you can also live chat with an Outreach customer service representative.)
Another approach is to order customized postcards and mail them yourself. Ask volunteers to hand address them or affix printed labels. You can mail the cards to recent visitors, members who haven't attended in a while, or people who live close to the church but don't attend. If you have any leftover postcards, ask the congregation to hand them out (see more ideas for this use below, under "invite cards").
Customization tip: Since postcards will only be used for one year, list details about event and worship service dates and times, but don't forget to add more general information as well. The customization space can offer a brief invitational statement about who you are as a congregation, online worship service information, website and social media page links and church contact information.
The back of your customized postcard might look like this: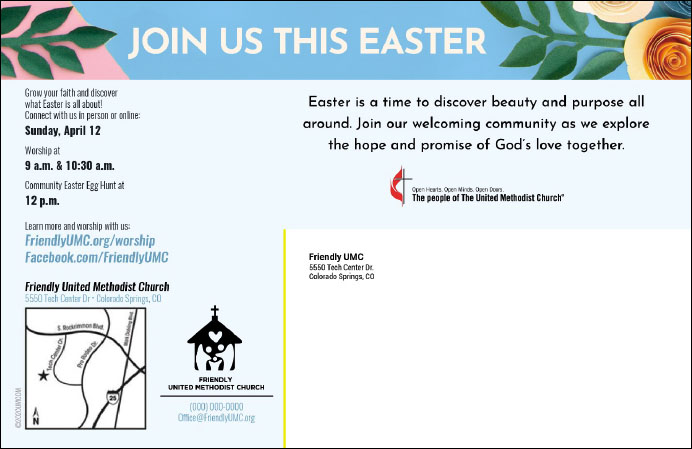 Invite Cards
Invite cards are smaller than postcards, the perfect size for easy distribution by congregants. Ask your church members to attach cards to bags of Christmas cookies and deliver them to neighbors, give out cards during a community Easter egg hunt, leave a stack of cards on counters at community centers, or personally deliver cards to family members, coworkers and friends, along with a verbal invitation.
Customization tip: Invite cards offer more space to share an invitational message and information about your church. Since these will likely only be used for one year, be as specific as you'd like about upcoming events and worship opportunities. Don't forget to include your website on these cards as well.
Get started!
No matter the season, there are many different styles of printed outreach resource options ready to customize and order at Outreach.com/UMC. Also, be sure to download the free, accompanying digital tools, such as social media graphics.
Whether you order one item or an entire suite of items, these resources will help you extend a warm, welcoming message to people in your community, many of whom are simply waiting for an invitation to connect.
Even more resources
We have many opportunities for local churches to learn more about marketing, communications and outreach:
---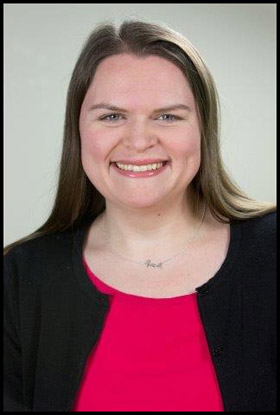 Laura Buchanan is senior creative content specialist at United Methodist Communications.