Based in Nashville, TN, United Methodist Productions is an innovative production ministry and engaging production facility with a history of providing trustworthy, professional expertise in motion, graphics, and sound production. We have put together a talented team of producers, directors, editors, videographers, and photographers who will accommodate and achieve all of your production needs.
Have questions?
Let us assist you with your next production. Contact us!
Stacey Hagewood
[email protected]
Phone: 615-742-5155
As a part of United Methodist Communications, UM Productions is a major vessel in the beating heart of our denomination. We are vitally connected to every board and agency, every annual conference, and every local United Methodist church throughout the world. Our mission is to "inform, inspire, and engage the people of The United Methodist Church." For us, that means drawing on the resources of the connection and using our extensive knowledge of the church to produce multimedia services that meet the needs of United Methodists and make a difference in their lives.
We are supported by the considerable resources of United Methodist Communications and The United Methodist Church. Bundling all these services under one roof allows us to achieve top-quality productions at a fraction of the cost that secular production houses would charge.
UM Productions provides video, audio, and post-production services, as well as conscientious crews and first-rate equipment — all at an economical price. Our clients depend on our services to produce a wide variety of projects:
Bible study materials
Documentaries
Fundraising videos
How-to videos
Live event production
Live web streaming
Meeting documentation
Multi-camera performances
Music tracks & albums
Podcasts
Promotional videos
Sermon series
Social media campaigns
TV & radio ad spots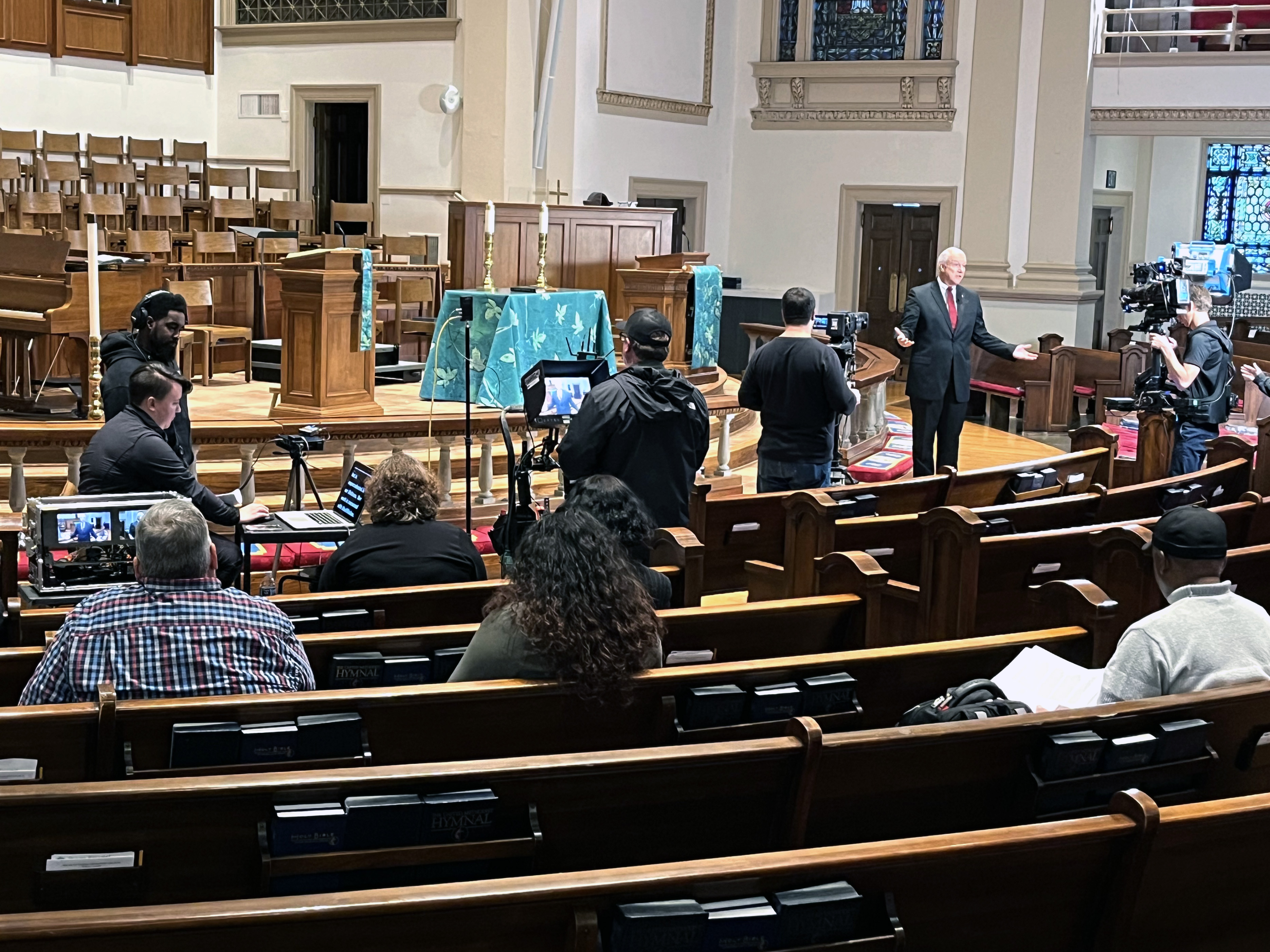 United Methodist Communication production staff record Bishop Thomas J. Bickerton, president of the Council of Bishops, giving his 2023 "Mid-term State of The United Methodist Church Address" on location at Belmont United Methodist Church in Nashville, Tennessee.