The United Methodist Church participated in the inaugural African Summit on Women and Girls in Technology, held Sept. 13-14 in Accra, Ghana. The summit drew nearly 150 digital equality advocates from across Africa and the world. Participants discussed solutions that will enable millions of African women and girls to benefit from access to technology and be able to use these skills to build a better Africa for all.
The event was a collaboration between UN Women (the United Nations Entity for Gender Equality and the Empowerment of Women), the Alliance for Affordable Internet, the World Wide Web Foundation, the Ghana-India Kofi Annan Center of Excellence in ICT and the African Development Bank.
The aim of the summit was to develop a set of key actions that policymakers, activists, teachers, technologists and female community leaders must take to ensure that African women and girls have access to a Web that is open, safe and empowering for them. Participants shared experiences, insights and ideas for developing a strong digital future in Africa.
Izeduwa Derex-Briggs, UN Women's regional director for East and Southern Africa, described women as the center to Africa's development. "Information drives technology, technology drives innovation, innovation is central to the development and growth of Africa. Therefore, putting women in technology puts women at the heart of Africa's development," she said.
The Rev. Neelley Hicks, director of ICT4D (Information and Communication Technologies for Development) Church Initiatives for United Methodist Communications, concurred. "Some call women the 'backbone of the church,' and when they are equipped with knowledge and tools for communication, the life of the church and her communities are made stronger," she said.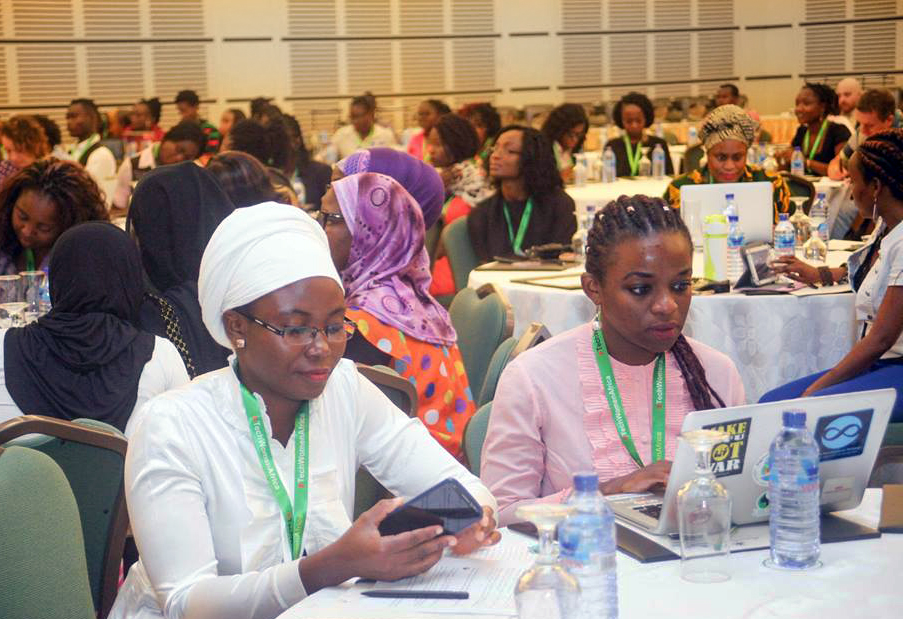 The African Summit on Women and Girls in Technology explored how technology policy can further the rights and interests of women in Africa. Photo by Priscilla Muzerengwa.
Mobile technology and access to the internet have transformed the world over the past 20 years. While recent years saw this progress in technology use in Africa, there are still fewer women and girls playing a role in creating this technology and pursuing studies in science, technology, engineering and mathematics.
The gender gap in mobile phone ownership varies across regions and countries. Groupe Speciale Mobile Association's Connected Women program released a report that shows that women in low- and middle-income countries are less likely to own a mobile phone than men. Even when women own mobile phones, they use them less intensively than men.
Access to mobile phones and mobile internet can unlock a world of possibilities. Women are being left out of the digital revolution and may be ill-equipped to use technology tools at a time when the world is increasingly becoming internet-dependent.
Some of the reasons highlighted as barriers to technology for women are poverty, illiteracy and discrimination when getting training and education. Due to the high cost of mobile handsets and credit, women are less likely to own a phone than men. Women are often more price sensitive and have less disposable income to buy a phone. Cyber bullying also is more of a concern for women than men, leaving women less equipped to use technology tools.
The summit explored how technology policy can further the rights and interests of women in Africa, and how these policies can work to close the growing gender digital divide.
"The digital divide will increase gender inequity as more girls than boys do not have access to education and skills training, such as Information Technology," said Carol Van Gorp, United Methodist Women's executive for international ministries. "Boys are exposed to more of math and science than girls, and the cultural message around the world is that boys are better at technology than girls."
Some of the action plans that came out of the summit are building partnerships and designing technology by and for women. There was consensus on the need to build networks that enable learning, sharing and growing. Technology and access to the internet are essential to women's empowerment across the continent and key to overcoming these barriers. The internet has to be a safe public space for expression by African women and girls. Benefits should extend to being able to use technology to solve important community problems faced by women.
Finda Quiwa, a youth regional missionary for United Methodist Women Africa, says that despite the limited access to technology for women in Africa, technology is contributing greatly to improvements and development of women.
"Through telephone conversations, local women can now know that going to deliver their babies in health facilities reduces the rate of infant mortality," she said.
Digital literacy promotes democracy by giving access to a vast repository of knowledge. It also provides a platform from which to speak out and make viewpoints heard. The inequality of internet access around the world is compounded by location and gender.
Technology gives women the opportunity to communicate their needs in their own ways, in real time and on a massive scale. Without access to ICT, women are at greater risk of being left behind as agents of change and leaders in a rapidly changing global society.
"Methodists around the globe, including United Methodist Women, have prioritized education as mission for over two centuries," said Van Gorp. "Educating and training in technology is just a new curriculum that is as important as reading, writing and mathematics."
This universal access to technology can be "game-changing" in improving the lives for people in Africa. Closing the digital gap has an effect of expanding opportunities for families, communities and nations.
"No woman or girl must be left behind in technology. This keeps us abreast with what is happening around the world and will enable us to provide a better and brighter future for our children," said Elmira Sellu, United Methodist Women regional missionary for West and East Africa. "United Methodist Women is making every woman count in technology."
Muzerengwa is a communicator for the Zimbabwe East Annual Conference. News media contact: Vicki Brown, news editor, [email protected] or 615-742-5470