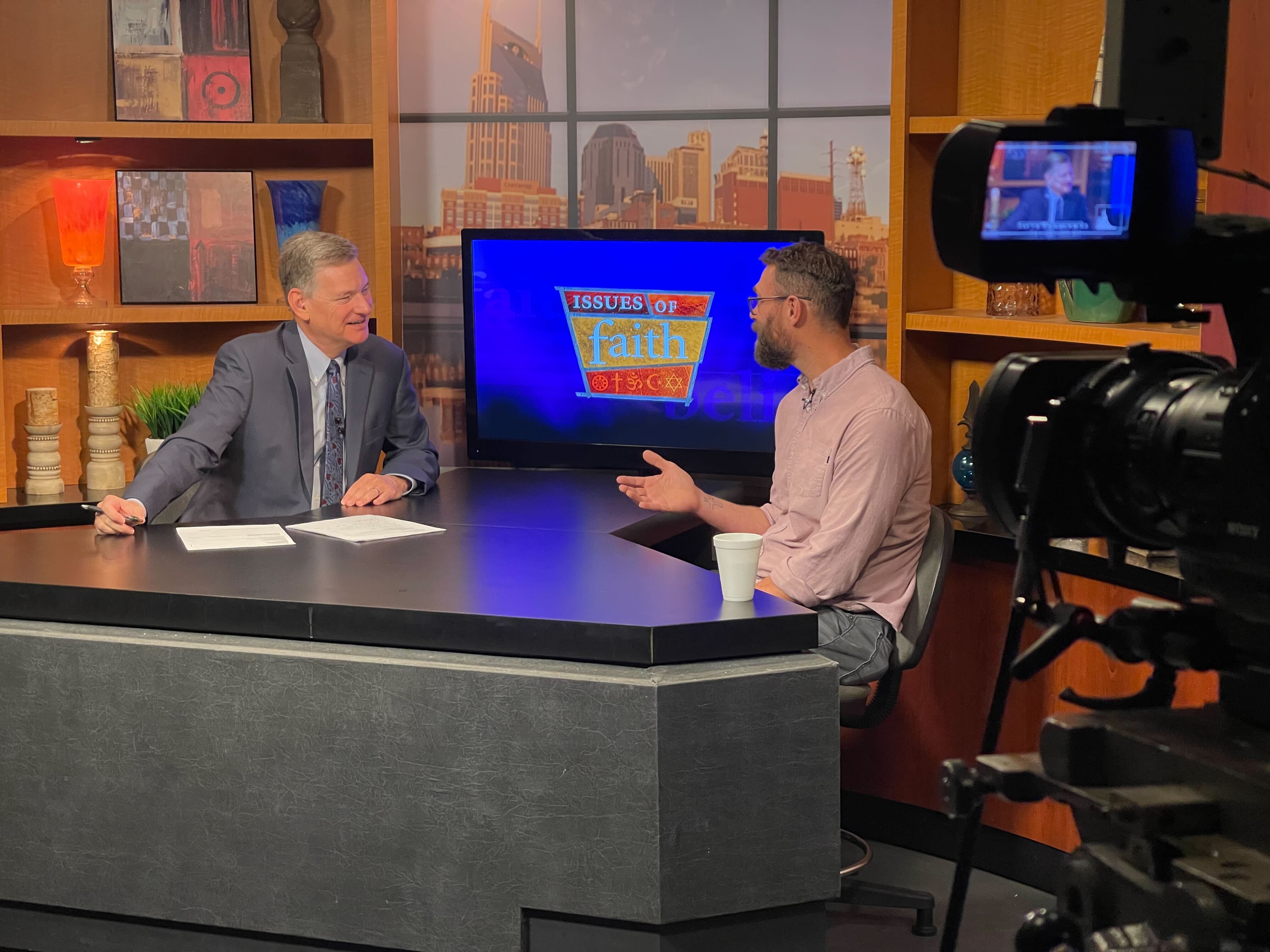 Rev. Ryan Dunn, Minister of Online Engagement for United Methodist Communications, talks with News Channel 5's Ben Hall on Issues of Faith TV Show. Photo by United Methodist Communications.
Every week, in our churches, we share and celebrate good news about the ministries our congregations are engaged in and how we are serving our local communities. But are you effectively broadcasting those stories beyond your congregation? Just think of all the people you could impact – for good – if more people knew the good things going on!
Effectively communicating with the local news media is one of the best ways to get your news in front of the public. According to Pew Research Center, 75% of U.S. adults trust the information from local news outlets, while only 25% trust social media and 56% trust national news media.
As Director of Public Relations at United Methodist Communications, Diane Degnan has worked with hundreds of reporters to help share the stories of how United Methodists are making a difference in the world.
"As we raise awareness of the mission and ministries of United Methodist churches, we promote understanding of our beliefs and attract people to our churches," said Degnan. "But if you want your church's story to be told, it's important to understand what reporters are looking for: an interesting story that's relevant to their audience. Think about how your news relates to the larger community ... and if it's different or creative, it's going to be more newsworthy."
So, you've got some great news and want to share it. What's the best way to get noticed by the media? How do you pitch them?
We asked a few media professionals to weigh in. Here are a few tips to get you started.
Know who to reach out to. "This may sound elementary," says Shelia Poole, religion reporter for the Atlanta Journal & Constitution, "but know your local journalists. Does the media outlet you are pitching have a religion reporter? If not, whose beat would be best for coverage? Know who covers what. I get so many pitches for chefs, new restaurants and new mystery books. I don't cover any of this unless there is a priest who works nights as a chef or who is opening a restaurant."

Abriana Herron, religion reporter for the Indianapolis Recorder, agrees. "It is important to be knowledgeable about a journalist's beat – the specific topic that a journalist writes about. If the pitch does not align with the audience, the story is less likely to be considered by the journalist. Taking these aspects into account creates a stronger story pitch."

Brenda Smotherman, Senior Public Relations Specialist at United Methodist Communications makes it a point to personalize correspondence with key contacts so they will know she has taken the time to familiarize herself with the reporter's coverage. "I might make a mention of a past story that they did that sparked my interest in them and why I thought they'd be interested in my news. If I have a feel for what sections an outlet hosts, I'll typically note which one I think might be a fit to help them visualize my story in the midst of their content," said Smotherman. "When we establish ourselves as a partner who cares, media are more likely to consider picking up a pitch or at least opening our future emails."


Clear and concise wins the day. "Put as much information about the event or story into the pitch as you can," says Herron. "Be clear about why this story is important to the audience of the journalist."

At the same time, it might be best to be as concise as possible. Billy Hallowell, Faithwire journalist and TV host says, "I love bullet points. Give me quick, fast bullet points about why I should cover this story and, if available, a link to where I can find out more if I want to."


Give as much notice as possible. "Give the reporter as much of advance notice as soon as you can," says Liam Adams, religion reporter for the Tennessean. "I want to know when you are doing a big community service event, I want to be there if I can. Even if I can't be there, advance notice helps me find the best way to give attention to that."


Have your information ready and someone willing to speak, if necessary. "Make sure you have all of the information ready to go if a reporter accepts your pitch," says Poole. "Make sure you have pastors/officials available to speak with that reporter. If I call a church, will I just get bounced back to the communications team at national or regional headquarters? I once covered a conference, and several people in attendance were told they had to clear interviews with the media department. On deadline stories, we often don't have time to run a request up the food chain, and it kills the flow of a good interview."


Follow the news. Is there something in the news that someone in your congregation - your pastor, Sunday School teacher, etc. – has experience in? Let the media know. "This is a great chance to keep a reporter informed," says Hallowell. "Even if the reporter doesn't use your source at this point, they may likely come back to you in the future to help them on a story if they know you can produce a source quickly."


Follow-up, and follow-up some more. Journalists in both large and small markets can get hundreds of emails and pitches a week or even a day. Don't be afraid to email again and then again. "Stay on top of reporters," says Hallowell. "Don't be afraid to send several emails if you haven't heard back. Journalists are busy, and sometimes we mean to respond but get caught up. If someone says, "no thanks," move on. But if there's silence, don't fret about being persistent."


Remember, journalists are people, too. "Interacting with a journalist is simple: just be yourself. While you might see a journalist's face on TV and/or their name in a byline, we are people too," says Herron. "We get nervous before interviews and make mistakes. We also understand how nerve-wracking it is to tell your story in front of a camera or to another person. Be yourself and tell your story, and we will make sure to do our best job."

"We have a job, yes, but we also have families, friends and loved ones, along with responsibilities just like everyone else," said Hallowell. "Take time to get to know us. Relationships are important. When you know my kid is sick, you may give me a few extra days to reply to you. Yep, we're human, too."
*Aaron Crisler is a Senior Public Relations Specialist at United Methodist Communications.
---
For 80+ years, United Methodist Communications has been leading the church in telling inspirational stories of God's work in the world through The United Methodist Church, reaching new people, supporting local churches in vibrant communications ministry, equipping leaders and delivering messages of hope and healing.
This essential work requires financial support. If you believe in our mission, consider a tax-deductible donation to the work of United Methodist Communications through its Foundation at ResourceUMC.org/GiveUMCom.