You've probably heard about podcasts even if you've never listened to one.
Maybe you've overheard someone talking about the popular investigative podcast Serial or Limetown, the source material for Facebook Watch's TV series starring Jessica Biel. You may have chatted over coffee with a fellow church leader who mentioned the Art of the Sermon.
Perhaps you've just nodded, thinking podcasts are "yesterday's next big thing" — there in 2004, back today but gone tomorrow.
Many questions may come to mind:
Who needs more content?
Are podcasts anything more than amateur bloggers talking or ranting about random things?
What do they have to do with ministry?
Most importantly: Can podcasts positively impact the life of your local church?
Podcasts stage a comeback
Today, podcasts are seeing their biggest growth since 2006. The number of people who listen to one or more podcasts grew by an estimated 20 million in 2019. Why? Podcasts offer simple convenience to listeners. Plus, the breadth of proven expertise and polish among podcasters makes them a valuable free resource.
Let's take a look at what podcasts are and how they work.
First, a definition: Podcasts are on-demand audio programming delivered online.
Think of any topic. There's probably a podcast devoted to it. Everything from business to entertainment to religion and the Bible is covered by podcasting professionals with up-to-the-minute tips, storytelling, commentary and news.
Some podcasts have a set number of episodes while others are serial and, like a TV show, can last for seasons. New episodes may be released daily, weekly, monthly or however frequently the content creator decides.
Benefits of podcasts
Podcasts are free — sort of. While there's usually no cost to listeners, podcasts are often used to share and promote expertise in support of a company, its product(s) and website. Some podcasts are independent but, like AM, FM or satellite radio, invite sponsors to help cover the costs of production and distribution through targeted ads. (Obligatory A Christmas Story reference: "Remember, every day drink instant Ovaltine ….")
Podcasts are portable. If you have a 30-minute commute, you can use it to brush up on your social media skills. If you're walking the dog, you can pop in your earbuds and learn how to build a backyard fire pit. If you're on a road trip with kids, there are family-oriented stories the entire family can enjoy together while the miles zip by.
Podcasts are easy to find and listen to. A universe of podcasts is as close as your smart device (phone, tablet, wearable or speaker) through podcast services or applications (apps). For iPhone owners, a podcast app is pre-installed; Android users will need to download an app such as Stitcher, Spotify or Google Play.
If you're new to podcasts, open a podcast service and browse the lists of new or noteworthy titles or search for specific subjects or podcast providers. Once you find a podcast of interest, choose an episode to sample. Starting at the first available episode lets you learn more about the show and the hosts.
Listen by streaming episodes through a mobile device using your unlimited cellular data (if included on your plan) or using a home, office or public Wi-Fi connection. If you have a limited cellular plan or only occasional access to Wi-Fi, consider downloading episodes to your device to avoid extra cell service costs.
Subscribing to a podcast from your device helps you avoid missing episodes. Once you've subscribed, new podcast episodes automatically load into your audio library and send a notification to your home screen.
Prefer to listen to podcasts on a desktop computer? Find the needed essentials through desktop applications such as iTunes, Spotify, YouTube or by searching the web for the podcast's official website.
Which podcasts will help my ministry?
Funny you should ask! I have just the one: the MyCom Church Marketing Podcast. This monthly podcast is produced by United Methodist Communications to help faith communities find new audiences and effectively share their stories.
Host Dan Wunderlich covers community outreach, communications, promotion, social media and new technology — all from a ministry perspective. Each episode is a conversation with a church leader or other expert who has used the featured strategy or tool. Often, episodes take a deeper dive through real-world experiences on topics first covered in the MyCom e-newsletter.
You can also glean information from casual conversations with bishops and leaders, authors and others who offer spiritual nutrition and exercises on the Get Your Spirit in Shape podcast.
Podcasts are worth it
Listening to podcasts is worth your effort and time, especially if you want to learn the latest tips from experts. Listening can also save you time. Imagine how long it would take to read all of the latest books about marketing strategies!
You may have tuned out of podcasts because the content universe (and quality) seemed so vast and varied. Or you've had questions about whether to download episodes, which service to use and the best way to listen without extra fees.
Adopting a new technology can seem overwhelming at first. With the points covered here, listening to podcasts can become as familiar as using Facebook or your app of choice.
What are you waiting for?! Subscribe to the MyCom Church Marketing Podcast and be on your way to becoming skilled in topics such as reaching millennials or using Instagram TV.
Josh's other favorite podcasts
---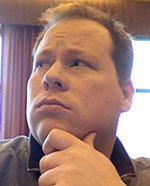 Having marketed music in a past life, Josh Mullenix, manager, electronic marketing at United Methodist Communications, decided to switch his focus to church marketing several years ago after failing to convince multiple music companies that '80s new wave was going to make a comeback. Loving activities such as hiking and biking and anything associated with being in the mountains, Josh has finally succumbed to enjoying the beach, with his ocean-loving wife and two daughters. He can neither confirm nor deny that he's toured with Donny and Marie Osmond.