In June 2005, Phileas Jusu walked into a barebones office to assume his responsibilities as communications director for the Sierra Leone Annual Conference. The office had little modern equipment for media work for The United Methodist Church.
"There was no computer, Internet modem, audio recorder or camera to capture images when I started work here at UMC House in Freetown," Jusu recalled.
With General Conference support and funding, United Methodist Communications helped change that.
"United Methodist Communications long had the desire to provide communications assistance to central conferences, but there was not funding that would enable equal support," said Barbara Nissen, who then directed the agency's Communications Resourcing Team. "In 2004, several pieces of the puzzle started coming together, growing into a picture of possibility. One of the driving forces was (the agency's) desire to enable and equip central conferences to tell their stories to the world."
Over the decades, United Methodist Communications had shared many stories from the central conferences — regions of the church in Africa, Europe and Asia — and had worked with leaders in those areas in developing print and video resources. Some of the materials promoted The Advance and other denominational ministries around the world and encouraged financial support following natural and human-caused disasters. The agency's presence and assistance at the denomination's global General Conference gave visibility to many United Methodists — particularly from the central conferences — who had often felt invisible.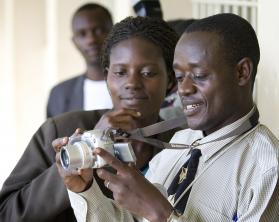 John Barasa Makokha from Kenya (right) and Grace Nakajje from Uganda learn to use a new digital camera during a training session for communicators from the United Methodist Church's East Africa Conference held at Kyambogo University in Kampala, Uganda. A 2007 file photo by Mike DuBose, UMNS.
The agency's global emphasis received a major boost when the 2004 General Conference approved a proposal to strengthen communication in the church in Africa, the Philippines and Europe. The resulting Central Conference Communications Initiative was a collaborative effort between United Methodist Communications and central conference leaders. Initial goals included:
Improving effective communication and increasing visibility of The United Methodist Church around the world;
Giving voice to those who otherwise might not be heard; and
Sharing stories and the work of the church in culturally appropriate ways.
The initiative, said Jusu, "brought United Methodist work in Africa to the limelight. With training and support, African communicators have been empowered to tell Africa's story to the world."
United Methodist Communications initiated listening sessions and communication strategies aimed at understanding needs and opportunities in the central conferences, and providing the training, equipment and relationships to build capacity.
Building communications capabilities
As the digital revolution transformed how people do business, communicate and engage each other, United Methodist Communications embraced technological innovation. The agency established a team for information and communication technology for development, called ICT4D Church Initiatives, which keeps abreast of technology-based programs for social change and collaborates with innovative partners.
Through its relationships, United Methodist Communications has led ICT4D responses to crises such as the Ebola outbreak in West Africa in 2014 and Typhoon Haiyan in the Philippines in 2013, and it has worked with the church partners in groundbreaking work such as mapping churches in the Philippines and Democratic Republic of Congo.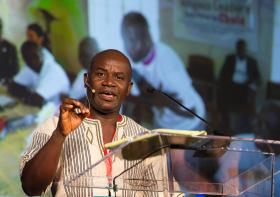 Phileas Jusu of the United Methodist Church in Sierra Leone addresses the 2015 United Methodist Communications Game Changers Summit in Nashville, Tennessee, about the role of technology in fighting Ebola. Photo by Mike DuBose, UMNS.
In 2014, the agency brought world experts and church leaders together for the first Game Changers Summit on the use of technology. The event highlighted how innovative and cost-effective technology can empower communities with little or no infrastructure. These digital tools are transforming lives in the areas of health care, education, economic empowerment and the delivery of messages of hope and faith. A similar summit convened recently.
Through the years, United Methodist Communications has worked in partnership with central conference leaders to develop programs that were culturally sensitive to local needs and available technology. The agency has:
Trained and equipped people to use communications — radio, mobile and emerging technology, television, website design, computers in ministry, newsletters and desktop publishing, photography and writing;
Established or augmented existing partnerships between central conferences and U.S.-based annual conferences, including the establishment of communication centers;
Collaborated with bishops, communicators and other leaders to determine the best types of communications needed; and
Shared in various media life-transforming stories that arose from each partnership through culturally appropriate messages of hope, redemption and outreach.
Today, communications skills and tools are enabling United Methodists around the world to improve their communities and be in ministry in relevant ways.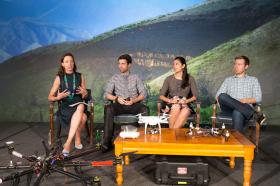 Unmanned aerial vehicles stand at the front of the stage during a discussion of how new technologies change lives at the 2015 United Methodist Communications Game Changers Summit in Nashville, Tennessee. From left are: Adele Waugaman, Thane Richard, Sara Pitcairn and Chris Tuckwood. Photo by Mike DuBose, UMNS.
It was "radical" to change the church's perception of United Methodist Communications from that of a national U.S.-based agency to a global agency, said the Rev. Larry Hollon, former top staff executive of United Methodist Communications. The changes that came with that move reflected a theology of communication of giving voice and access to people, and helping the church "live into a new perception of itself as a global community," he said.
'Much more to be done'
Today, United Methodists in Africa, Asia and Europe have a mindset shaped by pervasive technology that includes social media, the Internet, digitization and globalization. The changing communication tools have birthed new ways of seeing the world.
Dan Krause, top staff executive of United Methodist Communications, observed, "United Methodist Communications has made great strides in strengthening our denomination's communication infrastructure globally, but we recognize there's much more to be done.
"We will continue to embrace emerging technology and develop relationships to build on the work that's been done for more than a decade," he said.
---
Tafadzwa Mudambanuki, originally from Zimbabwe, is central conference content coordinator at United Methodist Communications in Nashville, Tennessee.
This story was updated on September 1, 2020.