The first thing you notice about Tongan United Methodist Church is smiling young faces everywhere.
While many United Methodist churches declare youth are the future leaders of the denomination, they are leaders now at Tongan United Methodist Church.
In the middle of the worship service, the Rev. Tevita Ofahengaue touched Sekope Fainu on the shoulder, put the microphone in front of his face and asked him to pray.
Without hesitation, the 16-year-old responded with a heartfelt prayer that resonated with the congregation.
"Perhaps he is called to be a preacher," Ofahengaue said to the delight of the people gathered in the sanctuary.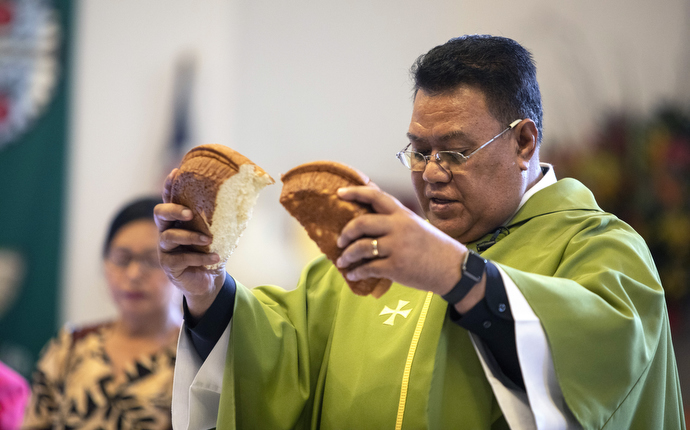 The Rev. Tevita Ofahengaue breaks the Communion bread during a service that features both the English and Tongan languages. In the background is Christiana Uesi.
Later, speaking about the great influence the youth of the church have on the congregation, Ofahengaue said he could have asked any young person in the youth group to pray and they would have been ready.
"Our church is formed from the love of our young adults and their worship is found in music and dance," Ofahengaue said.
Most services include a dance choreographed and selected by the youth. Using large gossamer flags of gold and white, the youth danced to "How Great Thou Art" at a service in November.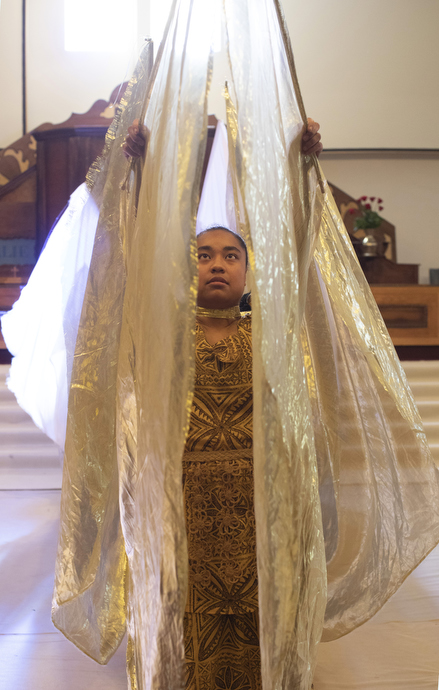 Ruth Tuifua is part of the Sunday liturgical dance by male and female young adults where they wear "angel wings."
Fainu and three other youth members talked about how central the church is to their everyday lives. None of the young people attends the same school, so the church binds them together.
"We are more than a youth group, we are like family," said Sepi Lokotui, 15. "We know each other and that's what I love."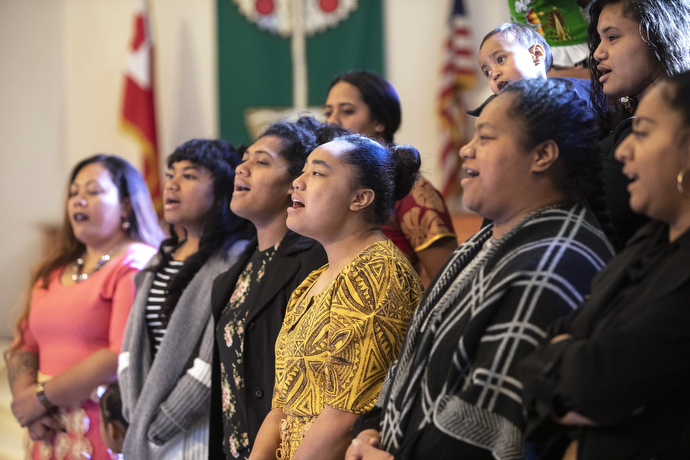 Although attending many different schools the young adults have formed close bonds through The United Methodist Church and enjoy worshipping together in song.
Ofa Vake, 16, said she has been a member of Tongan United Methodist Church all her life.
"We do a lot, last summer we were living here every day. We go out and perform cultural dances, hulas and all that. We get opportunities to go out and perform in public places like festivals and for conferences. It is a lot of fun."
Fainu said he thinks everyone is called to be a pastor. The others nod in agreement.
Lokotui, who joined the church a few years ago, said the welcome she felt from the other youth members was amazing.
"They welcomed me like bringing me into their own house. All positive, no negative vibes."
Eseta Tuifua Sii, 16, was baptized in the church. She said the group has its breakdowns sometimes while preparing for a dance concert but added that they always pull through in the end.
One challenge was over a skit for Easter, she said. It was a very emotional skit and they felt too much pressure from the congregation. But they talked it over and came through with a performance they were all proud of.
"We had a lot of support and it turned out great," she said.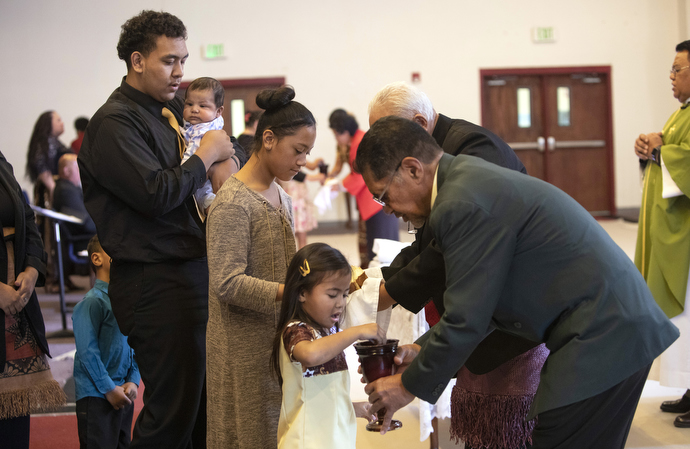 Sekope Fainu (left) and other Tongan youth receive Communion.
The young people would rather be at church than out somewhere else with friends, said Luseane Fungalei, a Sunday school teacher.
"What I like is how the youth can put together a program and keep the kids here. They actually converted my daughter to come to this church. Once she came and got to know them and seeing the program they do, she instantly converted to this church," Fungalei said.
Masima Tuifua said the youth "keep me going."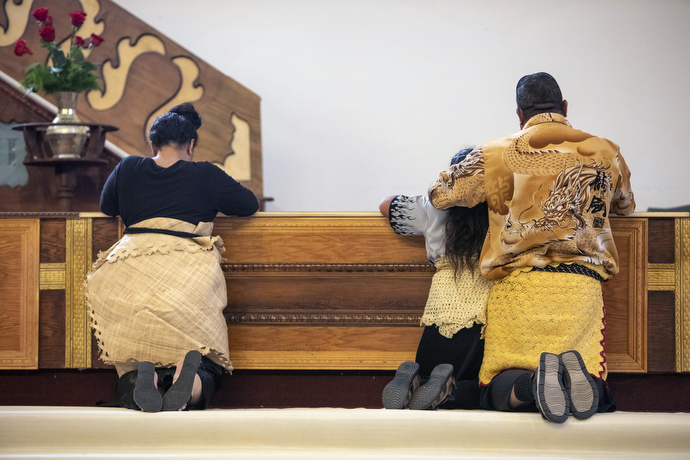 Afu Molisi Jr. prays with his family after receiving communion. Like many in the congregation, he wears the traditional dress featuring the kie kie waist tie as a sign of respect.
"If we as leaders neglect to concentrate on the youth, we are going to lose them to the world and they will lose track of God's plan for them," she said. "We are here just to help them, to keep that love of God growing within them," she said.
Another aspect of this church that is helping the younger members grow in their faith is that Ofahengaue preaches in English and in Tongan.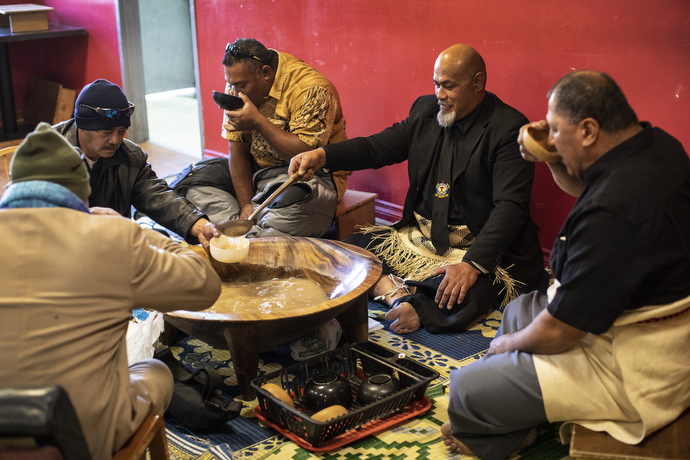 Elders of the church gather in community over the traditional kava kava drink after the Sunday service. Sentiuli Fungalei (goatee) ladles kava for the group.
"Before, I saw the youth and young adults didn't understand, since mostly our teaching is in Tongan," said Christiana Uesi, who is in the process of becoming a certified lay minister.
"For the future of this church, we need to be bilingual. It helps our children and helps us too," she said.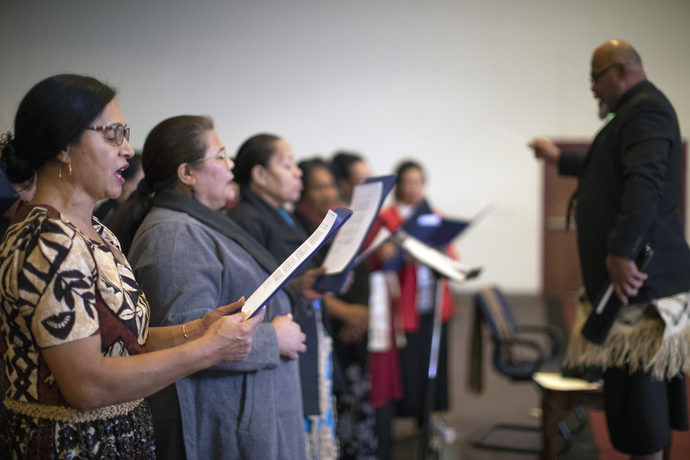 Christiana Uesi (left) sings with others in the adult choir. Uesi is studying to be a certified lay minister and emphasizes that the future of the church is in bilingual services.
Tongan culture is important in this church, Ofahengaue said. "The culture is based on respect and the love of God. We have so much respect for our elders."
Laughing, Ofahengaue said that often when the youth visit American United Methodist churches they are shocked by how different the cultures are.
"In Tongan culture, you have to take care of your parents, be quiet in church," he said.
Fanga Fisilau, director of children ministries, said, "We have new kids all the time, people are being born all the time."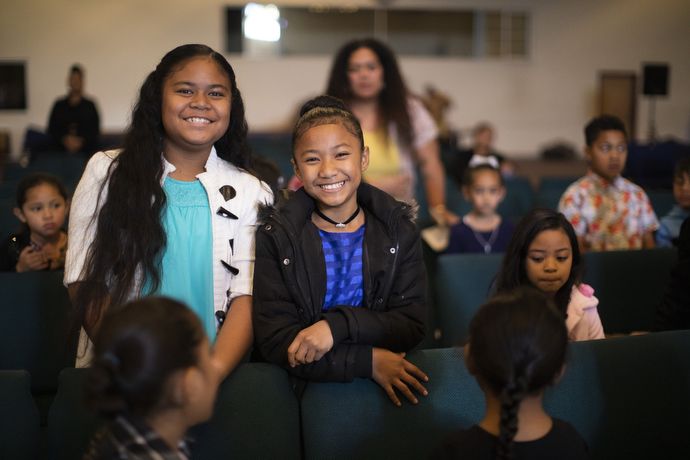 Smiles of welcome are visible everywhere, even for visitors, during the Sunday service at the Tongan United Methodist Church.
The Tongan United Methodist Church reaches out to the surrounding community as well. The Utah Food Bank makes deliveries to the church on Tuesdays and Thursdays.
"We feed more than a 1,000 people every month," Ofahengaue said.
Church school is held on Thursdays and about 200 children usually attend, Fisilau said.
Vake, Lokotui, Fainu and Sii said there are no cliques, no groups; everyone is treated equally.
"We hope this gets passed on to the next generation," Fainu said.
Smiling, he adds, "We love you and there's nothing you can do about it."
Gilbert is a multimedia reporter for United Methodist News Service. Kathleen Barry is a photographer for United Methodist News Service. To read more United Methodist news, subscribe to the free Daily or Weekly Digests. Originally published by United Methodist News Service, Jan. 14, 2019.