At the heart of Long Beach Cambodian American United Methodist Church, a mission of the California-Pacific Annual Conference, stands Pastor Dr. Christina Lee, a beacon of unwavering faith and resilience. With the echoing wisdom of Romans 8:28, she believes that God works all things together for good. Through her steadfast leadership, Dr. Lee is cultivating a community of faith where everybody has a home.
Born in Cambodia in the late 1960's, Dr. Lee's early years were marked by hardship and tragedy. At just seven years old, she and her family were forcibly displaced from their house in the city to the jungles of Cambodia during the Cambodian Genocide lead by the Khmer Rouge Regime, a communist political group. Her father, Meng Lee, was killed by torture. Her mother, Sok Huong, was killed by torture after trading food with other displaced people. Her sister, Davy Lee, died of starvation days after having immense stomach pain. After Vietnam's invasion, Dr. Lee's young aunt, Nancy Meak, found her and took her back intro the suburbs, where she later met a Christian family who introduced her to the Bible. She said, "My dad taught me how to read. So, I started reading the Bible. To me, it was just a story but God opened my eyes. I learned God has a plan." It was then that Dr. Lee experienced hope for a future and welcomed God into her life. Dr. Lee, her aunt and the Christian family left Cambodia and went to a refugee camp in Thailand, where they stayed for a year before migrating to the United States.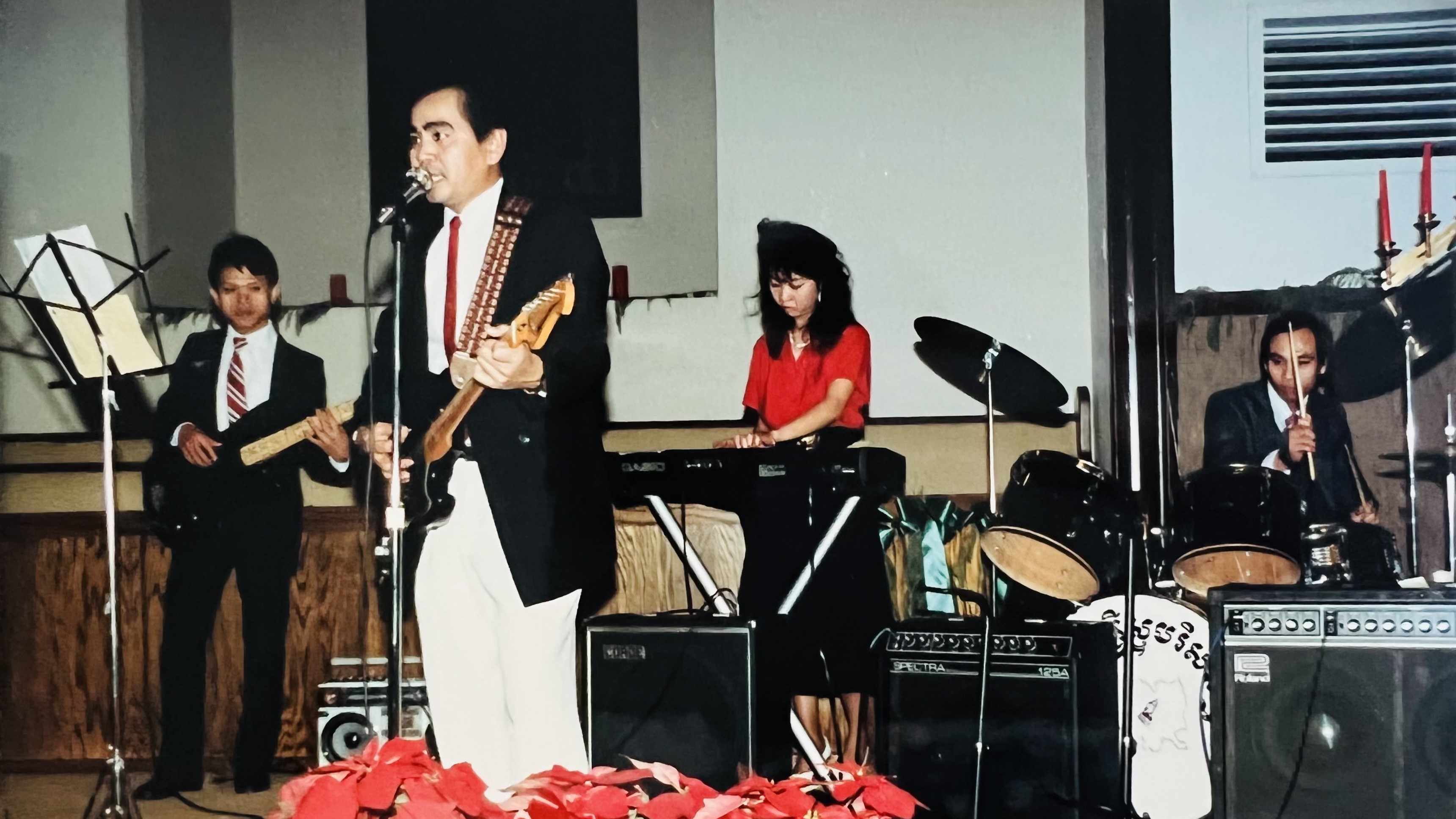 A teenage Dr. Lee (third from the left) leads worship by playing the keyboard. Image courtesy of Dr. Lee.
Dr. Lee kept her eyes on God and has attended church since arriving in the U.S. Despite facing numerous challenges, including adapting to a new culture, excelling in school, and overcoming cultural stereotypes, Dr. Lee persevered. She developed a passion for music, mastering the piano and cello, even earning a scholarship to expand her musical abilities. Her dedication to learning English was so profound that she was promoted out of English as a Second Language classes within a year and was elected as a student council. Later, she was invited to be the first class graduation speaker, where she shared her testimony and the message of the Gospel.
Dr. Lee's experiences extended to her role in the church, a Cambodian congregation, where she served as the vice-president of the youth group, passionately organizing and leading events. She recalls her experience by saying, "I couldn't be the president because I was a girl but I was doing all the work. As an orphan in my culture, you are looked down upon. You are like trash." Sadly, this resonates with many who have faced similar challenges. Most of the Cambodian immigrants who are living in the Long Beach area had a parent die because of the political turmoil in their native country.
Despite these trials, Dr. Lee went on to graduate with her Doctor of Medicine degree in 1996 from the University of California Irvine School of Medicine and opened her own practice, Majestic Medical Clinic in 2016; the same year she graduated from Claremont School of Theology with her Master of Divinity. Her clinic is committed to serving the diverse population of southern California, with a special focus on immigrants and Cambodians. In gratitude for a second opportunity at life in this country, Dr. Lee gives back to the community as much as she can. Some of her clinic's services include physicals for the U.S. Citizen Immigration Exams, physicals for the Department of Transportation and hosting a weekly television show in Khmer titled, "Our Health Is First."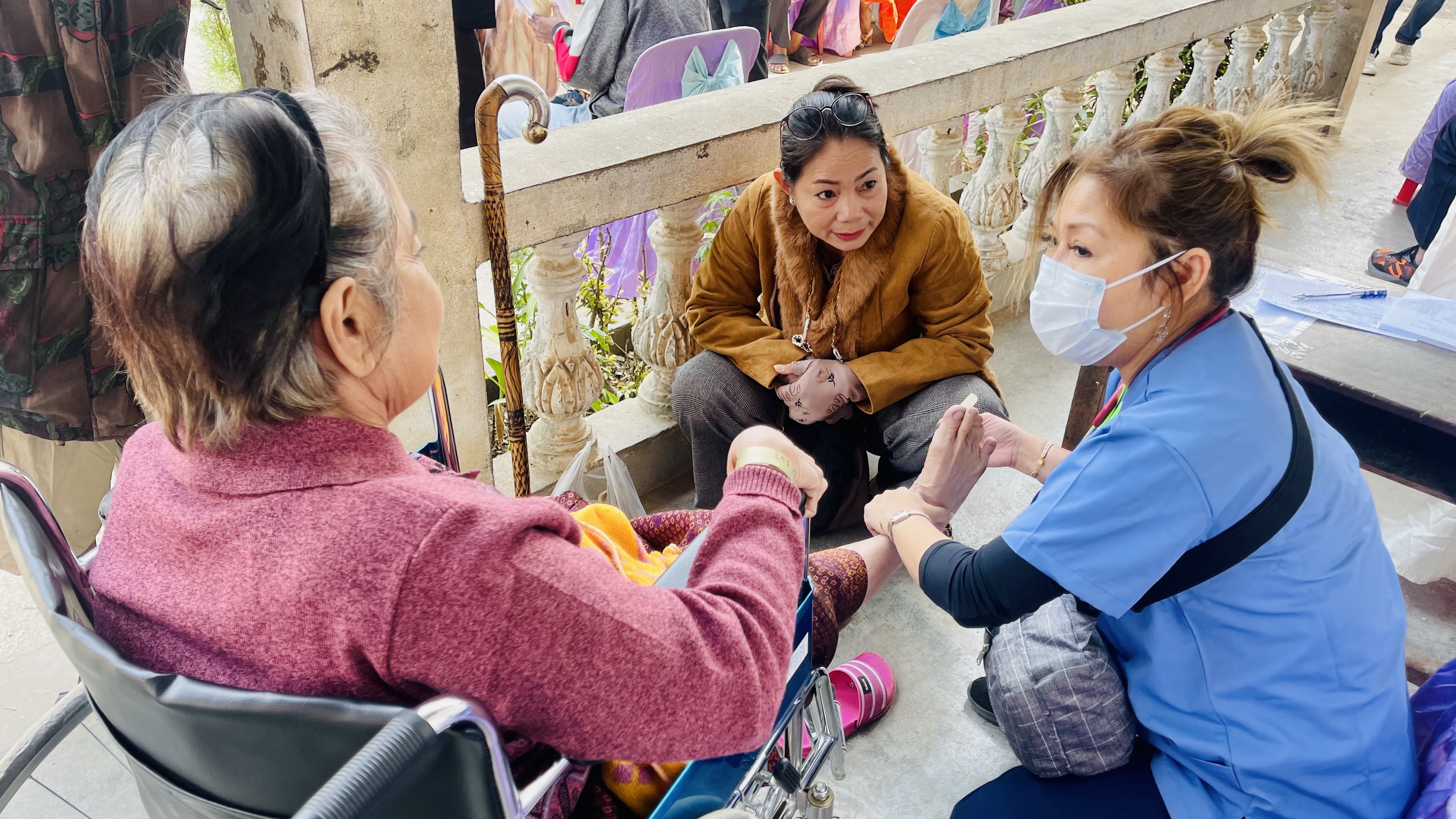 In 2023, Dr. Lee (right) went on a medical mission trip to her hometown in Cambodia. Photo courtesy of Dr. Lee.
While she is a medical doctor by profession, Dr. Lee firmly believes that true healing extends to the spirit. Some of her patients are also members of her congregation, experiencing the profound touch of spirituality within the church. She remarks, "There is something in our church. When people come, their soul feels touched!"
Together with her husband Christopher, Dr. Lee prays over their congregation, seeking God's divine presence to fill their church. Over the past two years, she has diligently collaborated with her church's leadership and community to breathe new life into the congregation, particularly in the wake of the pandemic. Expressing enthusiasm, she stated, "Our church is thriving! Our church is great." With a membership of 130 and an average weekly attendance of approximately 60 individuals, the congregation comprises newly converted believers, elderly members with limited income, and immigrants. Acknowledging the need for instruction in United Methodist beliefs and church administration, she takes solace in knowing that their souls are saved, and they experience mental stability and happiness.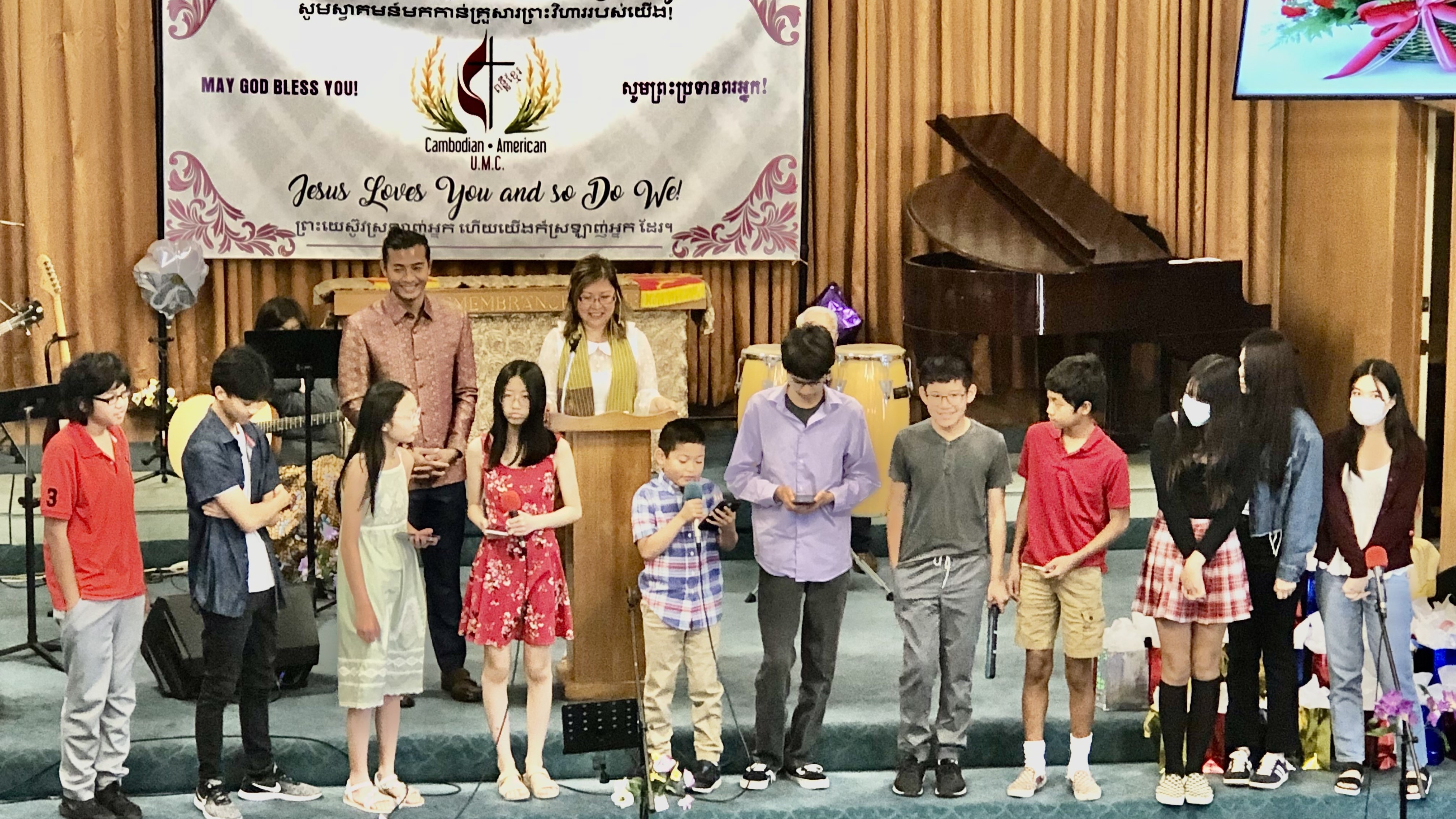 Dr. Lee (center podium) hopes that Long Beach Cambodian American UMC is the destination for everyone visiting the area. Photo courtesy of Dr. Lee.
Recognizing a unique ministry opportunity, the church is always finding a way to support those who need housing. She explained her passion for offering hospitality, stating, "Even in my own home, if I could have a spare room, I try to house people who need it." Dr. Lee's deep connection with scripture is exemplified through her cherished passage, 1st Kings 17:7-16, recounting the story of the widow at Zarephath who sheltered the visiting prophet Elijah.
Although she has been serving at Long Beach Cambodian American UMC for the past 20 years, she was appointed its pastor in 2020 and is currently in the process to become an ordained elder in The United Methodist Church.
As a trailblazer in her own right, Dr. Lee has surmounted challenges by honoring her mother's wish for education and striving for excellence in all facets of life. She fondly recalls her mother's advice by stating, "When she died in my arms, she told me and my younger sister to study, to, 'go to school. Because they can take your possessions but they can't take your knowledge.'" Like many clergywomen, Dr. Lee is frequently referred to as "sister" by members and leaders in both Cambodian and American contexts; despite her education and previous associate pastor being refer to as "look-kruu" in Khmer, which means "teacher." However, she carries the disparity with grace and centers on her call to ministry stating, "I find it life giving to serve. I find it refreshing and renewing to take somebody's life to Christ." She acknowledges the ongoing struggles associated with her efforts to build the church and the parsonage, emphasizing the ease with which people may attempt to take advantage of her generosity.
Dr. Lee enthusiastically embraces the challenge of being a bi-vocational candidate in the ordination process, highlighting the unique opportunities it affords for daily interactions and the sharing of God's love through prayer and service. "What I care about is that people come to church, know God, serve God. Do things that will give you life," she said. She further stated, "People look at me and say, 'you're a doctor. Are you willing to leave your profession?' I say 'if that's what God really wants me to do. I'll do that! Because I love equally serving the Church."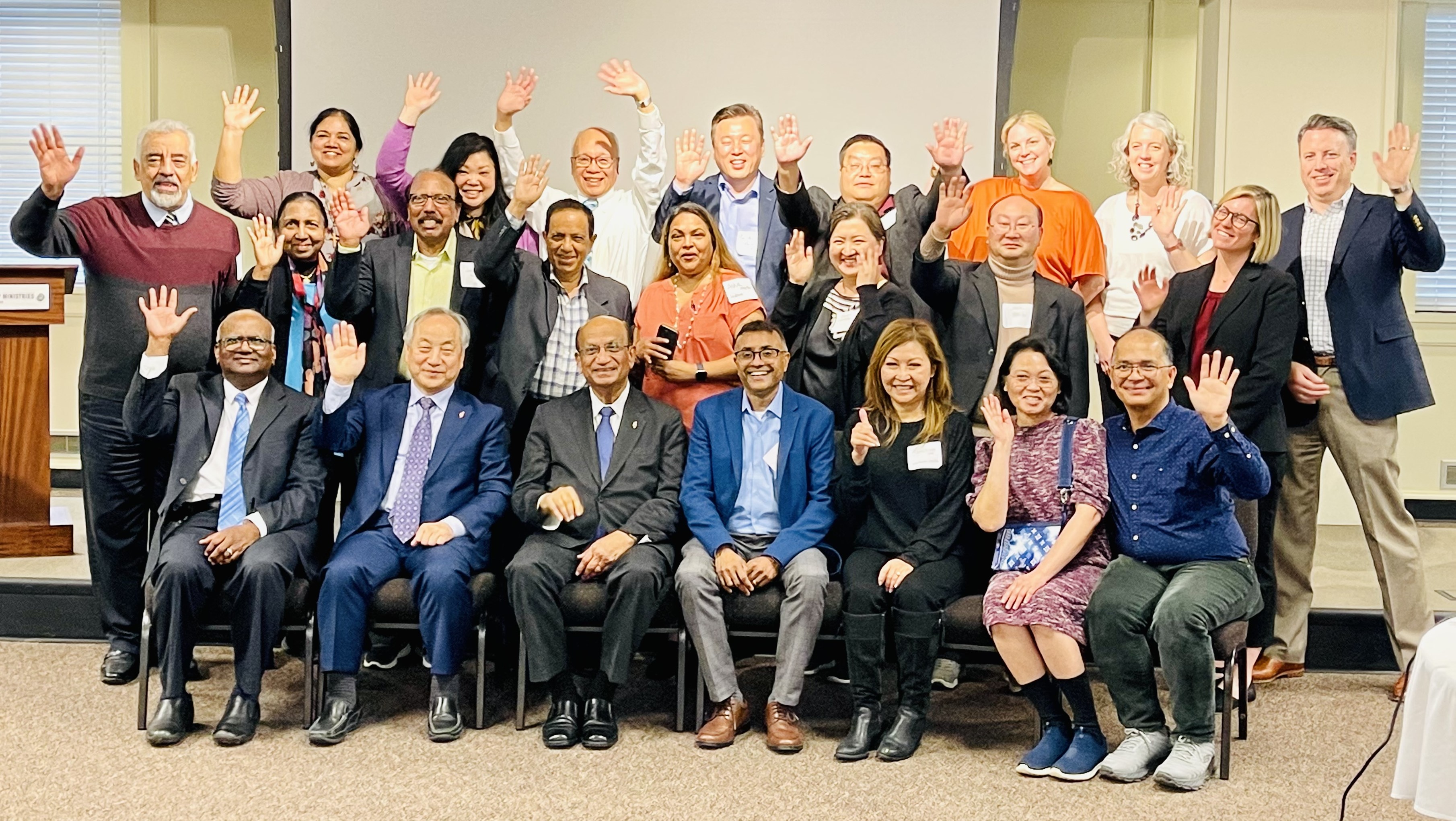 Dr. Lee (third from the lower right) is an executive committee member of the Asian American Language Ministry. Photo courtesy of Dr. Lee.
Dr. Lee's hope for her ministry is to continue revitalizing her church, making it self-sustainable, and expanding its media communications. She envisions Long Beach Cambodian American UMC as a welcoming destination for those visiting Long Beach, CA, and is thrilled that people discover her church through platforms like Facebook and even Uber drivers.
In addition to her roles in the church and her medical practice, Dr. Lee is a devoted wife and mother of four children, three boys and one girl. She has co-created the Cambodian United Methodist Women Network, serves as secretary of the New Federation of Asian American United Methodists, and is an executive committee member of the Asian American Language Ministry. Her tireless dedication and inspiring journey make her a remarkable figure within The United Methodist Church.
In a world that often challenges our faith and resilience, Dr. Christina Lee's story stands as a testament to the power of unwavering faith, determination, and the transformative touch of God's grace. Her journey reminds us all that, no matter the obstacles we face, we can find strength, hope, and inspiration in our faith and in the service of others.
---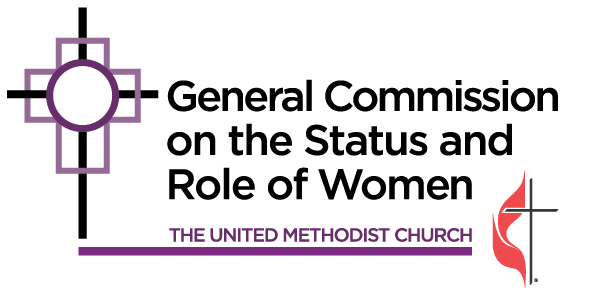 The General Commission on the Status and Role of Women serves in an advocacy role to highlight the contributions of clergy and lay women (¶2103.7, Book of Discipline). Do you know an inspiring woman you'd like to highlight? Let us know at this link. Aileen Delgado is the director of communications. you may reach her at

[email protected]

.