On ordination night at North Alabama Annual Conference, you can find us together. We wear bright red shoes under our black robes and red stoles, and we call ourselves, "Holiness in High Heels." There are eight of us; we are all ordained women, relatively new to ministry. But we have been in ministry long enough to realize that women pastors face unique challenges and frustrations. We meet together monthly to strengthen our skills as female leaders in ministry. Along the way, we have found support and encouragement for our journey as women in ministry.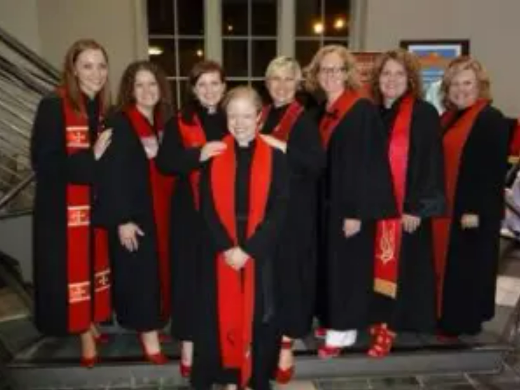 North Alabama Annual Conference clergy women come together for covenant group they call Holiness in High Heels.
My colleagues and I formed Holiness in High Heels in 2012, when our Annual Conference began offering grants for cohorts of new clergy to study practical aspects of ministry. We planned our group intending to study issues related to female leadership in the church. We believed this would benefit our own ministries by increasing our skill sets, but also benefit our Annual Conference by potentially impacting the retention rates of women ministers. After much discussion about our own ministries, the obstacles we had encountered, and our dreams as pastors, we decided our goal was "to identify key issues for women clergy growing in roles of senior leadership, and learn how to be seen as essential and successful in ministry beyond the stained glass ceiling."
We designed a course consisting of six "modules" of study. Each module would require advanced reading of several books, group discussion, practice in our own ministry contexts and, finally, a meeting to discuss the results. Our grant from the Annual Conference would cover the cost of our books and consultations with experts in the topics we studied. Since we are appointed to churches in various districts throughout the conference, we agreed to take turns meeting in each district so that we could share the travel expense burden as well as see and experience each other's ministry contexts.
For our first module we studied voice, presence and audio. Observing that women pastors often receive criticism that they can't be heard well in worship, or that they need to "find their voice," we decided to explore what it looks like to preach and lead meetings as women. We read books on body language to hone our visual leadership skills and spent a day learning how sound systems work (and experimenting with several) to learn how to best amplify our voices. Although most pastors do not go into ministry thinking they will become techies, we learned that a little knowledge of proper speaker placement and the church sound system can go a long way. After practicing our new skills and knowledge in our local contexts, we have all seen improvements in our ability to hold the attention of a room—whether a sanctuary or a board room—and be heard clearly.
Another module covered finances. Although several of us felt comfortable in the financial realm, we realized that this is an area in which women pastors (and women in general) are often perceived to be less knowledgeable. We met with mortgage brokers to learn about church debt, a financial planner to learn about our personal finances (and figure out how to read our UMPIP statements) and an experienced church administrator to learn best practices for money collection. Finally, we spent time with a successful executive pastor to glean his knowledge about successful capital campaigns and stewardship drives and what it looks like to think about money from the perspective of holiness.
The remainder of our modules focus on conflict resolution, resiliency in ministry, organizing for leadership and exploring what Servant Leadership looks like for women. All of these modules feature relevant reading material and guidance from experts, but we have realized that the most important component to our time together has been the companionship of other women in ministry and the wisdom and experience we can share with each other. Women pastors often find themselves having to prove their competency again and again, so continuing education and fully-developed skill sets are a necessity. But in order to succeed in ministry we need more than just skills and knowledge; we need each other. I have been honored to be a part of Holiness in High Heels, and it is my hope and prayer that other women clergy will have access the opportunity to form similar groups, not only for their own well-being and success, but for the success of our mission in The United Methodist Church as well.