I don't want to be a deacon; God wants me to be a deacon. It's not like when a young child wants to be a firefighter or a dancer. It is something much more than that. I was content to be a middle school math teacher. It wasn't an exciting job, but it had purpose and I did it well, but God was not content. God tried for a long time to let me know that, but it wasn't until a Friday night, after a week of serving in Appalachia, that I really got the message. It was an emotional experience and one that took me a long time to understand.
I got it right away that God was calling me to work in a setting where I would be connecting people and their faith to the world around them, but I didn't jump right into a deacon studies program. Hours of prayer led me to become more involved with our youth and to seek out ways to become more educated in my own faith. I found The United Methodist certification program and it seemed to be where I needed to be. I thought I was following God's call in my life, but I was really trying to fit that call into the life I already had.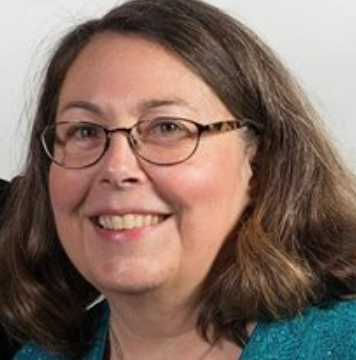 Rev. Sue Pethoud
The certification program was a good place to start, and I am thankful now that I began there, but it was evident very early on that that was not the end of the story. I had to figure out how this call of God's was to fit into my life as a wife, mother, and teacher. Through classmates, professors, and our young pastor, I was encouraged to continue to pray about where I really needed to go with all of this. Clergy friends gave me books to read, prayed for me, and gave me encouragement to follow where I was being led. It was pretty apparent that I was really being called to ordained ministry in the role of a deacon, but I was very reluctant to follow that call. The practicality of it all kept getting in the way of actually following the path that God had set before me.
I was in my 29th year of teaching and the logical, sequential part of me knew that financially, retirement with 29 years of experience would be less than practical. I was bargaining with God over this very thing when the state stepped into the process, offering a financial incentive to retire early! Perfect! The huge roadblock had been removed and I was ready to finally jump in, feet first!
Seminary was exciting and full of learning and listening. During that time, I continued to be involved with the youth of my own church and through them found Cass Community Social Services. It was more than evident, that was where I was being called. I began volunteering there one day a week in 2010 just as I was getting into a full-time seminary schedule. I was hired for that one-day-a-week job in 2013 just before graduation. It became a three-day-a-week position by June and by Christmas, it was full-time. I have been there ever since.
I was commissioned in 2014 and ordained in 2017. My primary appointment is to Cass as an ABLC (Appointment Beyond the Local Church) with the title of Church and Community Relations Liaison. I coordinate the over 7,000 volunteers that serve at Cass each year, correspond with donors, speak at churches and other community organization gatherings, run fund raising events and supervise Cass Green Industries. My secondary appointment is to Cass Community UMC, the church that "birthed" Cass Community Social Services. There I sing in the choir, preach in the absence of the pastor, and help to coordinate the behind the scenes tasks necessary to keep a church running. Within the Annual Conference, I am the editor of the Order of Deacons newsletter and have begun a program for all districts to send youth to serve at Cass during the summer.
I often hear from other deacons that they struggle with feeling that though they are following a different call than elders, they are not treated as equals among their elder counterparts. I get that, but don't experience it, at least most of the time. There was a learning curve in the beginning and, occasionally, there still is, but a little education and self-advocacy goes a long way. If we as deacons, can explain our call and how it may be different but equal to that of an elder in a non-defensive way, we will all be better for it. We do have to remember that elders who came into the system before 1996 were deacons once and many of them still think of the Order as a stepping stone to elder.
Though I have needed to do some educating both with my congregation and with the clergy I come in contact with, and still do from time to time, I am fully part of the clergy team at Cass Community UMC. I work with three very supportive elders and share the responsibilities of running a church with them. It helps that one of those elders is also the Executive Director of Cass Community Social Services along with her Senior Pastor position at the church and understands the demands of my week-day job. We work together well and I have never been happier.
---
Rev. Sue Pethoud is the Church and Community Relations Liaison for Cass Community Social Services (CCSS), a Detroit nonprofit agency which responds to poverty with programs for food, health care, housing and employment. She is also an ordained deacon in the United Methodist Church serving both Cass Community Social Services and Cass Community United Methodist Church in Detroit.
Prior to coming to Cass, Sue taught math and science for 30 years primarily to middle school students in Howell, MI. She also taught in both New York State and Ohio.
Sue has a Bachelor of Science degree from Central Michigan University and a Master of Arts degree from the State University of New York. She received a Basic Theological Studies (BGTS) certificate from Garrett-Evangelical Theological Seminary in Evanston, IL in 2013.
Her interests include reading, and travel. She has one son who is a middle school band director and two grand dogs. Rev. Pethoud lives in Detroit during the week and with her retired husband in Brighton, MI on the weekends.