Martha E. King was the commensurate teacher and mentor to so many persons. She was a teacher and counselor in the public schools of Georgia. An only child, she lived with her mother until her mother's death and after that lived in a garage apartment behind her aunt's house.
Although she was a teacher and counselor, her true vocation was the church. From the time she was a member of the Epworth League through the latter days of her life she spent most of her time and money on not only her local church but the wider church. In the 1960s she was the Chairwoman of the Wesleyan Service Guild in the North Georgia Annual Conference. She helped guide the W.S.G. through its 25th Anniversary in 1965 and through the merger of North Georgia and the Georgia Annual Conferences in the late 60s. Her faith and deep belief that all persons should be included in all parts of the church guided her during these turbulent years.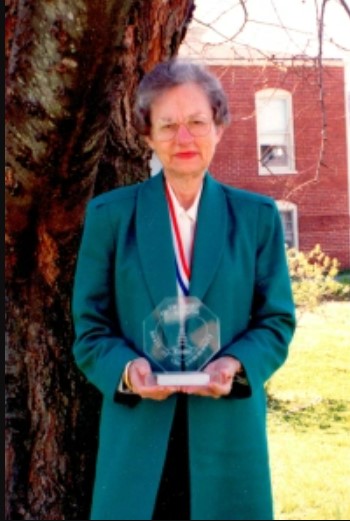 Martha E. King
My first memories of Martha are in 1966 at the North Georgia School of Christian Mission. I was a very young minister's wife and struggling to find my place in the church. Martha encouraged me to take leadership roles as they were offered, but her encouragement did not end there. She called and wrote me regularly and became the person to whom I could turn for advice and counsel as I took district and then conference offices in what was then W.S.C.S. Her support gave me the courage to stand up and speak at times and at others to take what were often unpopular stands on issues.
Martha had literally grown up with the women's organizations in The Methodist Church. She became a part of the Wesleyan Service Guild shortly after its formation in 1940. Her work in the women's organizations plus her activities in the church led her to become active first in the fight for civil rights and then women's rights. She was a delegate to several jurisdiction and general conferences and one of the early members of COSROW at the annual conference level. Regardless of any consequences, she always spoke up for the minorities and underserved people.
Martha's support of me was not only in our beloved women's organization, but personally as I struggled with my vocation. As I write this, memories of her flood my mind. We traveled together as we participated in Schools of Christian Mission, Mission Saturation Weekends, and various Leadership Workshops. We roomed together often at various events, and she became a friend to my entire family. She encouraged me to go to Law School in my forties and rejoiced as I completed that endeavor. She rejoiced with me as I became a law librarian. When I was elected to the Judicial Council at General Conference in 1988, she was the first person I called.
One particular memory stands out for me. Martha had come to spend a few days with us in the rural community where we were living. I had been offered some plums for making jam, and Martha helped me pick the plums late one evening. The next day as I gathered my supplies for making jam, she came into the kitchen and watched. After watching how I was working, she just got right in behind me without saying a word. We worked together in that kitchen as if we had always made jam together. That sums up much of Martha's life for me—she saw what needed to be done and moved to do it!
Martha was honored by her local United Methodist Women in June of 2000. I was so happy to be able to be there with her. By then her health was declining, and later that summer her final illness became evident. She died in late October of 2000 and was buried in her family plot in Rome, GA—her lifelong residence. Her death was a blow to many of us who had received her support through the years. I will never forget her strong leadership and support for so many of us who were struggling with our identity and vocation.
---
Sally Curtis Askew is a Georgia native and a lifelong Methodist. For 39 years after her marriage in 1961 to Albert Askew, she traveled the North Georgia Conference as the wife of a preacher. Formerly a public school teacher, she earned a law degree then worked in the University of Georgia's School of Law Library. Sally was involved in women's issues in the local and general church and from 1976-1984 was a member of the Women's Division. In 1988 she became a member of the Judicial Council where she served two terms. The history of judicial process in The UMC and its predecessors has become one of her major interests, and she hopes to one day write a book on that subject.