Delores Williamston will tell you that she has always known, deeply, that she was called to something, even as a young person, and even if she couldn't pinpoint it. The call never quieted. When she returned to the church as an adult, wishing to have a place for her son to grow, she found she had a yearning to serve the church in a multitude of ways, including teaching. She became a lay speaker and listeners affirmed her gift of speaking. Wondering if she should expand her service beyond her lay membership, she asked God for multiple proofs. God sent her confirmations in the form of people who surrounded her, first of whom was her senior pastor at Asbury-Mt. Olive in Topeka, Kansas, Rev. Dr. Jean Wilson. Wilson was Williamston's first woman pastor and she encouraged Williamston and gave her multiple opportunities for serving the congregation, later shepherding and nurturing her into the path of ordained ministry.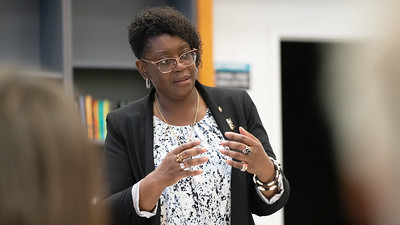 Williamston leading work with female leadership. Photo by Louisiana Annual Conference.
Entering the church as a second-career minister put Williamston on a fast-track of learning. She surrounded herself with mentors who could continue to help form her as a pastor. She spent time with Rev. Ted Inman, a member of the Order of St. Luke, who taught her about liturgy and gave her opportunities as an associate minister, acknowledging that he wanted her to be shaped not as he was but as she needed to be as a Black woman. Rev. Jean-Marie Grabher was the first woman District Superintendent in Kansas and the first female graduate of St. Paul School of Theology. In her retirement, she offered guidance to Williamston and gave her practical advice about leading from the pulpit.
In the Kansas (and later Great Plains Conference), Williamston led many teams of women, working to instill confidence and inspiration in her teams. She worked to give access to other women to empower them and propel their leadership, from laity to clergy. She focused her energy on finding women to lead, hidden gems across the plains. In all of her appointments, she was the first Black woman appointed in her parish assignments. She was the first Black woman in Great Plains to serve as Assistant to the Bishop for Bishop Ruben Saenz. She also was the first Black woman to be the Director of Clergy Excellence in the Great Plains Conference.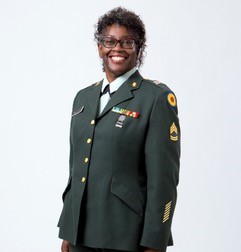 Bishop Williamston's background in the Army National Guard gave her leadership skills that benefit her new role. Photo by Louisiana Annual Conference.
Williamston's background in the Army National Guard gave her leadership skills and organizational strengths that benefited the roles she filled in the Great Plains Conference. She led the planning team for the Annual Conference meeting as the Assistant to the Bishop, helping focus the format and theme of the meeting while maintaining diversity on the stage.
Williamston's election to the episcopacy is yet another set of firsts: the first Black woman elected to the South Central Jurisdiction, the first Black woman bishop appointed to Louisiana, and the first Black woman bishop elected out of the Kansas/Great Plains Conference. In considering whether or not to run for bishop, she had to frame how she wanted to shepherd the church in the midst of the chaos of the denomination: the pandemic, disaffiliation, and political divisions. She ramped up her personal study of the Holy Bible and prayed even more, asking for prayer partners in journey. But, more than that, she had to be herself… she wanted to show women and her granddaughter that they could be whatever they want, regardless of how they approached the journey. She put herself forward, knowing that she had to have a team of support to help carry her.
Williamston remembered the South Central Jurisdictional meeting in 2022 as a "spiritual mic drop." On the initial ballot, the gathered delegations voted for the required three bishops on the first ballot and quickly completed their work in elections. The delegates of the South Central Jurisdiction knew exactly what they wanted to do in their work of elections, and they accomplished it with deep prayer and holy conferencing. Williamston joined colleagues Laura Merrill and David Wilson in receiving more than the required 91 votes for election. The rest of the UMC in the United States remained stunned at the collective work of the SCJ.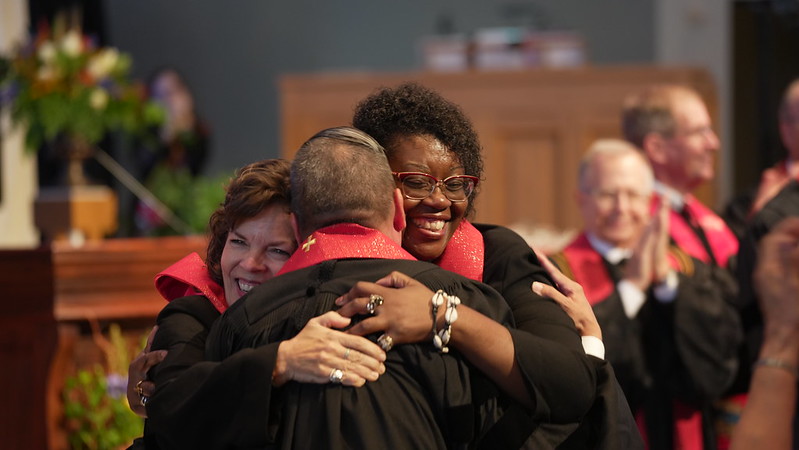 Williamston, Merrill and Wilson hug after being elected bishops during the South Central Jurisdictional Conference. Photo by Louisiana Annual Conference.
Williamston brings her joyful exuberance into her new assignment of the Louisiana Conference. She seeks to continue to inspire and empower leaders, as that truly fulfills her passion. She wants to help the UMC in Louisiana to refocus. In leading from a space of observation, she wants to find the best ideas and help generate ideas to build on the resources the conference has. However, she loves her improv ministry style; she is quick on her feet and she leads with gumption. That leadership style, she hopes, will help Louisiana United Methodists refocus their energy into more productive discipleship.
Williamston dreams of ways to help aspiring women in leadership, to prepare them for leadership and teach them self-care and long-term maintenance for the career of clergywoman. She wants to see more mentoring, where women empower other women. She envisions women leading with the strength and power and confidence that they were called for on this journey, following in the footsteps of Mary Magdalene, the first gospel preacher in the New Testament. She hopes to see women stand in their power, given to them by God and the church.
One of Williamston's favorite leaders was Shirley Chisholm, who said that anytime there's no room for you at the table, you should pull up a chair. Williamston plans to return her folding chair to the trunk of her car as she begins to lead in Louisiana and see the variety of ministry in the area. Whenever there isn't a chair, she will bring her own and help those at the table brainstorm ideas for being the church in the world in Louisiana.
GCSRW welcomes Bishop Williamston to the Louisiana Conference and to the Council of Bishops! As an organization, we are grateful for the path that Bishop Williamston has blazed and will continue to create for others down the road. Additionally, we remain thankful for those who continued to call out the gifts in Bishop Williamston and we pray that she will call out the gifts of so many in Louisiana. We pray for Bishop Williamston and we ask you to join us in praying for her as she leads boldly in Louisiana and creates spaces for those who are not yet at the table.
Note: This profile is part of an eight-part blog series created in honor of Women's History Month, following the national theme of "Celebrating Women Who Tell Our Stories." You can view other profiles of newly elected women bishops here.
---
Related links:
https://www.scjumc.org/wp-content/uploads/2022/08/Williamston-SCJ-interview-materials.pdf
https://www.scjumc.org/2022/08/29/deewilliamston/
https://www.umnews.org/en/news/south-central-elects-first-black-female-bishop
https://www.la-umc.org/about-our-bishop
About the author
Rev. Emily Nelms Chastain is a PhD student at Boston University, where she focuses on 19th and 20th Century American Christian History and the intersectionality of faith and gender. She earned her B.A. in History at the University of Alabama at Birmingham in 2007 and graduated with an M.A. Religion and M.Div. in 2019 from Claremont School of Theology. She's an ordained United Methodist Deacon in the North Alabama Conference, and entered academia after serving for 9 years within the United Methodist Church where she worked in Connectional Ministries. Emily served as a reserve delegate to the 2016 General Conference and as a delegate for the 2016 Southeastern Jurisdictional Conference. She has served on the GCSRW board since 2016.