When she was serving as a district superintendent in the Michigan Conference, one of Kennetha Bigham-Tsai's pastors asked her to be a part of their baptisms happening in a park. Dressed distinctively in a long African dress and ready for a day of events around her district, Bigham-Tsai arrived with joy at the event, excited to watch one of her pastors with the chance to baptize multiple people in a very public setting. The pastor asked her if she would like to assist and she jumped at the opportunity. Before she knew it, she was chest-deep in the park pond baptizing people with the pastor. She knew this moment required her to consider a possible wardrobe change before the day was done. Yet, Bigham-Tsai remembered this being one of the greatest joys she had while in ministry. The following year, the pastor invited her again and she willingly agreed to participate. This time, she dressed differently and more appropriately for the immersive baptisms but returned for the opportunity to baptize the pastor's son, modeling one of her most highly skilled characteristics, adaptive leadership.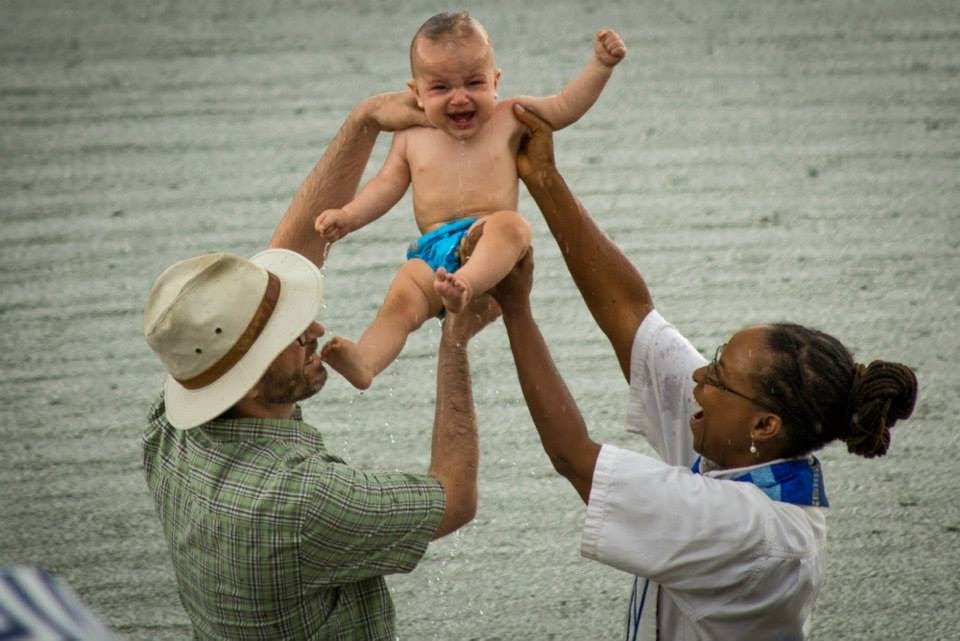 Bishop Bigham-Tsai baptizes a child. Photo courtesy of Iowa Annual Conference.
Bigham-Tsai's beginnings were not in the United Methodist Church, but she soon found a home within it. A Texan by birth, Bigham-Tsai found her way to a Black clergywoman's conference at Bethune-Cookman where she discovered her call to ministry. Upon returning to Texas, she attended Austin Presbyterian Seminary and then moved to Grand Rapids, Michigan. The cultural transition from Texas to Michigan was a difficult one, but she found support at her home church, Trinity UMC, and through a connection she met at the Daytona conference, Rev. Dr. Linda Hollies, who was on staff with the Michigan Conference. In the Michigan Conference, she would find many mentors to help grow her ministerial potential, and two of those mentors later become bishops in the United Methodist Church: Bishop Linda Lee and Bishop Deborah Kiesey. Later in her ministry, she served on Bishop Kiesey's cabinet and she also worked on Bishop Laurie Haller's campaign for the episcopacy.
With experience in the local parish, the superintendency, and boards of General Church agencies, Bigham-Tsai had a firm grasp of leadership within the UMC. After serving on the Board of Directors for the Connectional Table from 2012-2018, she became the Chief Connectional Ministries Officer in 2018, where she would serve until 2022. During her time on the Connectional Table, she had the opportunity to work on the denominational budget and she promoted a values-based budget where equity mattered across the board for all agencies and ministries of the United Methodist Church. Bigham-Tsai's skill in adaptive leadership and strategic visioning helped shift the budgeting process of the denomination. While serving, she met all of the new bishops elected in 2016 through her work on the Connectional Table. But, most of all, she had the chance to work within the mission and ministry of the United Methodist Church, which she loves and believes to be important and have a huge impact on the global church.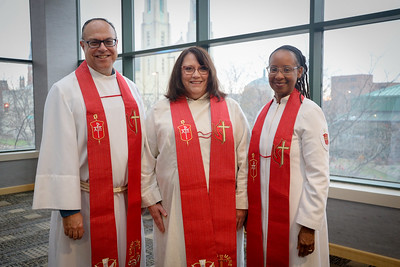 Bishop Schwerin (left), Bishop Plambeck (center) and Bishop Bigham-Tsai (right) after their consecration service. Photo courtesy of Iowa Annual Conference.
Bigham-Tsai's home conference never flinched at promoting women in ministry. The Michigan Conference has had five women bishops elected from it. They host clergywomen events and have a history of constantly giving opportunities for leadership, both in lay and clergy capacities. Bigham-Tsai had a lot of support in ministry, and in the call to step into other leadership roles that contributed to the greater denomination. In 2016, she stepped forward for consideration in the episcopal elections in the North Central Jurisdiction, being open to the movement of the Holy Spirit and to where God was calling, but she was not elected. For Bigham-Tsai, 2022's elections felt very different. There was pain and the need for healing, and there was coalition-building to prepare for the 2024 General Conference focused on reclaiming the UMC's identity. Candidates for the episcopacy were praying together and sharing their journeys, seeking to come out of the elections as collegial, less competitive, and unwounded. In 2022, Bigham-Tsai was elected on the first ballot of the NCJ conference, making her the first clergyperson elected on the first ballot in the history of the NCJ. She was later joined by Dan Schwerin and Lynette Plambeck to serve conferences in the North Central Jurisdiction.
In Iowa, whose demographics are more White than the rest of the United Methodist Church, Bigham-Tsai is the fifth Black bishop assigned to the area. Bigham-Tsai believes Iowa has done well in appointing women and she hopes to continue that trend. She will listen to the women in Iowa to see what they aspire to do. She admits the culture and context is different in her new role and it means learning a new system, which requires a lot of relationship-building. However, she knows that the Church is at an inflection point in considering what is in the future. What the Church does now will shape leadership in the future, and she hopes to begin preparing women leaders at a younger age.
Bigham-Tsai sees her strongest skills as creativity, being a non-anxious presence, and relationship-building. She knows that ministry requires long-term commitment and engagement. One of her appointments in Michigan was with a congregation that had a complicated history of problems. She recalled that it took two years for the members to journey through the process and decide to close the church and sell the building. However, the two years of relationship-building and honesty that came out of it produced much-needed healing out of its apologies and reconciliation.
In this new role, Bigham-Tsai commits to being who she is while she learns the ropes. She envisions it as "carrying a role" as bishop, as she is both a bishop of the part and of the whole of the United Methodist Church. For the whole, she hopes to see more young women leaders at every level of the church. Even more, she knows there is a lot of work to do in the denomination to create new spaces for new and younger generations that are yearning to speak and take on leadership.
GCSRW is thrilled to see Bishop Bigham-Tsai assigned to the Iowa Conference and as a part of the Council of Bishops. As an agency, it is so encouraging to see conferences that nurture women into leadership and give opportunities to everyone in the Church. We pray for Bishop Bigham-Tsai as she leads in Iowa and that she will continue to blaze paths for younger women to come to the table of leadership and that her vision for transformational leadership will guide the denomination through these critical moments.
---
Related links:
http://www.ncjumc.org/wp-content/uploads/2022/09/Kennetha-Bigham-Tsai-Episcopal-Candidate-Info..pdf
http://www.bighamtsai.org/
https://michiganumc.org/first-interview-with-bishop-bigham-tsai/
https://www.umnews.org/en/news/north-central-elects-bigham-tsai-bishop-in-historic-vote
About the author
Rev. Emily Nelms Chastain is a PhD student at Boston University, where she focuses on 19th and 20th Century American Christian History and the intersectionality of faith and gender. She earned her B.A. in History at the University of Alabama at Birmingham in 2007 and graduated with an M.A. Religion and M.Div. in 2019 from Claremont School of Theology. She's an ordained United Methodist Deacon in the North Alabama Conference, and entered academia after serving for 9 years within the United Methodist Church where she worked in Connectional Ministries. Emily served as a reserve delegate to the 2016 General Conference and as a delegate for the 2016 Southeastern Jurisdictional Conference. She has served on the GCSRW board since 2016.