I have an odd life. My mom, dad, and my mom's mom are all pastors. My other grandma is an organist for a church. At one point, I felt like all the adults that I knew, including my parents' friends, worked at churches. Nowadays I feel like I work in a church, too. My parents started a new church in 2013 when I was 8. It was hard to leave my friends in our old town, but I was excited to have an adventure in the big city of Portland.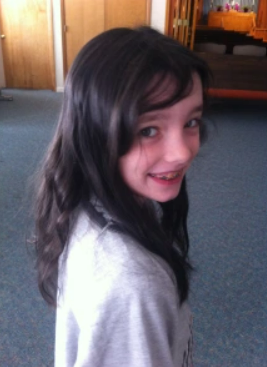 Paige Lowery
Once we got settled in, life started to get into a natural rhythm. We went to church on Sunday mornings and then church again on Thursday evenings. On Sunday mornings we went to Capitol Hill United Methodist Church where my mom worked part-time. On Thursday evenings we stayed home. We had a dinner church at our house. It eventually changed to Sunday nights. I thought it was easier to have it all on one day, but sometimes it's a long day.
At Capitol Hill UMC my responsibilities are to light the candles and to be the liturgist. I've gotten a lot of experience talking to crowds. I like the cozy feel at Capitol Hill and all the nice people.
At Sellwood Faith Community things are a lot different. For one I have to help set up, which can be fun if we make it a game. Most of the time it is not so fun when we are in a rush or my parents are in a grumpy mood. I also have to keep my office very clean because that is where the kids' program meets. I help serve communion after dinner. All of the kids help with this at Sellwood Faith Community, which is pretty cool. Another cool thing is that dinner is a potluck. One week we had mostly bread. Another week we had mostly vegetables. One time there were two platters of roasted broccoli. If I haven't mentioned it, I love roasted broccoli. I did a taste test and couldn't decide whose was better, so I just ate a lot of broccoli that night. My community had lots of awesome people. One of the women makes the best desserts in all of Oregon. Another woman and I came up with an extensive dance play that we like to perform sometimes after dinner if it's not too late. We also do service projects and really cool meditation hikes. We work at the Oregon Food Bank and Bethlehem House of Bread. I like working with my community and doing the hikes to be in nature and see God there.
At Capitol Hill we sing from the hymnals and the Faith We Sing. At Sellwood we sing after dinner. We do more modern songs, including some my dad has written. Sometimes it feels like an extra thing to make my night longer, but most of the time it is really fun to sing with everybody in the community.
I have decided that even though I may feel like I work in a church now, I don't think I'll be continuing this career. It is not my passion. I have more of a feel for the political side of things and that is how I think I can best help people and work for God.
---
Paige Lowery is nearly 11 and she is in the 5th grade. She hopes to one day be elected to General Conference so she can be a decider. She has 2 cats, 2 guinea pigs and a collection of giant stuffed animals. Paige is part of a band with her dad called the Functional Monkeys. They have a CD that raises money for Imagine No Malaria that can be purchased at jeffloweymusic.com.