There are an estimated 162.6 million people under 40 in the United States. Millennials are 25 to 40 years old, while the next generation – dubbed Gen Zers – is between 9 and 24. The dividing line between the generations is a little blurry. While many consider both millennials and post-millennials "young," the two groups have distinctly different ways of interacting with and viewing the world. Within each are singles, parents, young families, students and workers. When seeking to reach them, focus on the different social groups and life stages rather than the generational group they have been lumped into.
As a church that claims to be outwardly focused, we need to understand and serve our ever-changing communities. These two generations are shaping the world as they outnumber those in other generations. When we talk about millennials and post-millennials, we need first to think "diverse." It is not a matter of should we be more diverse, it's a matter of how can we reach younger, diverse generations. With nearly half of these generations made up of racial/ethnic minorities, you are likely asking how to reach such a diverse population. As a multicultural, young person, let me share three tips for churches who are trying to reach people like me.
Focus on universal values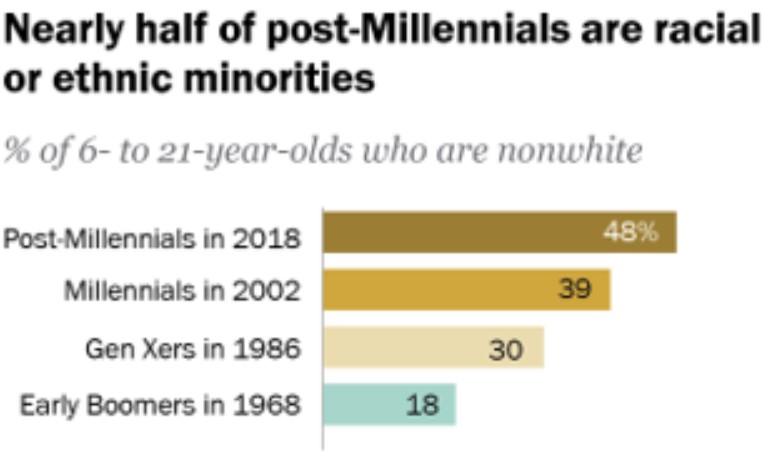 Read Early Benchmarks Show 'Post-Millennials' on Track to Be Most Diverse, Best-Educated Generation Yet findings by the Pew Research Center.
Although most of these people are not immigrants to the United States, many still hold their background culture and traditions close. However, they also have grown up in 21st century, American society. They have been exposed to more cultures, lifestyles and expressions than any previous generations. They embrace the diversity they experience and demand it. Communication and travel are easy for many of them. These two concepts play into the role of feeling connected on a massive level; a key theme identified with younger people. They expect the organizations they associate with – including churches – to be just as globally focused and easily accessible.
To reach young people, focus on themes and causes such as love, belonging, social justice, identity, global conflicts and other topics – whether that is via sermons or social media posts. These universal values bring meaning to them as individuals but also place them in the narrative of a bigger picture. Younger people support organizations that are making a positive impact in the world. Easy example for The United Methodist Church to share are UMCOR, The Advance and our available scholarships. However, churches should also strive to be socially engaged at a local level and allow themselves to get their hands dirty beyond providing financial assistance. Doing so shows young people that the church aligns with these values of social justice and social holiness that connects them with surrounding communities. Present opportunities for them to stand for these causes with your church and be part of something bigger than themselves.
Focus on engagement
While youth and young adults want to be reached through omnichannel marketing, social media reigns as the top influence channel. Be prepared to share information about your church online via stories, pictures, infographics, video content and podcasts on multiple platforms, such as social media, web and email. And don't neglect in-person engagement.
At the same time you are sharing your church's story on your platforms, provide ways for young people to share their feedback. According to one study, "44% of [Gen Zers] said that if given the opportunity, they would like to submit ideas for product design. Millennials and post-millennials are more likely to engage with brands and companies that offer transparent relationships and will listen to them. Create opportunities both to share about yourself and to invite a response by voting on a poll, entering a contest or giving feedback. What can these opportunities look like for churches? It could be to offer a time and space where Millennials and Gen Zers can present creative ideas for church events, communication strategies and outreach ministries. Don't stop there. Offer follow-up and a continuing relationship as your church and this audience co-create meaningful experiences and growth. However, make sure that your congregation has been cultivated to handle a shift in culture. Often times, young people get discouraged and hurt by churches because they encounter constant resistance to change.
Focus on staffing
Like what you're reading and the tools we provide?
Your support helps to ensure the future of communications ministry. Make a tax-deductible donation to support United Methodist Communications today.
Hire some younger people – people who look like and talk like and have similar interests to those you want to reach. Having younger people on staff or as part of the leadership team will help others perceive your church as authentic and relevant. If your leadership teams don't match the kind of messaging you are claiming or sharing on your communication channels, your church will seem unauthentic and create an instant turn off. "Influencers" shape the younger generation's perspective because they are normal people they can relate to as they do their every day activities.
Letting young, multicultural people see that young people like them are already in your church will help them see you are serious about engaging them and allow them to make connections. A diverse staff will also bring insight as you continue to build community. Now, I'm not saying church leaders should completely step aside. Young people do need guidance and leadership from those who have been in ministry before them. What I am saying is that, if churches want to reach out to younger generations, they have to include younger generations in all steps of the process.
Now is the time to interact with young adults and youth, to build relationships with them so they want to connect with the church.
Remember:
Think diverse and global.
Focus on specific values.
Don't generalize about young people.
Offer ways for people to be involved (virtually or in person).
And don't be afraid to ask for their help as you use the platforms the younger, multicultural generations prefer.
---
Aileen Jimenez is Manager for Hispanic/Latino Leader Communications at United Methodist Communications, in Nashville, Tennessee, USA. You can contact her at [email protected]. Like what you're reading? Support the ministry of ResourceUMC! Your support helps provide the latest ideas and information to inspire United Methodist leaders throughout the connection. Make a tax-deductible donation at ResourceUMC.org/GiveUMCom.