A slideshow video — a montage of photos and videos set to music — is a perfect way to preserve your memories and create a lasting memento to share with others. And thanks to mobile apps such as Apple Photos and Google Photos, creating a slideshow video on your smartphone is easier and faster than you may think.
Here's how you can use Apple Photos to turn your best shots into a captivating slideshow video in minutes. To learn the same process for Google Photos, click here.
Apple's Photos app
PLATFORM: iPhone
HOW IT WORKS: Photos is the default photo library app on iPhone. With the built-in Memories feature, the app presents a curated collection of your photos and videos as a beautifully edited slideshow video called a Memory Movie, complete with smooth transitions and theme music. Memories are created automatically by the app and appear in the "For You" tab, but you also can create your own memories from an album or a specific month or day. Here's how:
TO CREATE A SLIDESHOW VIDEO IN APPLE PHOTOS:
Step 1: Go to the Albums tab and select an album. Or go to the Library tab, tap Months or Days, and locate a particular date.
Before moving forward, rearrange the order of the photos and videos to your liking. You cannot change the order of the items once you initiate the Memory Movie making process.
Step 2: Tap the More icon (three dots in a circle) in the right-hand corner and select Play Memory Movie.
Step 3: The Movie will start playing immediately. As it plays, tap anywhere on the screen to bring up the editing and sharing options.
Step 4: Tap Edit at the top, then tap OK to access the edit panel.
In the edit panel you can adjust the title and subtitle, the title image, the photo and video selection, the theme music and the duration of the video.
Step 5: Make your edits, then tap Done.
Step 6: Tap the Share icon at the bottom, and select Save Video to export the slideshow video to your Photos library.
Before exporting, tap Options > under the thumbnail at the top to adjust the aspect ratio of the video (horizontal or vertical).
After saving to your device, locate your new slideshow video in the Photos library and share it from there.
BONUS
Additional mobile apps to check out:
FINAL TAKE
Turning your photos into a beautiful slideshow video is a simple yet creative way to bring those memories to life, and Apple Photos and Google Photos can help you make it happen in minutes. All you have to do is capture the moments.
Happy snapping!
---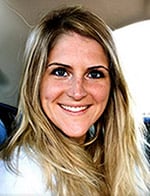 Kathryn Price is a video producer and designer at United Methodist Communications in Nashville, Tennessee.
_________________________________________________________________________________________________________________________________
Storytelling through photography is a ministry. United Methodist Communications uses photos and photography instruction to inform, encourage, motivate, inspire and engage followers of Christ--and we are resourcing churches to do the same. These efforts require financial support. If you believe in our mission, consider a tax-deductible donation to the work of United Methodist Communications through its Foundation at ResourceUMC.org/GiveUMCom.