As a person who loves words and believes that numbers derive from the depths of darkness, it is odd that I am writing about analytics.
In fact, if my infinitely patient father, who helped me with math homework, or any of my frustrated math teachers knew that I was about to drop some number knowledge, they would be concerned — for you.
Fortunately, I'm writing about performance trends to improve your outreach — not about solving an insane math problem involving the arrival times of two trains passing one another while traveling at 80.7 mph. (I will never forget that emotionally scarring day, Mr. Watts. Never.)
Why measure?
A marketing adage says, "What you don't measure, you can't manage."
We've moved on from unmanageable, uninformed, one-way blast strategies. People have learned to use the available tools (spam filters, skip ads, unsubscribe) to send a message back, turning one-way communications into a dead end.
(A quick sidebar about messaging: It's the X-factor to success. Validate or challenge your assumptions because you, as a marketing communications for a small/medium sized enterprise, are not your audience.)
Your audience is revealed through metrics. Data offers hints in how to deepen interest in you. The tracking of metrics offers a flywheel of improved results.
At Amazon, we're obsessively data-driven. We dive deeply to measure results, which contribute to decisions. Auditing success isn't just a concern for big business. In today's noisy communications space, everyone — from the small-business owner to the church — needs to leverage data to meet objectives and improve outcomes.
Trust is essential
Nurture engagement to reach your goals. You want people to trust what you offer and that the messages you send are worthy of their time. You want them to increasingly open and click the links in your emails, visit your website, like your posts on social media and attend your events.
To accomplish that level of affinity, you have to know what resonates while also being savvy regarding deployment.
What to measure
This can be overwhelming. Articles, templates and tools provide a gumbo of measurement options and acronyms. I recently read about how it's ironic that a communications-based discipline such as marketing produces so much jargon monoxide poisoning. Yet, buried in this jargon, which is typically associated with assessment, are meaningful tools for your toolbox.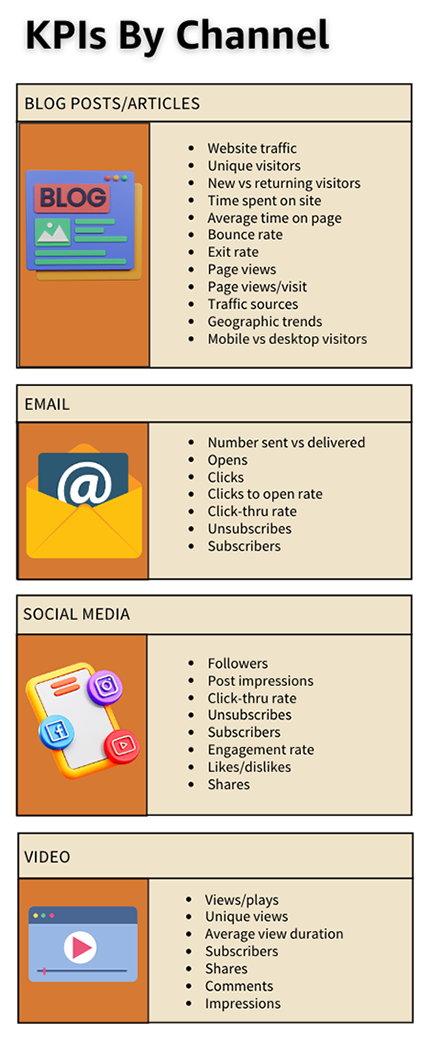 And only you can decide the most meaningful measurements (key performance indicators or KPIs) for your channel(s), organizational goals and growth.
The only requisite: Tie all metrics to a goal. Clicks are not a goal, unless your goal is vanity. Increasing click-to-open email rates and adding new subscribers to your video channel are examples of goals of authentic growth.
To learn more about recommended metrics, refer to the illustration and bookmark this handy guide.
At a minimum, track the impressions and clicks of each dated post/channel. You can always change KPIs if the data and your goals support it.
How often
Pick KPIs you're able to actively measure. Determine how you'll collect the data (likely a manual copy/paste from the channels you use), and stick to a schedule of updating it. Consistency is the special sauce to data insight.
Tools you most likely use daily, such as Wix, Constant Contact, LinkedIn, Instagram, Facebook and YouTube, aggregate data by single emails, posts or pages in real time as well by overall performance over time.
Campaign metrics (activity measurements) and continuum analytics (trends) are important to note. Deeper insight lies with the latter.
For example, individual post data is helpful to evaluate content effectiveness (i.e., a photo may pull more likes and click-thrus than a text post). But one post doesn't signal a trend, so test, test and test some more to identify what works best.
Resist the urge to monitor by the minute and over-report. Generally, single post or single email engagement drops after three days. In fact, as time passes and impressions rise, engagement rates tend to drop. Note the early activity data (days one through three), because it accurately reflects effectiveness.
Refine data by tracking a high-level view: Note campaign metrics (consolidating all related messaging) week over week, month over month and year over year.
How to track performance
Enterprise-level marketing platforms (Adobe, Marketo, Salesforce) automatically pull data from channels and aggregate averages in a dashboard. However, those are expensive and require complicated backend configurations out of scope for many of us.
The answer is to build your own scrappy dashboard using Google Docs or Excel. Search their template libraries for marketing reports you can use as is or adapt over time.
Like what you're reading and the tools we provide?
Your support helps to ensure the future of communications ministry. Make a tax-deductible donation to support United Methodist Communications today.
Go forth!
Take it from this numbers- and Excel-averse marketer: Metrics are critical to boosting your engagement success. Thanks to templates with pre-built formulas for sums and averages, there's very little DIY math or programming involved. In a way, following the numbers is more psychology than math.
The next time you open Mailchimp, Facebook or another tool, look at the analytics information you may have skipped past. Familiarize yourself with what they measure and which data points will help you plan your next great campaign.
I hope that what I've outlined will get you comfortable with the idea of validating "great."
---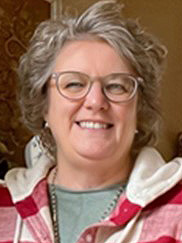 The anxiety she feels staring at a blank tip line on a restaurant bill should disqualify Jane T. Massey from writing this article. But here we are. As the marketing intelligence manager for Amazon.com Global Ops Robotics, she has come to terms with numbers but likes to emphasize the qualitative aspects for marketing, brand and communications. Jane previously worked as email marketing manager for United Methodist Communications.