Making youth group time a priority for teens can be difficult, especially when more than 70% of them are very likely to be involved in at least one extracurricular activity.
If you feel that you are having to battle for their attention, try not to get frustrated. They are soaking up everything around them and have only so much time.
That's why now is the perfect time to think about outreach and avenues to grow your youth group. Marketing to young people might feel uncomfortable, but with the right tactics at the right time, you can meet — and exceed — your discipleship goals in no time!
Try these helpful digital marketing strategies to promote your group and create an inviting space:
Create a wow factor
Flyers remain hallmark marketing tools. They're easy to create and personalize with free programs such as Canva. Achieving a top-notch design has never been easier thanks to thousands of colorful, unique templates available to you at no cost.
Flyers should highlight the value of what your youth group is offering to young people in your community. Begin with a bold headline that highlights exactly what your youth group is and why youth should want to attend. Authenticity is key and a terrific lead matters.
A strong headline starts the connection. Don't stop there! Offer a call-to-action that gives readers a reason to respond. Something such as "Youth group every Wednesday at 6 p.m." won't connect as well as "Join us Wednesday at 6 p.m. for food, fun and fellowship!"
Provide well-organized, easy-to-follow and clearly visible content to draw eyes to your information. Don't underestimate the power of underlined or italicized text.
Once your flyer is ready, download it in multiple formats for posting online and in well-traveled locations. Hang them up in local schools (with permission). Check into posting them at local restaurants. Ask church members to share on their social media pages. The possibilities are endless!
Post, post, post
Because teenagers use social media platforms at least once a month, social media is one of your best tools for outreach.
Create youth-group-specific social media platforms separate from those for your church. Facebook, Instagram and TikTok provide online guides to get you up and running. This dedicated traffic for your youth will keep them informed and help them feel valued.
The next step is knowing what to post. Balance content throughout the week to help expand reach and encourage participation. Short devotionals, pictures from past events, updates and thoughtful questions solicit engagement. They also can drive readers to your website.
Connect with the parents of your targeted youth to help improve attendance and buy-in. Set up a Facebook group for them to share photos, graphics and updates. This can build trust and community, which will only strengthen discipleship!
Essential step: Get permission
As you go about your efforts to grow your youth group's digital ministry, you will want to make sure you have permission from the parents/guardians.
As a rule of thumb, when posting photos that include minors to social media or your website, always get written permission from a parent/guardian. This can be a simple one-and-done process with
a blanket photo release form
that can be completed at the start of the school year or in January. Be sure to have extra copies on hand for potential new visitors!
Getting email permission before sending out content is also important. Most email tools will allow you to create a sign-up form in which parents can opt in to receive emails. Experts suggest going with the
"double opt in" method
in which users agree on the page and then verify their subscription with a separate email. Check that an unsubscribe button is present at the bottom of your emails. This maintains trust and helps avoid spam filters.
Make email your best friend
In our high-tech world, one touch point isn't enough. Over 4 billion people use email every day, so it's safe to say your current youth, newcomers and their parents most likely do so as well.
A digital e-newsletter is a fast, affordable and convenient method for sharing important information with the people who need to hear it. Think of it as an opportunity to make a good first impression and get right to the point.
To build a strong e-newsletter:
Start with an enticing, yet short subject line that speaks to your audience and prompts a click.
Keep important information at the top, so it's visible regardless of screen size.
Send emails on the right days and at the right times, when recipients are most likely to open them.
Provide your physical address, phone number and web address for easy contact.
Free email marketing tools such as MailChimp and Constant Contact, which have hundreds of templates and dynamic design suggestions, make the process fast, fluid and fun.
Once you begin, stay consistent with your mailings, whether they're weekly, biweekly or monthly. Your youth and their parents will start to rely on and trust you, which will lead to word-of-mouth advertising, the best marketing tool any youth director or pastor could want.
Maintain your digital front door
Your church's website is the first place most people will go for information on what you have to offer. This is the place to show the fruits of your youth program and extend powerful invitations.
Keep your youth page updated with fresh information. Consider including an FAQ page and contact information should they have more questions. Review your page at least every other week. Take this time to reduce clutter and highlight current information.
Youth and parents want to find the information they need quickly. The layout should be easy to navigate. Clearly label categories and sections with recognizable patterns. For example, include event descriptions and your calendar in one section and your devotions and parental resources in another.
Like what you're reading and the tools we provide?
Your support helps to ensure the future of communications ministry. Make a tax-deductible donation to support United Methodist Communications today.
Prominently display your location, meeting times and contact information to give visitors easy access to you and create connections. Include short staff bios and photos with program descriptions to give youth an idea of what to expect. This also will provide parents an idea of who is working with their children and what they'll be learning.
If you're feeling overwhelmed about your website, United Methodist Communication's Local Church Services team is available to help. Through its website services, the team can build a page that you can maintain and be proud of!
Don't worry if you don't see a huge influx of kids immediately. It takes time to generate growth. Be open to going back to the drawing board and trying new content or designs. When you make building relationships with young people a priority, your marketing will reflect that and everything else will fall into place.
---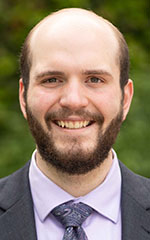 Connor Prusha is on staff at United Methodist Communications as the senior creative content specialist. He also serves as youth ministry developer at Hope UMC in Whitehouse, Ohio. A writer by both heart and trade, Connor loves creating meaningful content to inspire others. He is a certified candidate for ordained ministry on the elder track in the UMC.