Within the month of June in American Methodism, a large majority of annual conferences gather for the business of the denomination. Perhaps the idea of connexionalism shines brightest during this time, as every regional body connects and collaborates to focus on the mission and ministry of local churches, while also deliberating about the future of the denomination at its next quadrennial general conference. Each time Methodists meet, they represent the variation of hierarchies that the Church has in an array of ministries. During this month, the General Commission on the Status and Role of Women celebrates its connexion within Methodism and the value that it brings to the United Methodist Church's ministry to and with the world. For the past fifty years, GCSRW brought significant ministry to the denomination, and it will continue to do so in its future!
In the earliest days of the Methodist movement, John Wesley and countless others described their work as a connexion (emphasis on the Old English spelling). The idea of connexion is one in which "all leaders and congregations are connected in a network of loyalties and commitments that support, yet supersede, local concerns." (1) These connexions signified a different kind of collective ministry built on the episcopal style of polity but differentiated from congregational polity. Within these connexions, Methodists gave their offerings to establish retirement possibilities for aging circuit riders, provide educational opportunities for orphaned and impoverished children, and educate the circuit riders with doctrinal materials so that they could continue to spread the message of prevenient, justifying, and sanctifying grace. This type of connexionalism grew into a worldwide denomination of the United Methodist Church and offered a unique type of collaborative ministry for Methodists across the globe.
What does connexionalism look like?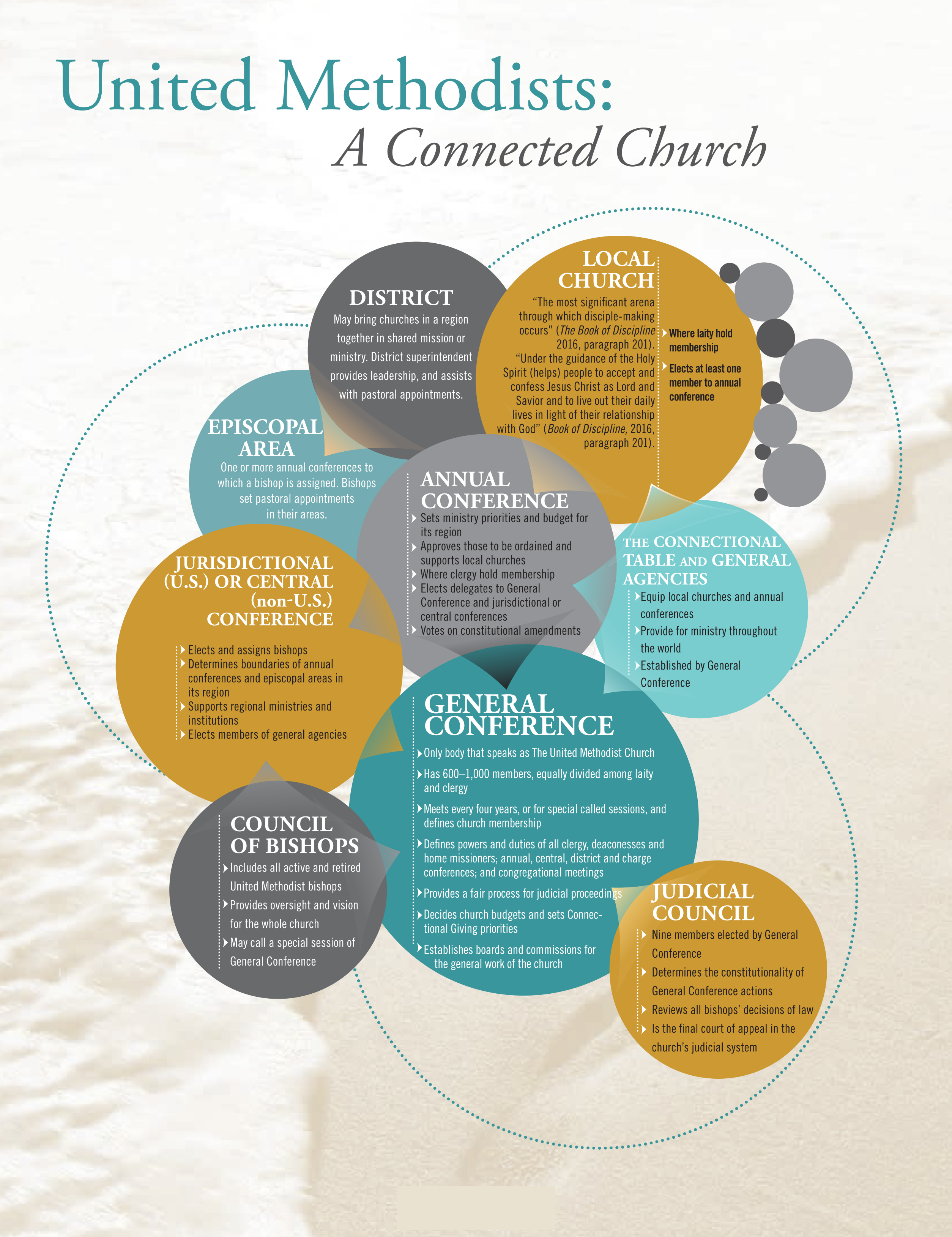 Download Connectional structure infographic.
GCSRW's ministry focuses on the connexional nature of the denomination. In just the last quadrennium, GCSRW expressed connexion with its global partners. Connexionalism allows the collaboration of all UMC agencies on the Interagency Sexual Ethics Task Force, which facilitates the quadrennial event, "Do No Harm," and also focuses on the key issues arising within the denomination in regards to sexual ethics. Most UMC agencies also committed to cutting their negative impact on climate change and working toward net-zero emissions in their offices and travel.
GCSRW facilitated a "Do No Harm" training in the Philippines for conference leaders to learn how to prevent sexual misconduct and how to provide healing as our UMC values dictate, as the #metoo movement is global and not an isolated issue. Similar training occurred in Africa covering sexual ethics boundaries training events and the prevention of misconduct, as well as how to establish and follow the complaint process within a contextualized legal system. GCSRW has stood by and will continue to stand by survivors of sexual misconduct within the United States and across the globe. In GCSRW's work with women, it created spaces for sharing personal narratives, encouragement, and safe spaces, including for the women bishops in the denomination. Further, GCSRW offered all of these connexional opportunities on top of simply being present to listen to one another, both in celebration with one another and in a supportive community.
As a general agency of the United Methodist Church, GCSRW's services are available to all levels of the UMC's denominational governance. Here is just a sample of how a variety of Methodist levels can implement and utilize GCSRW's resources and services:
Global Reach: Many of GCSRW's resources have been translated into many of the used languages of the denomination: English, French, Portuguese, Korean, and Spanish. Additionally, GCSRW staff offers contextualized training and events across the globe in many of our central conferences to provide education on increasing the number of women in ministry and assistance with sexual misconduct prevention.
General Conferences: In order to hold the denomination accountable for its representation and its inclusivity and expansiveness, GCSRW monitors General Conference meetings. This includes watching every moment of the conference, documenting notable occurrences, and providing a report of how diverse the conference presentations were, including those speaking from the general body. Additionally, GCSRW offers legislation related to the full participation of women and minorities in the church's ministry and lobbies for support of other legislation that arises related to GCSRW's ministry. As part of the denominational accountability, GCSRW audits the data of women's participation within various levels of ministry and reports it through "Women By the Numbers."
Jurisdictional Conferences: GCSRW is always on the lookout for women who are seeking to participate in episcopal elections so they can receive support and our network can be utilized to educate people about upcoming episcopal elections. In its history, GCSRW documented every female bishop's election, and they supported the publication of a new book on women bishops, Women Bishops of the United Methodist Church. Additionally, GCSRW supports the monitoring process in quadrennial jurisdictional conference meetings in partnership with GCORR representatives.
Annual Conferences: By order of the Book of Discipline, each annual conference creates a conference COSROW which provides more localized resources for women to participate more fully in regional Methodist spaces. Conference COSROWs have created conference-specific legislation to broaden women's participation, provided resources for women in ministry, and performed salary studies to ensure that clergywomen receive parity in clergy salaries. Annual Conference COSROWs connect through the GCSRW agency and receive resources from GCSRW that can be implemented locally in the conference area. Additionally, conference COSROWs often assist and support boards of ministries in providing resources regarding sexual ethics training for clergy and laity in leadership.
Local Churches and Laity: GCSRW produces an array of resources for the local church congregations, especially in the form of small group studies. Local congregations can use the following studies that are free for download: Rock, Shepherd, Friend; Women Called to Ministry; God of the Bible; and The Way of Integrity. GCSRW also offers multiple resources around sexual ethics that help give biblical foundations for the creation of safe spaces for clergy and laity. Further, GCSRW provides a variety of liturgical resources for the local church that makes worship language more inclusive and expansive.
Conference Boards of Ministry: GCSRW offers many resources around sexual ethics training that can be used by Annual Conference Boards of Ministry. These resources detail the sexual misconduct complaint process, as well as provide a hotline for those affected by sexual misconduct within the United Methodist Church. Additionally, every four years, GCSRW hosts "Do No Harm" events for conference leadership, which focus on building safe spaces in local congregations and eliminating opportunities for sexual misconduct in the local church and conferences. In 2021, GCSRW produced Do No More Harm as an additional resource for conference leadership in the area of sexual misconduct, which provides a more comprehensive look into the complaint process.
Episcopal Leadership: GCSRW is an exceptional resource for bishops, both in terms of educational resources and its processes for sexual misconduct. GCSRW assists conference episcopal leadership with guidance through the complaint process. GCSRW also provides unique resources for bishops to share with their congregations as they welcome a new clergywoman to local pulpits.
GCSRW Board of Directors: GCSRW's work is aligned and affirmed with its mission and ministry by the Board of Directors. The GCSRW Board represents multiple central conferences, U.S. annual conferences, and partner agencies. The work of the Board provides the staff with contextuality and allows it to produce collaborative resources that are important for both specific and general concerns in our global Methodist areas.
The relationship of connexionalism brings Methodism to life in a multitude of ways, from personal relationships to polity. Because of the connexionalism within the United Methodist Church and its focus on the full participation of women and minorities in the church, the general agency of GCSRW received its charter fifty years ago and continues its work now and into the future. These networks allow the denomination to address the most pressing contextual and contemporary issues from a standpoint of grace and social holiness. In 2022, we give thanks to those General Conference delegates that saw the contextual need for women's fuller participation in the denomination and the necessity of the creation of GCSRW.
---
References:
(1) Richey, Russell E., "Episkopé and Connexionalism: Ecclesiology and Church Government in Methodism," In Gibson, William; Forsaith, Peter; Wellings, Martin (eds.), The Ashgate Research Companion to World Methodism. Abingdon, England: Routledge (2016), 251–268.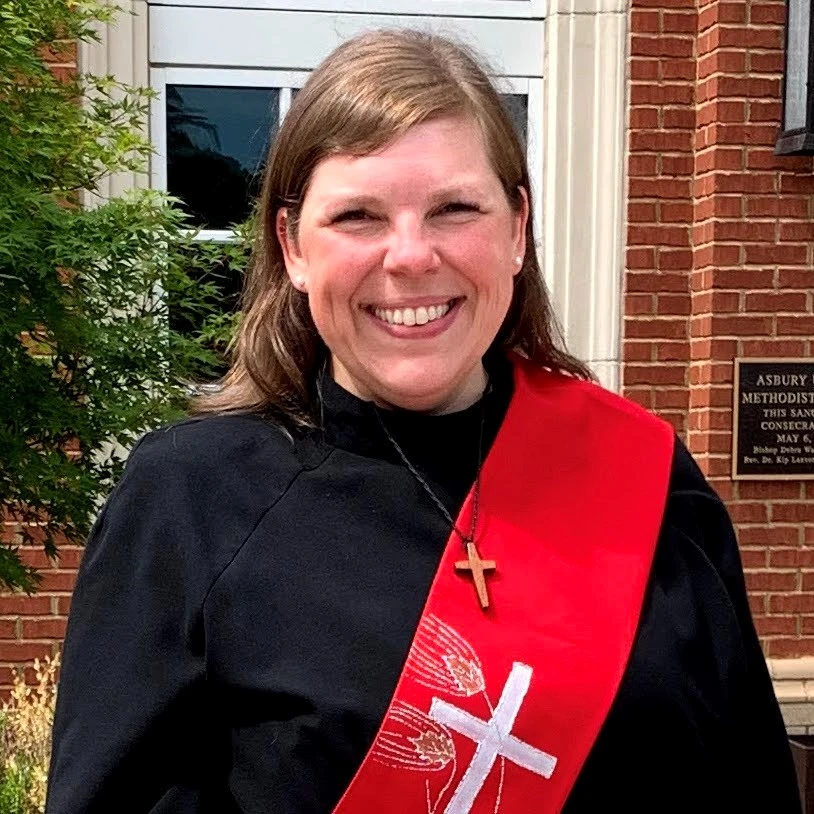 Rev. Emily Nelms Chastain is a PhD student at Boston University, where she focuses on 19th and 20th Century American Christian History and the intersectionality of faith and gender. She earned her B.A. in History at the University of Alabama at Birmingham in 2007 and graduated with an M.A. Religion and M.Div. in 2019 from Claremont School of Theology. She's an ordained United Methodist Deacon in the North Alabama Conference, and entered academia after serving for 9 years within the United Methodist Church where she worked in Connectional Ministries. Emily served as a reserve delegate to the 2016 General Conference and as a delegate for the 2016 Southeastern Jurisdictional Conference. She has served on the GCSRW board since 2016.